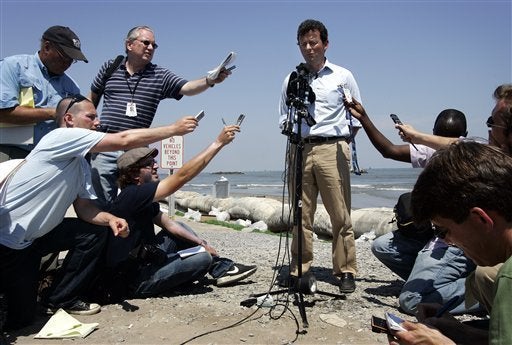 Republican communication strategists in Washington and Louisiana are thrilled at the press coverage of the disaster in the Gulf of Mexico, according to e-mails from GOP officials accidentally sent to the Huffington Post.
The specific news report that had party operatives celebrating was a local Fox Channel 8 report on an event held by Louisiana Gov. Bobby Jindal calling on President Obama to lift the moratorium on offshore drilling.
"Watch the video -- you can't beg for a better package than that," writes a top Louisiana GOP spokesman to a communications staffer at the Republican National Committee. "Good perspective on moratorium from the gov and locals."
The package is, to be sure, a PR coup. Jindal, local officials and workers worried about the effect of the moratorium rip into Obama, pleading with him to reconsider.
Peter Duet, in a thick Louisiana accent, tells the assembled crowd that he is a single father and that his daughter recently asked him why he works so much at Port Fourchon. "Baby, so daddy can take you to Wal-Mart and buy you toys," he says, explaining that he won't be able to buy his daughter toys -- or food, for that matter -- if Obama doesn't reverse his decision.
"This is literally all that is being talked about in the Gulf -- gives good perspective," writes the RNC official, looping in a number of other RNC operatives, along with HuffPost.
While that isn't literally true -- more than a few people are still talking about the massive spill -- the moratorium issue is of deep concern to Louisianans, whose economy has yet to recover from Hurricane Katrina and its aftermath. Republicans have badly damaged Democrats in Louisiana by focusing on the moratorium, winning the public relations battle day after day. David Vitter has repeatedly accused his Democratic Senate opponent Rep. Charlie Melancon of supporting the moratorium evn though he does not.
The GOP's PR campaign is made easier by the fact that the job loss is a real issue. As many as 75,000 workers in the Gulf Coast area could lose their jobs as a result of the 6-month moratorium on deepwater drilling and a stoppage of the 33 currently operating rigs, according to a recent estimate by the Louisiana Oil and Gas Association. For each rig idled by the work stoppage, up to 1,400 jobs are at risk.
WATCH video of the report that has Republicans jubilant:
Popular in the Community