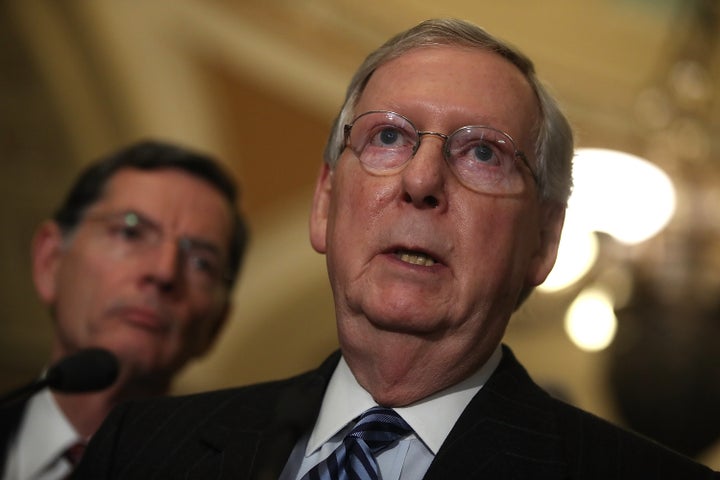 WASHINGTON ― The Republican-led Congress moved to dismantle yet another corporate regulation on Wednesday, in a move that safety experts say will make it easier for employers to hide serious workplace injuries from the government.
The Senate voted 50-48 to strike down a rule issued late in Barack Obama's presidency that requires large employers to keep an ongoing record of health and safety incidents. The Obama administration issued the rule in an effort to solidify what it considered long-standing policy at the Occupational Safety and Health Administration.
By doing away with the rule, Republicans are effectively cutting down the length of time that employers in dangerous industries are required to keep injury records ― from five years to just six months. Former OSHA officials say that doesn't provide enough time to identify recurring problems with particular employers or industries.
They also say the change gives unscrupulous employers little incentive to keep an accurate log of injuries, since it will be more difficult for them to be penalized for not doing so. When employers have a track record of such injuries, it can lead to higher workers' compensation costs and more government scrutiny.
"This will give license to employers to keep fraudulent records and to willfully violate the law with impunity," said Debbie Berkowitz, a former OSHA policy adviser now with the National Employment Law Project, an advocacy group for low-wage workers.
After the House passed its own bill to repeal the rule, the Republican-led Senate needed only a simple majority to do its part. That's because they used an arcane procedural tool known as a "resolution of disapproval" under the Congressional Review Act of 1996, and such resolutions cannot be filibustered by the minority party.
Republicans have wielded that law in a full-scale assault on corporate regulations in recent weeks. Since President Donald Trump took office, they have moved to repeal more than a dozen Obama-era rules by using resolutions of disapproval, covering things such as gun control, pollution and workplace safety. Until this year, the Congressional Review Act had been used successfully only once, when Republicans spiked a different OSHA regulation in 2001.
Trump is expected to eventually sign the repeal bill that the Senate approved Wednesday. His administration has carried out its own blitz against the regulatory framework, issuing executive actions that make it more difficult for agencies to create federal rules reining in corporations. Trump's chief strategist, Stephen Bannon, has described his governing philosophy as "deconstruction" of the administrative state.
The OSHA record-keeping rule may sound technical and obscure, but workplace safety advocates say it has wide-reaching implications. Under OSHA rules, certain large employers in high-hazard industries have to keep an accurate record of injuries going back five years. The data helps OSHA figure out where recurring problems are and how to use its limited resources to enforce the law.
But a court ruled in 2012 that because of the way OSHA's founding law was written, the agency has only six months to issue a citation from the time the record-keeping violation occurred. This creates a big problem for inspectors. If they discover, for instance, that an employer has been hiding repetitive motion injuries for several years, they can only hold the employer accountable for the last few months of record fudging.
The Obama administration issued the record-keeping rule to address the court ruling and clarify the five-year window. By striking the rule down, Republicans will be leaving OSHA with just the six months. Former OSHA officials say that is not enough time. As it is, OSHA has so little staff that it would take more than a hundred years for the agency to inspect every workplace in the country.
As Jordan Barab, a former OSHA official under Obama, put it, "Without being able to enforce any violation within the five-year period, enforcement of recordkeeping accuracy would be almost impossible."
Safety hawks weren't the only ones who objected to Republicans killing the rule.
On Sunday, two former commissioners of the Bureau of Labor Statistics sent a letter to senators urging them not to pass the bill. One was Erica Groshen, who served under Obama; the other was Kathleen Utgoff, who served under George W. Bush. Their interest was obvious: The BLS is the agency responsible for collecting and releasing the official data about work and the economy.
Such a repeal "will likely have unintended and unfortunate consequences on the collection of injury data," Groshen and Utgoff wrote. "If this legislation passes, responsible employers who accurately record workplace injuries will be at a disadvantage competing with employers who do not maintain accurate records."
The record-keeping rule isn't the first workplace safety regulation that Republicans voted to repeal this month. They also used the Congressional Review Act to kill an Obama regulation that made it harder for companies to secure federal contracts if they had a history of endangering workers. Trump has not yet signed or vetoed it.
Popular in the Community