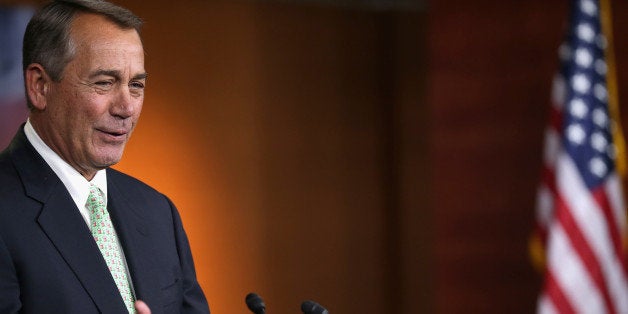 WASHINGTON -- Since taking control of both chambers of Congress in January, Republicans have grappled with newfound pressure to govern. But the House Judiciary Committee on Thursday got back to basics: drumming up conservative outrage with a fresh, flimsy scandal.
During a hearing that lasted roughly two hours, Republicans repeatedly suggested that the Department of Justice was illegally funneling money to "activist groups" using sham transactions embedded in legal settlements with two big banks.
The event was essentially an exercise in dog-whistling to unsavory elements of the GOP base. In his opening statement, Judiciary Committee Chairman Bob Goodlatte (R-Va.) ominously name-checked both the defunct ACORN and the Hispanic civil rights advocacy group La Raza. One expert witness Republicans called to testify is a filmmaker currently collaborating with an anti-Islam conspiracy theory author on a movie that will purportedly show "how the government's crusade against alleged lending racism" caused the financial crisis.
Rep. Tom Marino (R-Pa.) said he was worried "someone at Justice, and as you said -- at the highest levels -- is picking and choosing who will get this money."
"It looks and smells a little bit like a slush fund," said freshman Rep. David Trott (R-Mich.), who built a personal fortune running a "foreclosure mill" law firm to help banks evict borrowers.
In other words, Republicans think President Barack Obama and Attorney General Eric Holder have concocted a big, covert scam to help minorities.
If Trott is right, the Justice Department is running a pretty lousy slush fund. So far, no money has flowed out the door to any activist groups. And the two banks involved -- Citigroup and Bank of America -- haven't even figured out which organizations will get money.
Republicans are raising a ruckus over a provision included in DOJ fraud settlements with both banks over widespread misdeeds in the mortgage securities market in the years leading up to the financial crisis. Under the agreements, banks must contribute a combined $30 million -- well under 1 percent of the multi-billion-dollar fine -- to mortgage counseling agencies.
How convenient, Goodlatte argued, that DOJ required banks to pay these groups after Congress explicitly cut their funding. He didn't explain why Congress decided to slash the budget for mortgage counseling amid a foreclosure epidemic.
City University of New York law professor Alan White and DOJ's Geoffrey Graber both said counseling funds were critical for ensuring any actual consumer mortgage relief went to good use. Banks have inked settlement after settlement with various federal agencies because their mortgage practices have been not only terrible, but terribly confusing. Navigating the system without a qualified mortgage counselor is effectively impossible -- and frequently fruitless -- even for those with expert guidance. Banks typically will not work with troubled borrowers who are not receiving counseling. If the settlements work, these groups -- which are overseen by the Department of Housing and Urban Development -- will have a lot more to do.
While Citi and BofA do, in fact, have to pay money to counseling groups, DOJ says it doesn't actually direct those payments. The department allows banks to select any organization approved by HUD. The list includes thousands of nonprofits, including religious groups.
Paul Larkin of the Heritage Foundation argued that the settlements circumvented the constitutional role of Congress to appropriate funds, saying DOJ had engaged in "sham transactions" by requiring banks to contribute money to counseling groups, instead of to the government itself, which would have been barred from doing so. White said state regulators have inked similar provisions. It is common in fraud settlements for regulators to require wrongdoers to make restitution with consumers.
Republicans have repeatedly handed the Obama administration favors by highlighting a substantive policy problem, then making wild, unfounded accusations of wrongdoing. There are genuine reasons to question the U.S. military action in Libya, for example. But the GOP latched onto Benghazi conspiracy theories alleging a political cover-up to steal the 2012 election that even the Republicans' own report on the matter has now rejected.
Similarly, the Obama administration's Wall Street accountability record is remarkably weak. DOJ has declined to prosecute employees of the biggest banks for misdeeds that led to the crisis, and for malfeasance in the years that followed. Obama's current attorney general nominee, Loretta Lynch, inked a meager settlement with HSBC in 2013 over allegations of laundering drug money, but recent reports suggest the bank was embroiled in massive simultaneous tax evasion maneuvers that U.S. authorities missed. The first major round of mortgage settlements with big banks was poorly designed, and helped a paltry number of borrowers, despite misleadingly large dollar figures.
All of these shortcomings would be legitimate matters for GOP oversight. But instead of targeting Obama administration coziness with big banks, Republicans have locked in on community groups that help minorities.
In November, Goodlatte and House Financial Services Committee Chairman Jeb Hensarling (R-Texas) sent a letter to Holder demanding a trove of communications surrounding the settlements.
"The terms in the Justice Department's two latest settlements look less like consumer relief and more like a scheme to funnel money to politically favored special interest groups," reads the letter, which singles out La Raza.
Although DOJ responded to the Goodlatte-Hensarling letter in January, it has not yet turned over internal emails sought by the Republicans.
"You can expect that this will escalate if you do not provide the documentation that we requested two months ago," Goodlatte told DOJ's Geoffrey Graber, a deputy associate attorney general, at Thursday's hearing.
CORRECTION: An earlier version misidentified Rep. David Trott's party affiliation. He is a Republican.
Calling all HuffPost superfans!
Sign up for membership to become a founding member and help shape HuffPost's next chapter
BEFORE YOU GO
PHOTO GALLERY
Attack On U.S. Compound In Benghazi