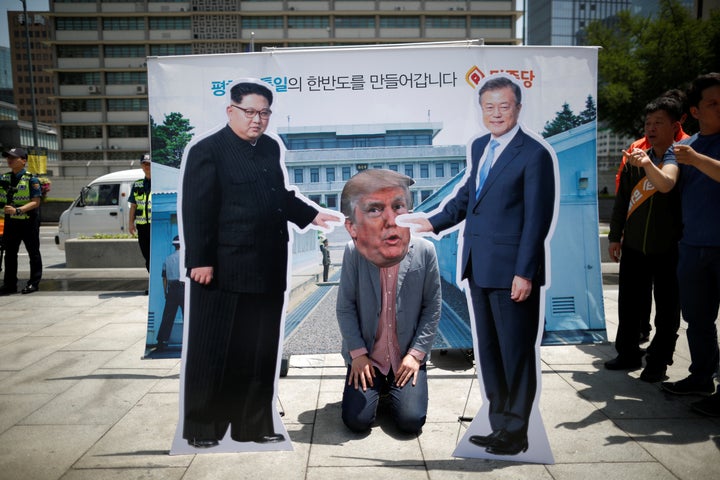 WASHINGTON ― While President Donald Trump may have seen a successful summit with North Korea's dictator as the path to a Nobel Peace Prize, many leaders in the Republican Party had eyed a more practical benefit: an aid to retaining control of Congress.
Now, with the planned June 12 Singapore summit in off-again, on-again limbo, Republicans wonder if the initiative that had seemed like a godsend just a few weeks ago could instead turn into a curse.
"If it stays off, it's bad," said one top GOP fundraiser close to the White House, speaking on the condition of anonymity. He added that he personally never really bought the idea that a Trump meeting with Kim Jong Un would be a game-changer. "If he pulls it off, I don't think it changes much other than building a narrative of success."
Republican National Committee members gathered at the Trump golf resort in Doral, Florida, early this month, though, were far more sanguine about the positive effects a Trump-Kim meeting would have for their party in November. The gathering took place seven weeks following Trump's sudden decision to accept Kim's invitation to meet, and RNC members pointed to the president's improved poll numbers thereafter as a sign for optimism.
Trump's inflammatory statements about Kim ― on one occasion he promised to unleash "fire and fury" on North Korea if Kim threatened the United States ― had been among what Americans saw as the most unappealing aspects of Trump's first year in office. His new willingness to sit down with Kim to work on a peace deal, RNC members believed, would boost his approval rating and make him far less of a drag on congressional Republicans trying to keep control of the House and Senate this November.
"If he pulls that off, it could be a red wave instead of a blue wave," said one top RNC member attending the Florida meeting, also speaking on the condition of anonymity.
Still, it's unclear how much actual help even a productive summit might give Republicans running for office this fall.
"There is no question the president is getting credit for pushing this process forward and starting a dialogue with North Korea," said Neil Newhouse, a Republican pollster. He said that benefit could linger even if a summit never comes together, even among independent voters. "If anything, it might move them more into Trump's camp because they consider his actions good for the country."
But Democratic pollster Peter Hart said Trump will continue to hurt Republican congressional candidates because he remains deeply unpopular with everyone but Republicans. "He has never had a job approval or a personal approval rating that matched the vote he got in 2016," Hart said.
He added that even if the president were to conclude a breakthrough summit that moved North Korea closer to giving up its nuclear weapons, Trump, being Trump, would be unable to keep that accomplishment at the top of voters' minds. "He will have 22,419 tweets between the summit and Election Day," Hart said. "Too many events to allow him a free positive set of attitudes until November."
One Republican adviser close to the Trump White House said it was "ridiculous" to think that lowered tensions with North Korea would push voters to support Republicans in any case.
"This is the problem with the RNC: They're fucking morons," the adviser said, adding that Republicans need to run on the threat of impeachment posed by a Democratic House. "If the party runs on North Korea and taxes? They're going to lose 40 seats."
Moreover, Chinese leaders, who have the most influence over Kim, are not going to permit a North Korea foreign policy win for Trump ahead of November, the adviser said. "Nothing was ever going to come out of Singapore. The Chinese were never going to let it happen," the adviser said. "You think they want to help Trump in the midterms?"
John Weaver, the GOP political consultant who worked for Ohio Gov. John Kasich's presidential bid in 2016, agreed that Republicans who believe a summit will help them are deluding themselves. "I don't really hear that outside of the Beltway and the Trump cult," he said, adding that people he speaks to are more worried that Trump, desperate for a deal, will get played by Kim.
"He doesn't want to be briefed. He doesn't read anything. He doesn't want to tell anything to our allies. How do people think this is going to turn out?" Weaver said. "The North Koreans have already gotten more from him than they have for 30 years."
REAL LIFE. REAL NEWS. REAL VOICES.
Help us tell more of the stories that matter from voices that too often remain unheard.