WASHINGTON -- Republicans in Congress are threatening to disrupt a key piece of President Barack Obama's pledge to combat global warming, just days before world leaders begin climate negotiations in Paris.
Obama, with teams of advisers and cabinet members, arrives in Paris next week, hoping to wrap up years-long negotiations with nearly 200 countries with a sweeping agreement that sets specific goals to stave off a catastrophic increase in global temperature.
But back in Washington, Republicans are working to prevent a deal, warning Obama they will use any tool necessary to block funding he has promised to help poor nations fight climate change.
Sens. John Barrasso (R-Wyo.) and Jim Inhofe (R-Okla.) pressed the president in a letter to be "forthcoming" with developing nations, telling them that Congress hasn't approved the $3 billion the U.S. has promised to the fund.
"The president, but certainly officials overseas, need to know that they shouldn't count on the money," Barrasso told The Huffington Post in a brief interview. "Bring it to Congress and come clean with the folks in Paris that he has to bring that back here to the Senate to get approval before they're going to see any money."
With little to leverage, Republicans see the Green Climate Fund as a critical chord they can sever to undermine a world climate agreement. The United Nations-controlled account, which helps developing countries combat rising sea levels, drought, and other extreme weather related to climate change, is a critical element of the Paris talks.
Choking off the fund may sow doubts among countries like India, which need help transitioning from fossil fuels to renewable energy sources. Bringing India to the negotiating table depends heavily on industrialized nations contributing to the fund.
An aide to Barrasso said the senator plans to "explore all options to protect American taxpayer dollars, including the omnibus." Tying the climate funding to the year-end spending bill, which must pass Congress by Dec. 11 to keep the government open, would inevitably set up a showdown between Republicans and the White House -- keeping the threat of a government shutdown alive.
"The money is the linchpin," Barrasso said. "The money is the linchpin that has to get a number of countries engaged in a kind of pay to play approach, and we want to make sure they know they are not going to get paid."
The timing may complicate matters for Obama. The Paris conference is set to wrap up on Dec. 11, the same day Congress will likely push through the omnibus spending bill. Republicans also have said they will likely add a measure to the spending bill that would stop certain Environmental Protection Agency rules pivotal to the president's climate legacy.
Sen. Barbara Boxer (D-Calif.), a fierce defender of Obama's climate policies, said she isn't worried about House and Senate Republican efforts to attack the green fund for poor countries, or the EPA rules.
"It would have to be a Herculean effort for the Republicans to stop it," Boxer said of the fund.
"We've already shown we can sustain his veto," Boxer continued. "To airdrop into the budget these controversial riders, it's just a non-starter. I just don't think they would do that unless they want to shut down the government."
During a preview of the president's trip to Paris on Tuesday, Paul Bodnar, senior director of energy and climate on Obama's National Security Council, wouldn't say if the administration was worried about the Republicans threats.
Asked if the president would veto an omnibus bill without money for the green fund, Bodnar didn't rule it out. "The Green Climate Fund is a priority for the president," Bodnar said. "It is a clear priority."
Neither House nor Senate appropriators have directed any aid to the Green Climate Fund. But Sen. Bob Corker (R-Tenn.), chairman of the Senate Foreign Relations Committee, which is responsible for the State Department spending bill, has expressed support for the Barrasso and Inhofe effort. An aide said Corker is talking with his Republican colleagues on how best to ensure Congress has a final say on any agreement signed in Paris, "including any related funding."
"Given the significant impact that U.S. commitments at the Paris negotiations could have on the American economy, we will continue to examine the best way forward to ensure Congress plays its appropriate, constitutional role," Corker said in an email.
Barrasso and others are rallying behind a resolution authored by Sen. Mike Lee (R-Utah), which stipulates the final Paris deal on climate change must be approved by Congress if Obama wants funds directed to poor nations. A companion bill will be introduced in the House.
It remains to be seen how Republicans plan to muster the votes to overcome a Democratic filibuster in the Senate to stop funding for the Green Climate Fund. Bucking party lines, Republican Sens. Mark Kirk (Ill.), and Susan Collins (Maine) joined a letter earlier this month with two Democrats, urging leaders on the Appropriations Committee to ensure a provision directing money to the fund is included in any final government spending bill.
Forcing the point, House and Senate Republicans plan to send a delegation to Paris next week to tell other countries that the U.S. Congress isn't on the same page as the president. Rep. Ed Whitfield (R-Ky.) will lead the House delegation. Democrats from both chambers also plan to go.
Despite the mounting attacks, administration officials appeared confident on Tuesday.
"We believe Congress needs to recognize the urgency of confronting international climate change and the Congress needs to be a part of the long-term effort to address this challenge," said Ben Rhodes, deputy national security adviser to the president.
Todd Stern, climate change envoy for the State Department, described the Paris meeting as America's "moment" on the issue.
"The stars are more aligned right now to reach an agreement than I have ever seen before," Stern said.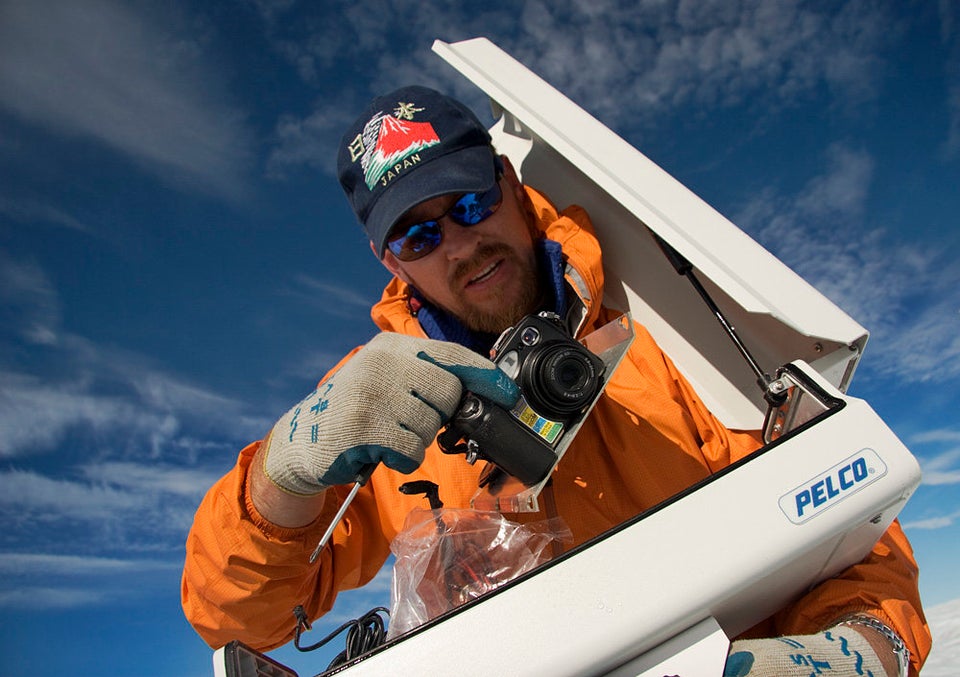 Champions Of Climate Change
Popular in the Community