Instead of actually overhauling the Affordable Care Act, Republicans may now just be trying to pass a bill in the House ― with the recognition that the Senate will never agree to a House-passed plan and that rowdy House conservatives may never accept a Senate bill.
"The focus of House leadership has been more about getting a bill out of the House that is unchanged and in keeping with the Better Way plan, instead of truly seeing to potential roadblocks that exist in the House and Senate," one GOP House member told The Huffington Post on Tuesday.
The lawmaker predicted that Speaker Paul Ryan (R-Wis.) and the White House would move the bill further to the right in an effort to get reluctant conservatives onboard. Such a move would open up the measure to more moderate objections, with centrist Republicans already expressing discomfort over projections that 24 million people would lose health insurance and provisions that phase out the Medicaid expansion. Still, conservatives have made it clear they won't support the bill as is, so giving in to demands from the House Freedom Caucus may be the only way forward.
Or there may be no way forward.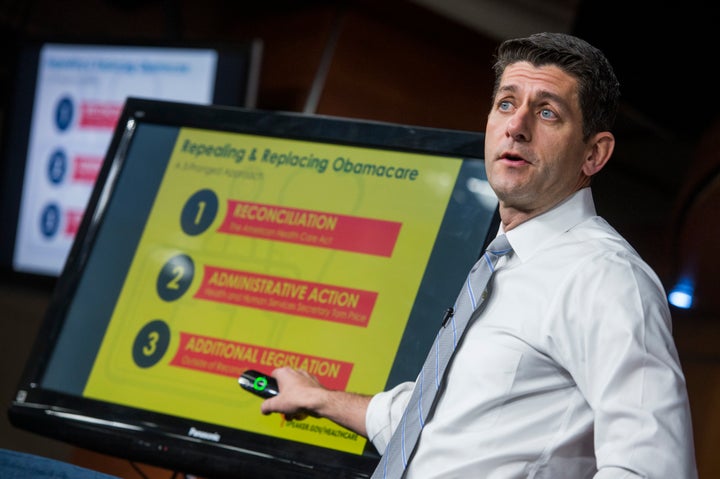 President Donald Trump has repeatedly said that it's in the political interest of Republicans to just let the Obamacare exchanges collapse. "Let it be a disaster, because we can blame that on the Dems," Trump told governors two weeks ago, summing up a thought he's expressed repeatedly.
If Trump and some Republicans now think their best course of action is to do nothing and continue blaming problems with the health care system on Democrats, then perhaps the best cover they can offer their members is to move a GOP bill out of the House, watch it die in the Senate, and then spend the next two years blaming Senate Democrats in states that Trump won.
In that scenario, voters fail to recognize that Republicans have the power to pass this bill without a single Democratic vote, and the ire over Obamacare doesn't dissipate even though voters have seen the GOP alternative.
If moderates knew that the House legislation would never go into effect, it might allow them to support the bill. It would become just another messaging vote.
House Republican aides are already starting to blame the Senate for intransigence.
"The question people should be looking at is whether Republican senators like Tom Cotton and Rand Paul are actually interested in repealing Obamacare, or whether they're sabotaging this to preserve the Medicaid expansion in their states," one senior House GOP aide told HuffPost on Tuesday. "These senators masquerading with conservative objections are too afraid to admit they want to keep Obamacare."
Arkansas (Cotton's state) and Kentucky (Paul's state) have been two of the biggest winners from the Medicaid expansion, so passing a bill that is projected to make $880 billion in Medicaid cuts over the next decade may not be in the interests of their constituents. But standing up for Obamacare, after Republicans have railed against the 2010 health care law for years, is basically political suicide. If the repeal-and-replace legislation simply went away, however, with senators opposing the plan because it's insufficiently conservative, then expansion states like Arkansas and Kentucky would never feel the effects of the Republican plan.
Again, House aides were happy to level the charge.
One GOP leadership aide noted that Trump had backed the House legislation. "So," the aide said, "senators who have spent the last couple of weeks grandstanding against this reality are going to need to decide whether they want to get serious and get this done, or be the ones responsible for keeping Obamacare in place. That's the choice."
But that assumes the House can get this legislation out of their chamber. Even with conservative concessions, there will likely be a number of hardline Republicans who won't support the basic structure of the bill. And with the CBO's cheerless score ― and perhaps some more conservative changes ― moderates will have little incentive to vote for the House bill.
You can easily name about a dozen conservatives who have come out strongly against the legislation and appear unwilling to support the bill even with changes. They include Reps. Justin Amash (R-Mich.), Dave Brat (R-Va.), Mo Brooks (R-Ala.), Scott DesJarlais (R-Tenn.), Louie Gohmert (R-Texas), Paul Gosar (R-Ariz.), Jim Jordan (R-Ohio), Steve King (R-Iowa), Raul Labrador (R-Idaho), Thomas Massie (R-Ky.), Tom McClintock (R-Calif.), Mark Sanford (R-S.C.) and Ted Yoho (R-Fla.).
Then there are a handful of more moderate members who look apt to vote against the bill or have already said they won't support it. Put on that list Reps. Mark Amodei (R-Nev.), Charlie Dent (R-Pa.), Brian Fitzpatrick (R-Pa.), Leonard Lance (R-N.J.), John Katko (R-N.Y.), Darrell Issa (R-Calif.), Tom MacArthur (R-N.J.), Ileana Ros-Lehtinen (R-Fla.), and Rob Wittman (R-Va.).
The defection of those lawmakers would be enough to sink the GOP bill in the House. And there are other House members who have expressed reservations.
Which is all to say that even under the best circumstances, even if Trump gets actively behind the health care plan and pressures reluctant lawmakers, this is a tough sell.
If Ryan and other GOP leaders can just get the bill out of the House, that would be a win for them, which is an amazing recalibration of expectations. Not so long ago, Republicans were promising the swift repeal of Obamacare and its replacement with a better plan that would be cheaper for everyone and expand coverage. Those promises seem to have fallen by the wayside. And in their place is another messaging vote.
Popular in the Community