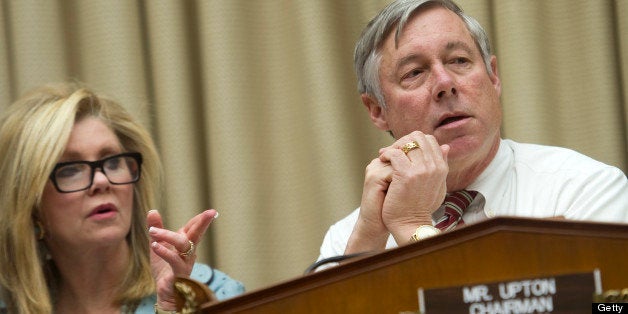 WASHINGTON -- A group of Republican lawmakers who have voted repeatedly to repeal Obamacare, claiming it will hurt businesses, are now calling for an investigation into why the administration is delaying a part of the law that affects businesses.
The administration of President Barack Obama announced Tuesday that it would delay the mandate and its fines of up to $3,000 for businesses to get health insurance for their employees. The Treasury Department cited concerns that businesses were having difficulty figuring out how to comply with the law in a blog post about the delay.
Just last week, the House Energy and Commerce Committee held a hearing on the impacts of the law, declaring that it forces small businesses to make untenable decisions about whether to expand above a threshold of 50 employees -- and become subject to the requirements of the Affordable Care Act.
Energy and Commerce Committee Chairman Fred Upton (R-Mich.) called the choice for businesses "gut-wrenching."
"The costs and requirements of this law are forcing many businesses across the country to make difficult decisions." said Rep. Tim Murphy (R-Pa.), who heads the oversight subcommittee.
But the same leaders, as well as a dozen other members of the committee, announced Wednesday that they want an investigation into why the White House made the "abrupt decision" to delay the employer mandate for a year.
According to a press release, the committee fired off letters to Treasury Secretary Jack Lew and Health and Human Services Secretary Kathleen Sebelius demanding explanations.
The committee objected that its members weren't told about the delay in advance and wanted details about administration consultations with business leaders that prompted the decision.
"Just as the law was crafted out of sight from the American people, the administration is again taking care of some interests behind closed doors while struggling Americans are left to pay for the looming rate shock and grapple with the law's complex mandates," said Upton in a statement. "Despite delays and missed deadlines, administration officials had repeatedly testified before Congress that they were still on schedule to implement the law. Yesterday, they admitted that wasn't the case, and it's clear we have no idea the full scope of delays and disarray that may be coming. The American public deserves answers."
Other Republicans have taken more of a gloating approach, saying the delay proves their assertions that the health care law is a train wreck.
UPDATE: 8 p.m. -- Upton's counterpart in the Senate, Commerce Committee Chairman Sen. Jay Rockefeller (D-W.Va.) had a decidely different reaction, releasing a statement Wednesday night:
Any delay in the implementation of the Affordable Care Act is a disappointment, but I'm confident the Administration would only have taken this action if it was absolutely necessary to a smooth rollout. The promise of health care reform will still be realized by millions of Americans because on January 1 they will have coverage for the first time in their lives; because insurers will no longer be able to turn anyone down if they're already sick or have an existing medical condition; and because health insurance plans will no longer have lifetime limits.

For people living in West Virginia who qualify for Medicaid, the upcoming expansion will make health care accessible and affordable for tens of thousands of people who currently don't have health insurance. The expansion is also a win for our state's economy as it's expected to bring more than $500 million every year to the state for the next ten years.

The promise of health care reform also relies on the participation of small businesses. Any small business that chooses to offer their employees coverage is eligible for significant tax credits that can be put toward the costs of providing coverage. I applaud all those small businesses committed to creating and maintaining a healthy workforce by offering their employees this benefit that's critical to their overall health and well-being.
Michael McAuliff covers Congress and politics for The Huffington Post. Talk to him on Facebook.
REAL LIFE. REAL NEWS. REAL VOICES.
Help us tell more of the stories that matter from voices that too often remain unheard.
BEFORE YOU GO
PHOTO GALLERY
Lies And Distortions Of The Health Care Debate