House Republicans say they're determined to repeal Obamacare. A new report, however, should give them about 6.3 million reasons to think very carefully about the consequences. 
There are 11.5 million people who bought insurance through the Affordable Care Act's exchange marketplaces this year, and the Henry J. Kaiser Family Foundation analysis looks at both the states and congressional districts in which they live.
According to the report, 6.3 million of these Americans live in districts that elected Republicans to the House of Representatives this year, while 5.2 million live in districts represented by Democrats. That means roughly 55 percent of the people with private insurance through Obamacare live in GOP districts, which corresponds pretty closely to the proportion of House seats Republicans now hold.
That includes almost 300,000 people who live in districts represented by the top three House Republican leaders and the chairmen of the three committees charged with writing new health care reform legislation. The data indicates that House Speaker Paul Ryan (R-Wis.) and House Majority Whip Steve Scalise (R-La.) each represent about 36,000 Obamacare customers, and that House Majority Leader Kevin McCarthy (R-Calif.) has 19,300 enrollees living in his district.
The situation is similar in the Senate. Almost 1.6 million exchange customers live in states represented by the two most senior GOP leaders and the chairmen of the two health care committees. Majority Leader Mitch McConnell (R) represents 76,640 Kentuckians enrolled in Obamacare, and Majority Whip John Cornyn (R) has about 1.1 million Texans with this coverage among his constituents.
And the new report doesn't include full, up-to-date information on the more than 15 million people who gained Medicaid coverage when the Affordable Care Act expanded the program in 31 states, including Louisiana and Kentucky, and the District of Columbia.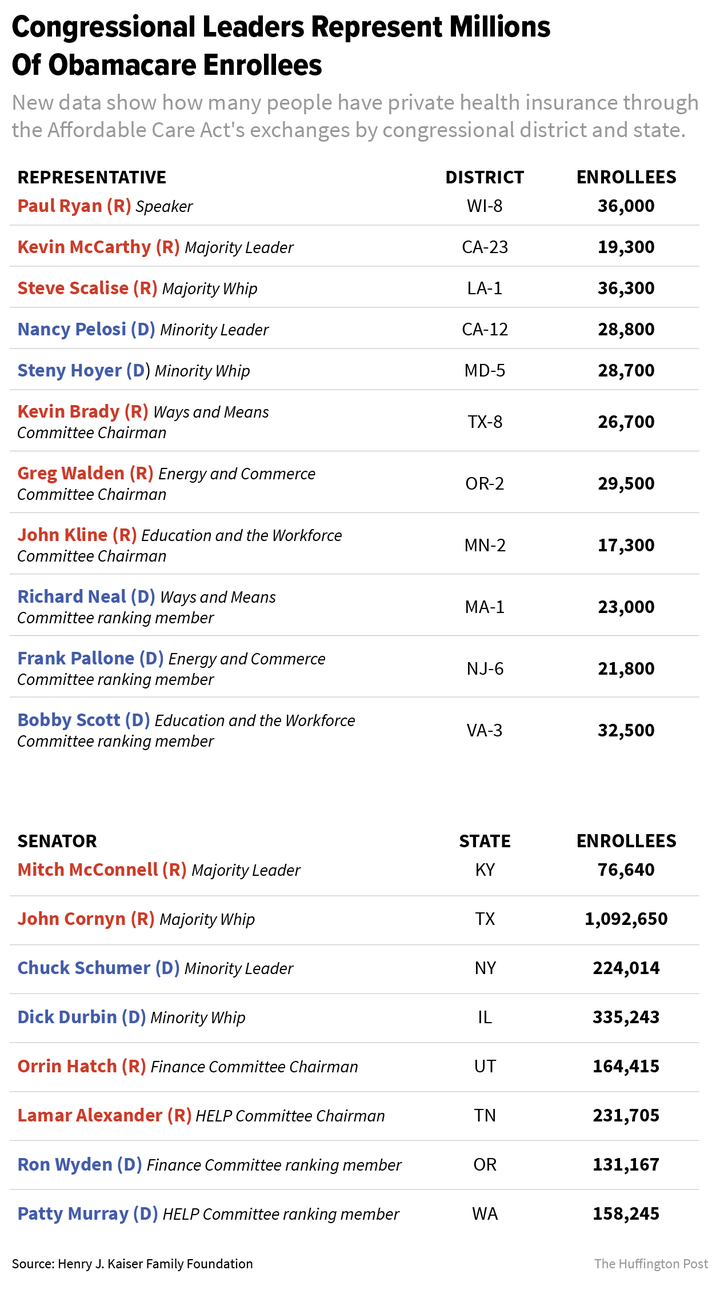 Most of these people would not have health insurance without Obamacare, according to projections by independent organizations such as the Commonwealth Fund and Urban Institute. This is either because they couldn't afford comprehensive coverage without the health care law's tax credits, or because they have pre-existing medical conditions that insurers could refuse to cover in the absence of the law's regulations. 
Republicans have promised that they can replace Obamacare with a better program, and President-elect Donald Trump has vowed that Americans will have "great health care for much less money" when all is said and done. 
But Republicans have no consensus on what that alternative should look like. The plans currently being talked about in Congress and at conservative think tanks would generally result in some combination of fewer people having insurance and less comprehensive coverage for those who do. 
This is not to say that every Obamacare recipient would be angry if the law went away.
On the contrary, many people buying Obamacare coverage are unhappy or even angry about premiums and out-of-pocket cost they say are too high ― and networks of doctors and hospitals that they say are too thin. Young and healthy people, in particular, could likely gain access to insurance with much lower premiums if the law went off the books, in some cases even without a Republican replacement.
A post-election poll by the Kaiser Family Foundation found that only 26 percent of Americans actually support fully repealing the Affordable Care Act, compared with nearly half who'd prefer to see it remain in place or even be expanded.
But from a purely political standpoint, Republicans may not worry about alienating these voters ― at least some of whom, it stands to reason, are loyal Democrats anyway. And the party has vowed for years to undo the Affordable Care Act and so would face backlash from its base if it failed to do so.
Polling and anecdotal evidence suggests that even many Republican voters value the coverage they get from Obamacare ― and, to the extent they want changes, they would prefer to see coverage that is more comprehensive even as it costs less. This is not something most GOP plans would consistently provide them.
Calling all HuffPost superfans!
Sign up for membership to become a founding member and help shape HuffPost's next chapter
BEFORE YOU GO
PHOTO GALLERY
Health Care Reform Efforts In U.S. History