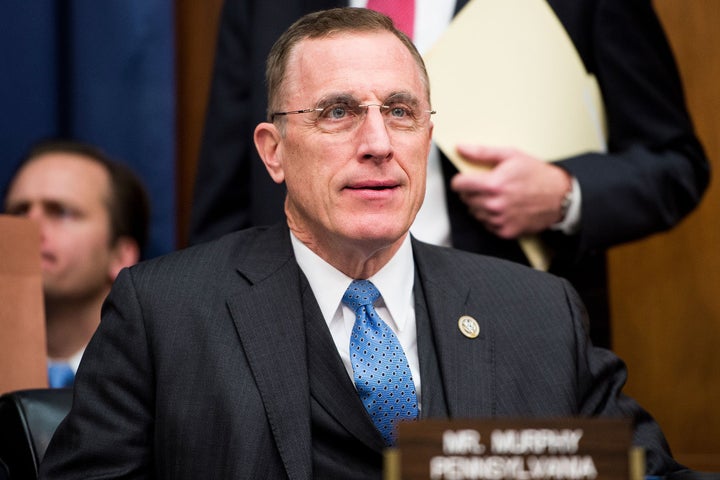 As if the Republican Conference didn't have enough trouble on its hands with the recent wave of retirement announcements from GOP House members, along with their lackluster response to the Las Vegas shooting, Representative Murphy just announced his resignation amidst a cloud of controversy and scandal. House Speaker Ryan made the announcement yesterday, in effect saying that as of Oct. 21, 2017, Dr. Murphy will no longer be a member of the Pennsylvania House.
"It was Dr. Murphy's decision to move on to the next chapter of his life, and I support it. We thank him for his tireless work on mental health issues here in Congress and his service to the country as a naval reserve officer," said Speaker Ryan in a prepared statement.
Bombshell Revelations Of Rep. Murphy's Involvement In An Affair
Leading up to Ryan's announcement were revelations that Rep. Murphy was having an extramarital affair with a young woman named Shannon Edwards. Even before the affair became public, several influential GOP House members were already urging Dr. Murphy to resign as word of the affair followed allegations of rampant abuse taking place in Murphy's office.
Doubly damaging to Murphy were revelations that after getting Edwards pregnant, he pressured her to terminate her pregnancy by having an abortion. Many within Murphy's party were taken aback that such a staunch anti-abortion advocate could lead such a different life in private than the one he advocated and professed to believe in ― any time he was before the camera.
Tony Perkins, president of the pro-life advocacy group Family Research Council, weighed in on the matter in a statement that he read before Ryan's announcement saying, "Congressman Murphy's behavior is disappointing and disturbing ... His statements and actions are at odds with his voting record."
Who Is Representative Tim Murphy?
Rep. Murphy lives in Upper St. Clair, an affluent suburb, a few miles south of Pittsburgh. Before going into politics, he served as a naval reserve officer. Afterwards, he went into the medical field ― spending several decades working with patients as a clinical psychologist before joining the Pennsylvania State Senate in 1997. His career in the state senate ended in 2002. Next, he turned his attention to the State House.
His medical background gave him a unique edge among his congressional peers and helped pave the way for his tenure as co-chair of the Mental Health Caucus ― a position which he used to champion policies intended to make healthcare more affordable.
While the affair did irreparable damage to his reputation, the issue that started this chain of events were widespread rumors that his office repeatedly mistreated his staff. His office was notorious for being a revolving door for a string of staffers. Many of these ex-aides would confide in others within the D.C. corridor that working conditions in Rep. Murphy's office were unbearable.
Allegations Of Widespread Abuse
At the center of the allegations was Murphy's chief of staff, Susan Mosychuk. Several of Dr. Murphy's former aides went to the press, alleging harsh treatment from Mosychuk. Some said her tirades were so noisy that the office kept noise machines throughout the office to make it difficult for visitors to hear the screaming. It had also been alleged that Susan intentionally skirted ethics policies regarding outside income as her moonlighting activities yielded substantially more than what House rules allowed. Much of her side income came from work that she did for Murphy's campaign ― while also working for his congressional office. If Murphy's resignation is any indication, 2018 could be a bad year for the Republican House and Senate.
BEFORE YOU GO