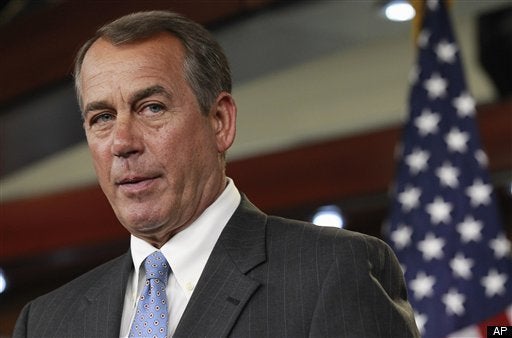 WASHINGTON (The Borowitz Report) - Preparing for what most political insiders agree is their most important performance of the year, congressional Republicans have spent the past week rehearsing their grouchiest facial expressions for Tuesday's State of the Union Address.
For seven grueling days, GOP congressmen have been behind closed doors, refining their best winces, grimaces, and other sourpuss mannerisms under the tutelage of Speaker of the House John Boehner (R-Ohio).
"Looking like you've just sucked on a lemon is harder than it seems," said Mr. Boehner. "It doesn't come naturally for everyone like it does for Mitch McConnell."
Mr. Boehner has been employing a "method acting" approach with his House colleagues, urging them to imagine "the most unpleasant thing they can think of - like Keith Olbermann being back on TV."
But given the new vogue for "civility" that has swept Washington in recent weeks, Mr. Boehner is instructing House Republicans to restrain themselves from outbursts like that of Rep. Joe Wilson (R-SC), who famously shouted "You lie!" during President Obama's congressional address in 2009.
"If you feel an outburst coming on," Mr. Boehner told his colleagues, "I ask that you instead limit yourself to a simple, tasteful jerking-off hand gesture."
Mr. Boehner said that while he wants his Republican members to look as grumpy a possible throughout Mr. Obama's speech, "I want them to show him the same respect we would show to any other foreign visitor to our shores."
Immediately following the President's speech, Rep. Paul Ryan (R-Wis) will give the official Republican response, followed by Michele Bachmann (R-Minn), who will give the official moron response. More here.
The Los Angeles Times says Andy Borowitz has "one of the funniest Twitter feeds around." Follow Andy on Twitter here.
Related
Popular in the Community