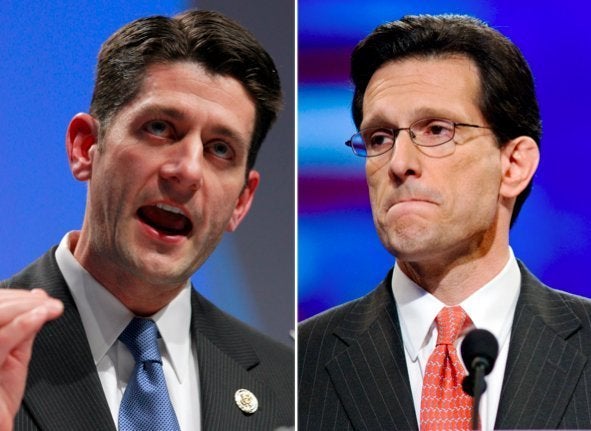 WASHINGTON -- Republicans bashed the president's budget proposal on Monday, calling it a punt down the road for the nation's deficit and criticizing Obama for not including a plan to change the way the government deals with Social Security and Medicare. House and Senate Republicans said Obama's budget, which the White House said would cut the deficit by $1.1 trillion over the next decade, would actually lead to increased spending and more debt for the country.
"It looks like to me that this thing has about $8 of tax increases for every $1 of spending cuts," said Rep. Paul Ryan (R-Wisc.), chairman of the House Budget Committee. "You really cannot borrow and spend and tax your way to prosperity, but unfortunately that's what this budget does."
GOP members rejected White House claims that the budget would save $1.1 trillion, arguing that figure is based on fuzzy math and "gimmicks." Sen. Jeff Sessions (R-Ala.) told reporters on Capitol Hill that the bill would reduce the deficit by only a "negligible" $300 billion. (For context, the House GOP is currently engaged in an effort to cut about $60 billion from spending.)
They argued the government should rein in the deficit more quickly, which is impossible under a budget like Obama's, that focuses on discretionary funds that make up only a quarter of government spending. Critics of major spending cuts, including some economists, have said rapid cuts to spending could threaten an already fragile economy, but Republicans have said they are not worried about cutting too much too fast.
"We can get this deficit under control. It is not impossible," Sessions said. "And if we do so, we can put America on a better path, the path to prosperity."
Republicans will take on entitlement reform in their budget, which will be unveiled sometime in April, House Majority Leader Eric Cantor (R-Va.) told reporters. Republican Leadership remained mum on the specifics of how they plan to take on changes to Social Security and Medicare (Ryan declined repeatedly to discuss the issue), but said the budget will include the entitlement programs.
"We will be presenting our own budget, a serious document that will reflect the type of path we feel we should be taking to address the fiscal situation, including addressing entitlement reforms," Cantor said. "It's high time we see from Harry Reid and the president their plans ... Where's the demonstration that they're willing to make tough decisions?"
Ryan declined to comment on whether the GOP's budget would include changes to entitlements, even though he is a longtime supporter of entitlement reform.
"Obviously, entitlement reform is the the biggest slice of the pie, so clearly we're going to need to go there, but I'm not going to get into what it's going to do specifically and how it will work, because we haven't written it yet," Ryan said.
As for whether the president's budget would pass Congress, Ryan said the budget was "debt on arrival," and demonstrated a disappointing return to the left for the president after his State of the Union address, despite the budget's numerous cuts to programs and agencies that help the poor and middle class.
"Many people thought, ourselves included, that the president would moderate after the past elections," Ryan said. "This is not a moderate budget, this is a budget that went to the left. It would be better doing nothing than if we were to actually pass this budget."
Popular in the Community