A majority of Americans identifying as Republican or Republican-leaning independents are not against same-sex marriage for the first time in more than two decades of polling, a new study by the Pew Research Center found.
The finding shows a rapid shift in right-leaning Americans' stance on same-sex marriage since 2013, when 61 percent of Republican respondents said they opposed gay marriage, compared with 33 percent in favor.
It's still not the case that a majority of Republicans support same-sex marriage. They are very close to evenly split, with 48 percent of those polled opposed, and 47 percent in favor.
The Pew Research Center released the study on Monday, the two-year anniversary of the Supreme Court's historic decision guaranteeing that same-sex couples have the constitutional right to marry. In the meantime, the court struck down an Arkansas law that prevented some same-sex partners from having their names on their child's birth certificate, and decided to hear an appeal of a case that will determine whether a Colorado baker had the right to deny service to a gay couple on religious grounds.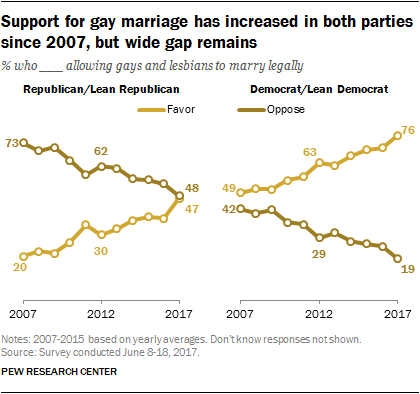 Republicans are not the only group to show a dramatic shift in opinions on marriage equality in recent years. The Pew survey, which polled 2,504 adults by phone from June 8 to June 18, found that Baby Boomers, African Americans, and young white Evangelicals all show what the survey calls a "striking" increase in support for same-sex marriage.
The survey found that a majority of the conservative Baby Boomer generation, for the first time, favored same-sex marriage, with 56 percent in favor and 39 percent opposed. Just last year, 46 percent of Boomers were in favor and 48 percent were opposed.
Although all generations showed an increase in support for same-sex marriage, age differences remain significant. Seventy-four percent of Millennials (aged 18 to 36) say they favor same-sex marriage, and 23 percent opposed. The percentage of people in favor of same-sex marriage decreases as you go up the generations, from Generation Xers (65 percent) to Baby Boomers (56 percent). The Silent Generation (Americans between 72 and 89) is the only generation with more people opposing same-sex marriage (49 percent) than supporting it (41 percent).
This generational difference in whether Americans believe LGBTQ people should be permitted to legally marry is evident across the partisan divide. Although Republicans and Republican-leaning independents as a whole are roughly split on the question, 60 percent of right-wing Millennials are in favor of same-sex marriage, with only 38 percent opposed.
This age discrepancy is also evident on the left, with 87 percent of Democratic Millennials supporting same-sex marriage. In contrast, 56 percent of Silent Generation Democrats support marriage equality.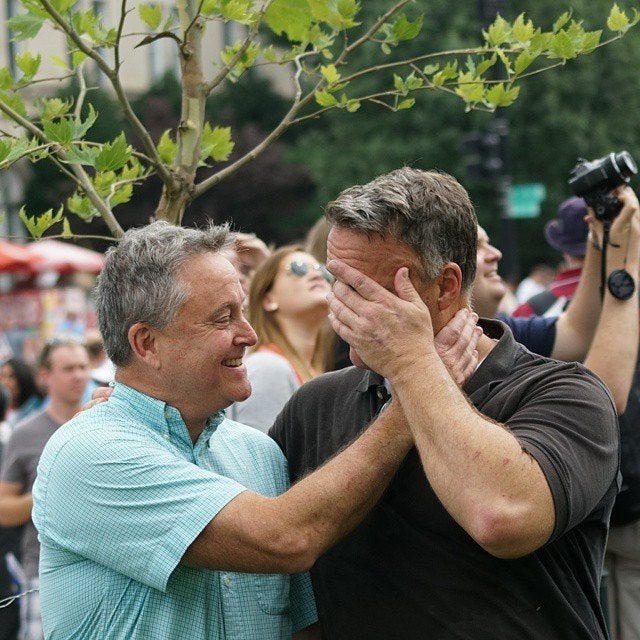 U.S. Celebrates Marriage Equality