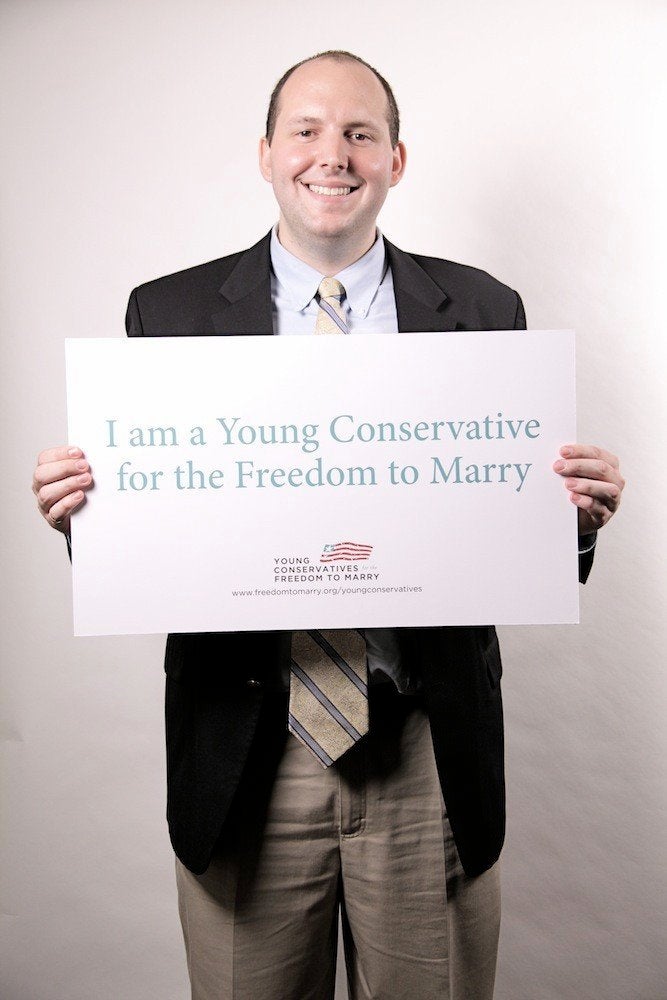 WASHINGTON -- On Tuesday evening a group of conservatives gathered at the National Republican Club of Capitol Hill to launch the latest effort to build support for gay rights within a party that has previously shied away from embracing them. This crowd appeared confident that the Republican Party was at a tipping point on the issue of same-sex marriage. Those gathered were less certain, though, about their support for presumptive Republican presidential nominee Mitt Romney.
Marc Solomon, political director of the Young Conservatives for the Freedom to Marry, rattled off some of the latest polling data to a crowd of about 150 conservatives -- most of them young men -- gathered for his group's launch event. The new group is an offshoot of Freedom to Marry, a national advocacy group dedicated to working to legalize same-sex marriage. A recent Washington Post poll showed Republican respondents 18 to 44 were evenly split over whether same-sex marriage should be legal, with 46 percent in favor, and 46 percent opposed.
Older Republicans are still mostly opposed to legalizing same-sex marriage, but Solomon and the others gathered on Tuesday are focusing on the young people. "The numbers are only going in one direction," Soloman said. "And that's exciting news."
Craig Stowell, a member of the Young Conservatives' leadership committee, spoke about recent successes in New Hampshire and New York, where gay rights groups like the Log Cabin Republicans lobbied Republican politicians, resulting in the successful passage of legislation legalizing same-sex marriage. "I know this is something we can do," Stowell told the crowd emphatically.
But when the subject turned to the presidential election, many said they were undecided.
This fall presents a new challenge for gay Republicans and conservatives. During past presidential elections, neither candidate supported same-sex marriage. But this changed in May, when President Barack Obama announced in an ABC News interview that he believed same-sex couples "should be able to get married."
In contrast, former Gov. Mitt Romney has signed a pledge drafted by the nation's leading group opposing same-sex marriage. The pledge represents a commitment to oppose same-sex marriage, support a federal constitutional amendment defining marriage and appoint federal and Supreme Court judges who would reject gay marriage as a constitutional right.
The Log Cabin Republicans group has not yet endorsed any candidate for the presidential election and the president of the group, R. Clarke Cooper, said many of his members still support Romney despite his stance on same-sex marriage.

The president of the Washington chapter of the Log Cabin Republicans, Robert Turner, laughed when asked whether he planned to vote for Romney. "Well I'm not voting for Obama," he said, pausing to sip from a bottle of Bud Light. "It is hard. I don't know what I'll do," said Turner, 41, who has been a registered Republican since 1990.
Turner, also serves on the board of Capital Pride, a group that organizes Gay Pride events in Washington. If Romney were to rescind his marriage pledge or select a running mate supportive of gay rights, Turner might consider voting for him, he said.

But the chances of Romney selecting a pro-gay rights running mate could be slim. In April, Romney hired an openly gay man, Richard Grenell, to serve as a national security adviser for his campaign. Grenell ended up resigning amid a storm of outrage from some Christian conservatives. Afterward, conservative evangelical radio host Bryan Fischer, who led the charge against Grenell, declared on his radio show, "Ladies and gentlemen, there's our winnable war!"
Those gathered on Tuesday night seemed keenly aware of their party's split over gay rights, and most said they believed they were on the winning end of the struggle, despite Romney's positions.
Sarah Longwell, a 32-year-old conservative who believes in limited government, individual freedom and free markets, said she thought it would just be a matter of time before the Republican Party supports same-sex marriage. She compared Fischer and his allies to "Sisyphus pushing that rock up a mountain."
"Most Republicans don't want to talk about this issue because they don't want to be on the wrong side of history," Longwell said, with one arm slung around her girlfriend's waist. When asked about her pick in the presidential race, she paused before answering. "I'm going to make that decision alone at a ballot box," she said. "Had he not signed the marriage pledge, I would have easily supported him."
Nicole Neily, who is part of the new group's leadership committee, also said she thought the Republican Party's positions on gay rights would shift over time but observed that Republican leaders stood as an obstacle to faster progress. "We need some these people to just kind of just fade away," she said.
Neily is straight said she joined Young Conservatives for the Freedom to Marry because her father's cousin is gay. For a young conservative trying to build a career in Washington, coming out in support for gay rights can still be a difficult choice, said Neily, who has worked for the libertarian Cato Institute.
"How do you make a name for ourself when [conservatives who oppose same-sex marriage] dominate the conversation?" Neily asked. "I'm not going to shut up Richard Viguerie or anything," she said, referring to a prominent conservative activist who opposes legalizing same-sex marriage.
David Lampo, a gay Republican and author of A Fundamental Freedom: Why Republicans, Conservatives, and Libertarians Should Support Gay Rights, framed the challenge in blunter terms: "The religious right has ruined our brand," he said. "Hopefully they haven't ruined it permanently."
REAL LIFE. REAL NEWS. REAL VOICES.
Help us tell more of the stories that matter from voices that too often remain unheard.