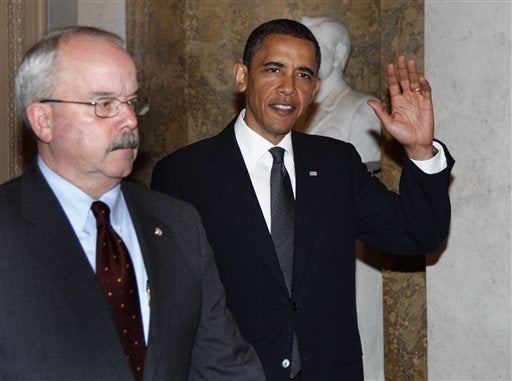 WASHINGTON - President Barack Obama and Senate Republicans called a high-noon cease-fire in their long-running political feud Tuesday, holding a rare, private meeting on Capitol Hill to discuss what legislation can be achieved during this volatile election year.
"We want to see if we can get some more work done," Obama told reporters on the way into the session.
The question went unanswered, according to early readouts from those in the room. Obama gave opening remarks before a question-and-answer session; one official said senators fussed at the president a bit. Applause could be heard emanating from the parlor just before the president exited, however.
"It was a good, frank discussion about a whole range of issues," Obama reported as he left.
Some Republicans had a less positive takeaway from the meeting, according to the Washington Post. Sen. Pat Roberts (R-Kansas) told reporters that Obama was "pretty thin-skinned" and advised that he "take a Valium before he comes in and talks to Republicans." Sen. Sam Brownback (R-Kan.), on the other hand, called the meeting "testy," while Sen. John Thune (R-S.D.) gave it the less conflictual title of a "lively discussion."
The prospects for progress weren't high. Relations between Republicans and Democrats are extraordinarily strained, a reflection of constituencies inflamed by the struggling economy and the government's role in transcendant problems facing the nation. Jobs, immigration, the massive oil spill in the Gulf of Mexico and the federal budget all were topics of discussion.
But tension - political and increasingly personal - underpinned the unusual event six months from a midterm election in which every member of the House, 36 Senate seats and Obama's credibility are on the line.
The two sides have cooperated on few items this year. Senate Republican Leader Mitch McConnell has urged Republicans to vote against the Democrats' agenda items as often as possible in attempt to moderate them and draw distinctions between the parties.
The rare Hill meeting between the Democratic president and Republicans who have objected to much of his agenda came at Obama's urging, according to Republicans with knowledge of the matter.
An official who attended the meeting said Obama did not say whether he will deploy the National Guard to the border, as has been urged by Arizona Republican Sens. John McCain and Jon Kyl.
Republicans also said they expected to speak with Obama about their plan to attach immigration reforms to an almost $60 billion war spending bill. The amendments would toughen border security by deploying drones and thousands of National Guard troops, if Obama doesn't deploy them first.
During his presidential campaign, Obama promised to push legislation paving the way to citizenship for some 11 million illegal immigrants. He has said more recently, though, that Congress has little appetite for a massive bill on the subject this election year, so lawmakers are looking at ways to enact more incremental changes.
REAL LIFE. REAL NEWS. REAL VOICES.
Help us tell more of the stories that matter from voices that too often remain unheard.