WASHINGTON -- Senate Republicans were outraged when Democrats changed filibuster rules last year to make it easier to advance President Barack Obama's nominees. They complained all year about being cut out of the process and took every opportunity to delay action on the nominees in protest.
But now that Republicans will be the majority in January, they're all over the place on whether to keep the rules change for themselves. It currently takes 51 votes, instead of 60 votes, to clear a procedural hurdle, or a "filibuster," on most judicial and executive nominees. Democrats reluctantly changed the rules last fall in response to GOP obstruction of Obama's nominees, and it proved effective in clearing the logjam. But it also has fueled partisan tensions.
Some Republicans have strong feelings on the need to revert to the 60-vote threshold, in the name of fostering bipartisanship and restoring collegiality.
"I've always been an advocate to go back to the way it was before," said Sen. Richard Burr (R-N.C.).
"I'm going to be strongly backing [Senate Minority Leader Mitch McConnell's] effort to return the Senate to regular order," said Sen. Mark Kirk (R-Ill.), who complained about Democratic leaders preventing debate on legislation as well as nominees. "The deep sleep -- I'm sorry to offend you if you're a Democrat -- the deep sleep of [Senate Majority Leader] Harry Reid should end here."
"I like the old way of doing business," added Sen. Lindsey Graham (R-S.C.). "I think it requires collaboration. Any time you require collaboration, you get a better product."
Others said Democrats should have to experience being in the minority under the rules change that they made.
"Personally, I think we ought to stay right where we are," said Sen. Orrin Hatch (R-Utah).
"My view at the time they did it was, if this rule changes, it's likely never to revert back to where it was," said Sen. Roy Blunt (R-Mo.). "We'll have to see."
"I was opposed, obviously, to the change," said Sen. Jerry Moran (R-Kan.). "I'm going to listen to the arguments on both sides."
If Republicans decide to keep filibuster reform in place, the effects wouldn't be huge in the next Congress. Obama already has to work with them to get his nominees confirmed, and, in a Senate on track to have 54 Republicans and 46 Democrats, the 51-vote threshold would mean he needs a small number of Republicans to agree with Democrats to move people through. The biggest effect would be felt if, say, a Republican wins the White House in 2016 and the GOP holds the Senate. In that scenario, Republicans could advance their party's preferred judicial and executive picks with little ability for Democrats to affect the outcome.

Keeping filibuster reform could also open the door to more changes, such as lowering the vote threshold necessary for advancing bills. That currently requires 60 votes, but some say that number should be lowered to 51 votes too.

"I'd love to have the 51 threshold for legislation," said Sen. Tim Scott (R-S.C.). "I think there's some value in doing that for a while."
For the most part, Republicans said they haven't made up their minds on whether to keep the current reforms. HuffPost talked to more than a dozen GOP senators. Even party leaders said they wanted to wait until January before forming an opinion.
"We're all going to discuss that and a lot of other issues going into next year," said McConnell.
"Tough call. We're going to have that discussion," said Sen. John Thune (S.D.), chairman of the Senate Republican Conference. "I've kind of been of the view that we ought to go back to the old rules and take the high road. But my thinking is still evolving on that because they're making a pretty good argument that you can't have two standards."
Sen. John Hoeven (R-N.D.) said he sees the merits of keeping filibuster reform, and the downsides.
"There's a lot of things we can do procedurally, even if we do go back to 60 votes. And it does add an element of bipartisanship to these judicial appointments," Hoeven said. "On the flip side, I believe judges should be strict constructionists."
Hoeven echoed the sentiments of Sen. Marco Rubio (R-Fla.), who said he's mixed. Rubio pushed back on the idea that Republicans could look like hypocrites for taking advantage of filibuster reform after bashing it all year.
"I haven't thought about it that way," Rubio said. "I'm just thinking about what's the thing that's going to make the Senate work best."
Some senators didn't want to talk about the issue at all. Sen. John Barrasso (R-Wyo.) stared blankly at HuffPost when asked if he wanted to keep filibuster reform, before slipping into an elevator and disappearing. Sen. Susan Collins (R-Maine) said she had thoughts on the matter, but didn't want to share them.
"Who do you work for?" Collins asked, as this HuffPost reporter identified herself.
"That's what I thought," she replied, turning and walking away.
This post has been updated to include more information on the effects of keeping the current filibuster rules in place.
Before You Go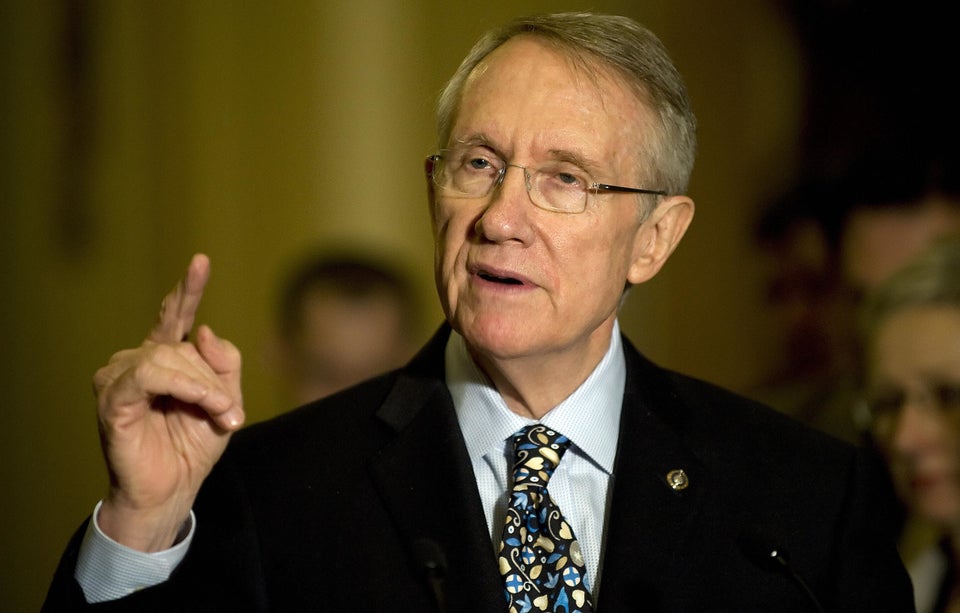 Senate Majority Leaders Through The Years
Popular in the Community