Donald Trump's unpopularity is threatening to take the Republican Senate majority down with him.
With an influx of new data, the HuffPost Senate forecast indicates that Republicans have a 38 percent chance of keeping the majority. Democrats have a 30 percent chance of taking an outright majority, and there's a 32 percent chance that the chamber will split 50-50.

This is a big shift for the HuffPost model. As of Friday, it was showing that Republicans had a nearly 60 percent chance of keeping the majority. The flip was caused by new data in the Indiana race, moving it from a 50 percent chance for each candidate to a 99 percent likelihood of flipping toward the Democratic side.
Our model requires at least five polls on any given race in order to run. There was a dearth of information on Indiana until Friday, so we were using the race's rating from Cook Political Report to produce a probability. The Cook rating is a "tossup," indicating that without polling information, we'd give each candidate a 50 percent chance.
We got that fifth poll in, and all of the polls have indicated that Democratic candidate Evan Bayh has a considerable lead. In the HuffPost Pollster aggregate, Bayh is 9 points ahead of Republican candidate Todd Young. That wide lead with just over two weeks until Election Day translates into a 99 percent chance of Bayh winning. 
Moving Indiana from 50 percent to 99 percent likely to go over to the Democrats was critical. The most likely outcome before the move was 51 Republican seats and 49 Democratic Senate seats. Pushing a single seat to an almost-certain flip made the most common outcome a 50-50 split.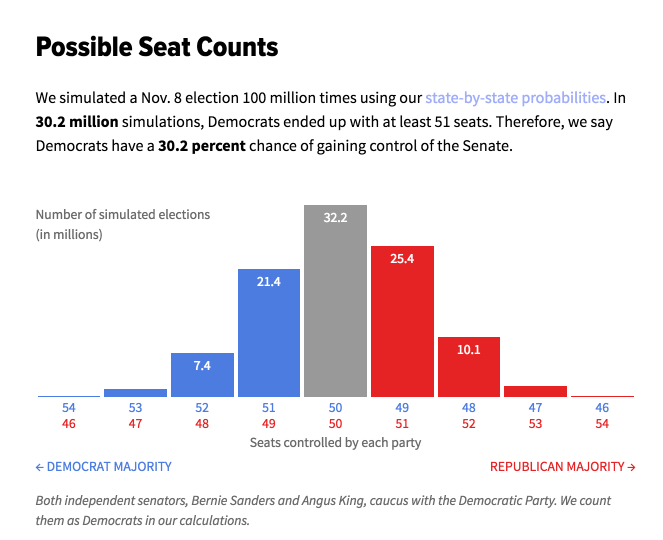 But that doesn't mean Democrats have the majority sewn up. A 61 percent chance of getting to 50-50 with a Democratic vice president is not that much better than the chance of getting heads on a single random coin flip. If Republicans' numbers improve even a little, they could reach 51 seats and control the chamber regardless of who is vice president. 
The critical seats are in New Hampshire, Nevada and Pennsylvania. Democrat Maggie Hassan is favored over Sen. Kelly Ayotte (R) in New Hampshire at the moment, but the race has been back and forth. Catherine Cortez-Masto (D) and Joe Heck (R) are essentially tied in Nevada, as are Katie McGinty (D) and Sen. Pat Toomey (R) in Pennsylvania.
Which direction those three seats go will determine the majority in the Senate for the next two years.
Calling all HuffPost superfans!
Sign up for membership to become a founding member and help shape HuffPost's next chapter
BEFORE YOU GO
PHOTO GALLERY
Women In The U.S. Senate