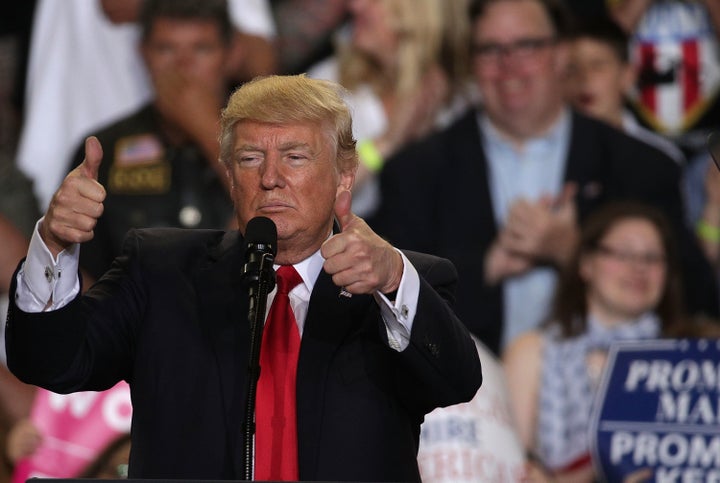 WASHINGTON ― The White House and congressional GOP leaders swear they're closer to repealing and replacing the Affordable Care Act, but a vote on the Republican health care plan may be further off than President Donald Trump hopes or thinks, as support among the rank-and-file is squishy and opposition among moderates doesn't look any less fierce than days before.
Republicans were saying the House could vote as early as Wednesday on the health care bill, but that may just be another false start. Instead of members who were "no" coming out in support Monday, the weekend seemed to calcify the most ardent moderate opposition and leave a number of members who are usually reliable cheerleaders of leadership's agenda with lingering questions. Former Appropriations Chairman Hal Rogers (R-Ky.) told HuffPost that he wasn't quite ready to announce his support for the bill, and Foreign Affairs Chairman Ed Royce (R-Calif.) remains undecided.
Even some GOP deputy whips, members who are normally dispatched to do leadership's bidding and build support for proposals, reported on Monday that they were undecided. David Valadao (R-Calif.), Elise Stefanik (R-N.Y.), Kevin Yoder (R-Kan.), and Erik Paulsen (R-Minn.), who actually lives with Majority Whip Steve Scalise (R-La.) when they're in D.C., all reported Monday that they hadn't made up their minds.
But the most significant news Monday came from another usually solid GOP leadership ally: Rep. Billy Long (R-Mo.). Long declared in a statement that he was a no on the health care bill because an amendment worked out between moderate leader Tom MacArthur (R-N.J.) and Freedom Caucus Chairman Mark Meadows (R-N.C.) "strips away any guarantee that pre-existing conditions would be covered and affordable."
Long thinks the latest changes undermine coverage for sick people, a key protection of Obamacare that Trump specifically said on Monday that he wanted to protect.
"I want it to be good for sick people," Trump said in an interview with Bloomberg News, continuing that the bill is not in its "final form" right now.
"It will be every bit as good on pre-existing conditions as Obamacare," Trump said.
If that's the standard, centrist Republicans who know that this bill is not nearly as good as Obamacare on protecting people with pre-existing conditions may soon ask why they should be forced to break campaign promises to support the bill.
Trump actually called Long on Monday to convince him to support the bill, but his pleas didn't work. Neither did a long conversation on the floor Monday night with Speaker Paul Ryan (R-Wis.).
Long told HuffPost on Monday night that leadership didn't need his vote. "They got 40 Freedom Caucus votes," Long said. "Why do they need me?"
(There are about three dozen Freedom Caucus members, and a few members of the conservative group may still vote against the bill even after the caucus was able to drag the legislation further to the right.)
There is some resentment among rank-and-file Republicans that the Freedom Caucus was able to significantly change the legislation and undermine the pre-existing condition provision of the GOP health care plan, and there may be a growing feeling among moderates that they shouldn't allow conservatives to control policy for everyone.
But, a senior GOP aide told HuffPost, leadership feels like they're in a better position trying to flip moderate votes in the coming days than they would if they were trying to flip recalcitrant conservatives.
Still, leadership acknowledges they're short on the votes right now. The optimism coming from the White House is just over how close they think they are. As another senior GOP aide pointed out, however, the White House's rosy assessment of where the votes stand perhaps shouldn't be the standard to gauge the whip count. Administration officials were insisting a day before the House was supposed to vote that they had the votes, even though it was clear at that time ― as well as in the aftermath of leadership pulling the bill ― that Republicans weren't even close.
A similar naivete may be at hand now. The White House sees only around 20 Republicans publicly opposing the bill, suggesting that the House is right around a passing threshold. But the reality is that there are potentially dozens of other Republicans who are still uncomfortable with the bill and remain noncommittal. Rep. Don Young (R-Alaska) told HuffPost on Monday night that he's "all over the place" on whether he supports the legislation. Rep. Michael Turner (R-Ohio), who desperately wants to become the next Armed Services Committee chairman, repeatedly told HuffPost he was busy when we asked where he stood.
With around 20 hard no votes, Republicans would need almost every undecided and leaning no Republican to side with them. And with Trump seeming to trash the legislation as it currently stands, there aren't many compelling reasons for wavering Republicans to get on board.
Here is the current HuffPost whip count on the latest version of the GOP health care proposal. This whip count is based on conversations with lawmakers and staffers with knowledge of how members are voting. Not every lawmaker on this list has confirmed how he or she will vote ― this is our best guess:

No (20)
Mark Amodei (Nev.)
Andy Biggs (Ariz.)
Barbara Comstock (Va.)
Ryan Costello (Pa.)
Jeff Denham (Calif.)
Charlie Dent (Pa.)
Dan Donovan (N.Y.)
Brian Fitzpatrick (Pa.)
Jaime Herrera Beutler (Wash.)
Walter Jones (N.C.)
John Katko (N.Y.)
Leonard Lance (N.J.)
Frank LoBiondo (N.J.)
Billy Long (Mo.)
Thomas Massie (Ky.)
Patrick Meehan (Pa.)
Ileana Ros-Lehtinen (Fla.)
Chris Smith (N.J.)
Fred Upton (Mich.)
David Young (Iowa)

Lean No (8)
Paul Cook (Calif.)
Carlos Curbelo (Fla.)
Mario Diaz-Balart (Fla.)
David Joyce (Ohio)
Michael Turner (Ohio)
David Valadao (Calif.)
Daniel Webster (Fla.)
Rob Wittman (Va.)

Undecided (13)
Justin Amash (Mich.)
Mike Coffman (Colo.)
John Faso (N.Y.)
Darrell Issa (Calif.)
Adam Kinzinger (Ill.)
Steve Knight (Calif.)
Erik Paulsen (Minn.)
Bruce Poliquin (Maine)
Dave Reichert (Wash.)
Ed Royce (Calif.)
Elise Stefanik (N.Y.)
Kevin Yoder (Kan.)
Don Young (Alaska)

Lean Yes (14)
Rod Blum (Iowa)
Ted Budd (N.C.)
Bradley Byrne (Ala.)
Tom Emmer (Minn.)
Rick Crawford (Ark.)
Jeff Fortenberry (Neb.)
Rodney Frelinghuysen (N.J.)
Paul Gosar (Ariz.)
Peter King (N.Y.)
Hal Rogers (Ky.)
Peter Roskam (Ill.)
Scott Tipton (Colo.)
Glenn Thompson (Pa.)
Lee Zeldin (N.Y.)
This story has been updated to reflect the latest whip count as of Tuesday morning.
Popular in the Community