WASHINGTON ― Just a few days before a shutdown, lawmakers are still sorting out how they plan to fund the government past Friday.
House Republican leaders put forward a plan Tuesday night that would extend government operations for another month, fund the Children's Health Insurance Program for six years as a lure for Democrats and try to win GOP support by delaying some taxes on health insurance plans.
That bill would have a decent chance of passing the House and Senate, with Democrats still calling for a legislative fix for the Deferred Action on Childhood Arrivals (DACA) immigration program but not necessarily willing to shut down the government in order to get a deal.
In the House, this so-called continuing resolution (CR) could probably pass with just Republican votes ― or with only a few Democrats joining Republicans ― and then pass the Senate with bipartisan support.
That's essentially how Congress passed the last CR to keep the government funded at the end of December. House Democrats waited for Republicans to put up all the required votes to pass a CR before 14 Democrats joined most Republicans in supporting the bill just before Christmas. And then, in the Senate, 17 Democrats and one independent (Sen. Angus King of Maine) voted for the measure even though it didn't include protections for DACA's "Dreamers."
And while some Democratic senators who supported the CR in December are in question ― Sen. Jon Tester (Mont.) said Tuesday it would be "baloney" to vote for another stopgap bill ― a number of Democrats still look gettable.
But that's assuming Republicans actually move forward with this CR plan. Or that conservatives and defense hawks let them.
Some House Republicans pushed GOP leaders Tuesday night to put forward a so-called cromnibus ― a portmanteau of "CR" and "omnibus" ― that would fund non-defense government operations for a month while supplying the Pentagon with money for the rest of the fiscal year.
"I would love to see a cromnibus," Rep. Bradley Byrne (R-Ala.) told reporters Tuesday night. "That's what we wanted back in December."
Byrne, a member of the Armed Services Committee, said he didn't know if he would support the CR this time, citing challenges to defense procurement when Congress funds the military with short-term bill after short-term bill. But he and other defense hawks have had concerns for months about funding the Pentagon with another CR.
On the conservative side, Freedom Caucus Chairman Mark Meadows (R-N.C.) emerged from a meeting with his conservative caucus late Tuesday night to announce that there currently are not the votes in the GOP conference to pass the CR that leadership laid out.
"Based on the number of noes and undecideds in the Freedom Caucus, there's not enough support to pass it with just GOP support in the House," Meadows said, adding that there were other members in the conference who may oppose the CR as well.
Meadows said he planned to go to GOP leadership and ask for this defense cromnibus, but, he said, if it was clear Senate Democrats would have no problem voting against that measure, Plan B would be to add some funding for defense ― so-called anomalies for priorities like military pay raises and some procurement ― to the CR.
Meadows also said there may be a Plan C, though he wouldn't get into that possibility out of concern he'd end up negotiating against himself.
The cromnibus plan could gain steam Wednesday if conservatives get behind it, but it's difficult to see Senate Democrats going along. Senate Democrats are already showing signs of reluctant opposition to a CR that does nothing for Dreamers, so House Republicans could make the task of Democrats opposing this bill much easier, perhaps sending the government into a shutdown.
But conservatives are thus far sticking together against the CR. Assuming leadership doesn't go along with any of these demands from the Freedom Caucus, a big question in the House could become how many Democrats would be willing to vote for the short-term bill.
Last time, in December, House Minority Leader Nancy Pelosi (D-Calif.) and Minority Whip Steny Hoyer (D-Md.) made sure Republicans put up the requisite number of votes for the CR before any Democrat voted for it as well.
On Tuesday, Hoyer was cagey about whether Democrats could support a CR like the one GOP leaders laid out later in the day. While he was clear he and other Democrats want a DACA fix, he was less than firm about Democrats holding strong ― particularly when there are a number of Senate Democrats who are showing some discomfort with the prospect of a shutdown over what is, in effect right now, a clean extension of funding with six years of CHIP.
House Speaker Paul Ryan (R-Wis.) could always go to Pelosi and cut a deal for a few votes with Democrats, which is the potential risk for conservatives. They may end up driving Ryan into the arms of Democrats, possibly securing a better spending deal or DACA agreement in the future.
But they're betting that Republicans won't trust Democrats on such a deal and that, if there's a chance a CR could go down in the House because of insufficient Republican support, Pelosi will wait to see how many votes Ryan can put up.
The specter of a government shutdown has been raised by all the gamesmanship, to say nothing of President Donald Trump's erratic behavior. The president could have another "shithole" moment and throw any deal into chaos.
For now, conservatives want to see if leadership will agree to any of their demands ― about 72 hours away from a shutdown.
Asked what would happen if leadership flatly rejected all of his proposals, Meadows raised the possibility of problems. "I'm sure we'll be writing another story," he said.
Elise Foley contributed to this report.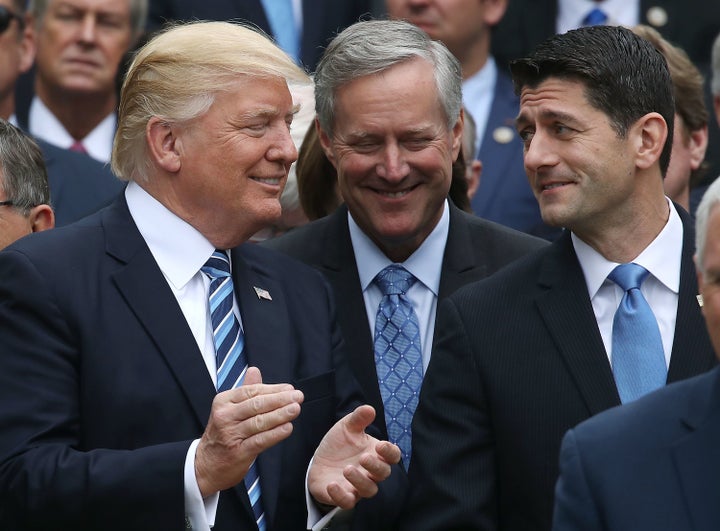 Popular in the Community