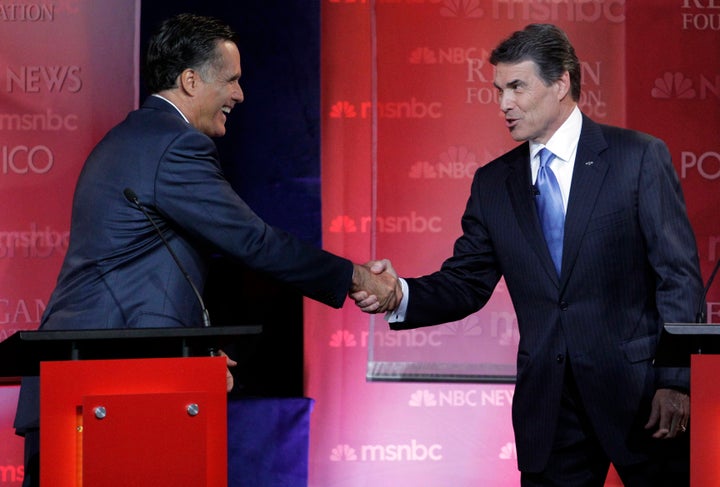 WASHINGTON -- A skirmish over Social Security in Wednesday night's Republican presidential debate helps illustrate two conflicting views of the 70-year-old program that cut across party lines. Although the program is hugely popular among both Republicans and Democrats, voters in both parties also have grave doubts about its future financial solvency, according to polls. And Republicans divide almost evenly about whether cuts to Social Security benefits may be necessary to reduce the federal deficit.
The dust-up in Wednesday night's debate centered on Texas Gov. Rick Perry's comment in his book, "Fed Up!" that Social Security "violently tossed aside any respect for state's rights." When asked to explain his view that Social Security was wrong from the beginning, Perry avoided a direct answer, saying instead that he does not intend to "go back and change 70 years of what's been going on."
Rather, Perry said he prefers to "transition the program" for younger Americans. He restated a claim that Social Security is a "Ponzi scheme," adding that it is a "monstrous lie" to tell 25 to 30-year-olds that they are "paying into a program that's going to be there" when they reach retirement age.
While conceding that "the funding program of Social Security is not working," former Massachusetts Gov. Mitt Romney countered by returning to Perry's comments in "Fed Up!" "You say that by any measure, Social Security is a failure," Romney said. "Our nominee has to be someone who isn't committed to abolishing Social Security, but who is committed to saving Social Security."
The candidate's arguments play to two different aspects of public opinion on Social Security among both Republicans and voters across party lines. In portraying Perry as someone who sees Social Security as a failure, Romney speaks to the overwhelming majority of Republicans who see the program as a success. As the Pew Research Center confirmed in a national survey in June, 87 percent of Republicans say that Social Security has been good for the country. As the table below shows, Republicans are only slightly more negative about Social Security than Democrats.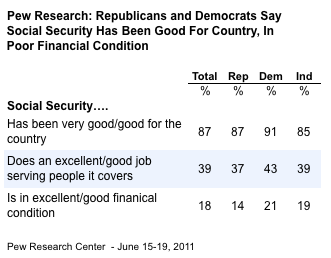 Perry prefers an argument about how Social Security is funded and, more specifically, whether the program amounts to a false promise to younger Americans. On that argument, he too will find sympathy from most Republicans and from most voters generally. The same Pew Research survey found that only 18 percent of Republicans think the program is in excellent or good financial condition. Similarly, a CNN/ORC International poll conducted over the summer found that just 28 percent of Republicans believe Social Security will last another 70 years.
More to the point, the CNN/ORC survey found that just 39 percent of those currently employed (and just 32 percent of employed Republicans) believe that the Social Security system will be able to pay a benefit when they retire; 60 percent believe it will not. Among those 50 years old or younger, 70 percent believe they will receive no benefit when they retire.
This skepticism is not new. A series of surveys conducted by CBS News and The New York Times found similar results in 2005. In June of that year, 70 percent of those younger than 45 felt that the program would not have the money to pay benefits when they retire.
The argument between Perry and Romney does not yet center on policy specifics, since neither candidate has released a detailed plan for how they would deal with Social Security, although both support unspecified "reforms." As The Huffington Post's Sam Stein reported, Romney used similarly inflammatory rhetoric to discuss Social Security in his 1982 book, "No Apology."
Nevertheless, the current Romney-Perry skirmish on Social Security plays in some sense to their respective bases within the Republican party. In June, for example, the Pew Research Center found Republicans split almost evenly on whether the government should reduce the deficit or maintain retirement benefits. Slightly fewer Republicans (44 percent) said they considered it more important to take "steps to reduce the budget deficit" than to keep "Social Security and Medicare benefits as they are" (47 percent).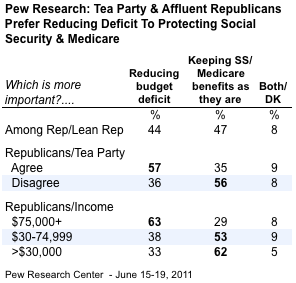 Mirroring the Perry-Romney debate, however, those Republicans who agree with the Tea Party were more likely to favor budget reduction (by a 57 to 35 percent margin), while more moderate Republicans favored keeping benefits as they are (by a 56 to 36 percent margin).
For now, the Romney campaign's offensive on Social Security may be mostly an electability argument aimed at party insiders. "No federal candidate has ever won on the Perry program to kill Social Security," a Romney adviser told Politico Wednesday night. Ultimately, Perry's enthusiastic use of a provocative term like "Ponzi scheme" to describe an enormously popular program may be as important as the policy specifics. Should the issue turn to a battle of messages among the Republican rank and file, however, the outcome will be hard to predict.
Popular in the Community