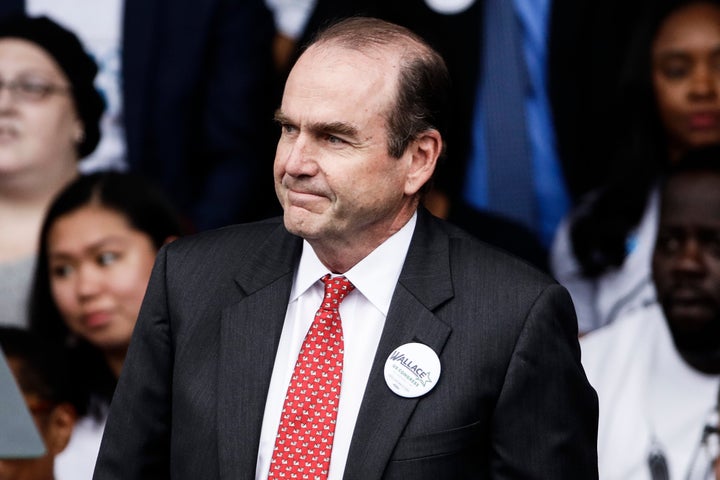 DOYLESTOWN, Pa. – Democrats are on the verge of winning back control of the House of Representatives because of suburbs like this one.
The sheer number of competitive Republican-held seats in suburban areas, from Orange County, California, to Loudoun County, Virginia, makes it likely, although not certain, that Democrats will win the 23 seats they need to take control of the House in January 2019.
So now the Democratic Congressional Campaign Committee and other outside Democratic groups are increasingly investing in areas where President Donald Trump's political standing is stronger. These districts, from Arkansas to Michigan, will make or break a Democratic wave — and could lead to Democrats winning 35 seats or more. 
Recent polling shows Democrat Scott Wallace — a wealthy philanthropist whom Republicans once mocked as "the worst candidate in the country" — pulling into the lead in Pennsylvania's 1st district. About half of the residents in Doylestown have a college degree, and the borough's median income is $73,000 — about $14,000 a year higher than the national average. There's a Panera Bread in town, and a Whole Foods just 18 miles away. It's the seat of Bucks County, which saw Democrats sweep into power at the local level last year after decades of GOP control. 
Increasingly confident in Wallace's chances — and those of others like him, Democrats are expanding into redder districts like the 10th District, 113 miles to the west, where George Scott, an Army veteran and Lutheran minister, is challenging House Freedom Caucus member Scott Perry (R) in a district with more rural areas and working-class voters. Republicans, in turn, have begun to air ads in Trump-leaning districts, including the 10th. 
"Democrats have beat Republican outside groups to the airwaves in the vast majority of races, and our ability to win the early air-war forced Republicans to abandon vulnerable incumbents and expand the map into new districts where they never wanted to spend," DCCC spokesman Tyler Law said, noting the campaign committee has spent at least some cash in 77 districts across the country. "Our strategy has paved multiple paths to the majority."
Republicans insist the expanding field isn't a sign of Democratic strength, but rather a sign the suburban districts aren't enough to give Democrats the House majority. 
"They're hoping that something materializes. They don't know what their path is to the majority," said a Republican working on House races who asked for anonymity to discuss party strategy. "They're trying to spread as many seeds as possible. But they don't know if any of these flowers are going to bloom. It could be a very tough winter."
A Suburban War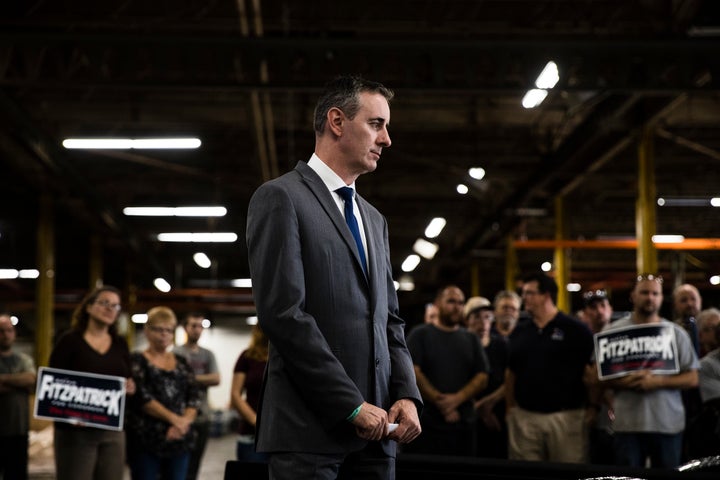 In the 1st District, Wallace faces Republican Brian Fitzpatrick, a former FBI agent who won a seat in Congress previously held by his brother in 2016. But Fitzpatrick doesn't want voters to focus on his party affiliation. In a 90-minute debate Friday, he mentioned belonging to the "Problem Solvers Caucus," an oft-mocked group of moderate members, 11 times, once referring to it as "the only thing that's going to save this country."
That message fits with Fitzpatrick's overall strategy, which includes winning endorsements from liberal-leaning groups and emphasizing his vote against the Republican plan to repeal Obamacare. In fact, the word "Republican" never appears on his campaign's website, but endorsements from gun control groups and unions do. (His campaign didn't respond to an interview request.) 
Wallace dismisses Fitzpatrick's moderation as a fig leaf, repeatedly noting the incumbent votes with President Trump more than 80 percent of the time and voted for House Speaker Paul Ryan on the floor.
"He can talk about his Problem Solvers Caucus until he's blue in the face," Wallace said in an interview. "Paul Ryan made sure all those bills were buried at the bottom of the ocean." 
This essential dynamic, pitting Republicans in close suburban districts trying to localize their races against Democrats trying to nationalize them, is seen in races across the House map. In Virginia's 10th District, the National Republican Congressional Committee is running ads attacking Democrat Jennifer Wexton over high tolls on local highways. Republicans in the Minnesota suburbs are claiming they'll battle President Trump to protect the environment. In Florida, GOP Rep. Carlos Curbelo is highlighting his work on climate change. Democrats in all the districts are countering by tying their opponents to Trump and an unpopular national GOP agenda.
Both parties say the race here is tight, a change of tune for Republicans who once insisted Wallace would be a pushover. Although Wallace was born in the district, he spent decades living in South Africa, and his family foundation had supported a host of left-wing causes over the years. NRCC Chairman Scott Stivers labeled him the "worst candidate in the country." For months, Republican super PACs hammered him as an anti-Semite and a supporter of cop killers, and a super PAC with ties to Paul Ryan has organized a field operation that's made more than 1 million vote contacts in the district. (A recent ad was more of a bread-and-butter attack on Wallace as a supporter of House Minority Leader Nancy Pelosi and higher taxes.)
Wallace is holding on because of his own personal wealth — he's spent more than $8 million of his own money on the race, according to Federal Election Commission filings — and the intense dislike of national Republicans in the district. "The notion of having a check on the Trump-Ryan agenda is a big motivator," he said. Two recent polls show Wallace with a small lead.
Much of that dislike comes from voters like Allison Glickman, the co-founder of Orange Wave, a local group that supports gun control. Glickman had helped lead the local chapter of Moms Demand Action, a national gun control group funded by former New York City Mayor Michael Bloomberg. But local leaders dissolved the Bucks County chapter of the organization after the national group endorsed Fitzpatrick's re-election. 
"They're losing grassroots supporters," Glickman said. But she admitted she was worried about the national organization convincing voters Fitzpatrick was a gun safety supporter. "It muddies the waters," she said. 
Reaching To The Middle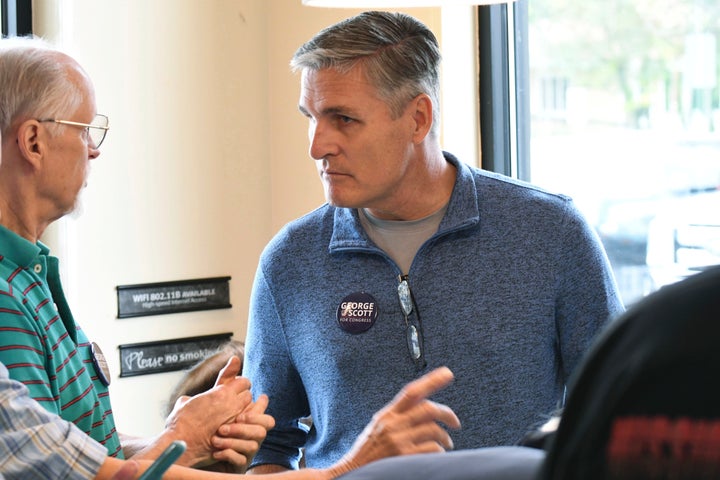 Further west, Scott, the Democrat who's running against Republican Rep. Scott Perry, has turned a Dunkin' Donuts in Hershey into a makeshift campaign office, with staffers handing walkbooks to volunteers who are streaming in and out of the restaurant. 
Scott is an underdog in the district, and the only reason he has a chance at all is because Pennsylvania's state Supreme Court threw out a Republican gerrymander of the state's congressional maps earlier this year, turning Perry's ruby-red district to more of a pinkish purple. He's now hoping voters here, in a district that includes the cities of Harrisburg and York, plus surrounding suburbs and rural areas, will prefer his brand of Democratic politics to Perry's membership in the hard-line House Freedom Caucus. 
That means some of the major issues Wallace is focused on — gun control, climate change — are less central to Scott's pitch. (In fact, Perry has made an issue out of an ad Scott aired during the primary where he burned a semi-automatic rifle.) The Democrat's top issue? Making politics polite again.
"It's expressed in different forms, but I hear that everywhere I go, regardless of location, regardless of party, people recognize that the political climate has broken down," he said in an interview here. "They understand it's dangerous, and it's got to change." 
He combines that with a heavy emphasis on his biography and a bit of economic populism, arguing the working class voters in his district "aren't being helped much by economic progress, not in the way the top 1 percent in gated communities are." 
National Democrats are increasingly spending money in districts like this one, rural areas that were friendlier to Trump. Besides Scott's district, the DCCC and House Majority PAC — a super PAC run by allies of Pelosi — have put money into districts in rural areas of Wisconsin, Arkansas and Michigan in recent weeks. Although Democrats here are focused on health care like their suburban counterparts, some of the other forces powering a Democratic revival ― namely, the presence of college-educated women — aren't as powerful.
A New York Times/Siena College poll conducted this week confirmed a tight race, with Perry polling at 45 percent to Scott's 43 percent. 
The race has seen less spending, but With Honor — a super PAC that backs veterans in both parties — is supporting Scott, and America First Action, a super PAC supporting allies of President Trump, is helping Perry. Their message is pretty simple.
"It's no surprise Nancy Pelosi's allies are supporting George Scott," a male narrator says in the 30-second ad. "He's a liberal, that's for sure."
Brian Nutt, a spokesman for Perry, said they were confident the incumbent would survive "his opponent's misleading negative attacks." He said Scott had tried "to change his rhetoric from a liberal in the primary to a conservative in the general." 
"Voters in this district will not be fooled by his blatant pandering to just get elected," he said. "They want to vote for someone who stands for something."
REAL LIFE. REAL NEWS. REAL VOICES.
Help us tell more of the stories that matter from voices that too often remain unheard.