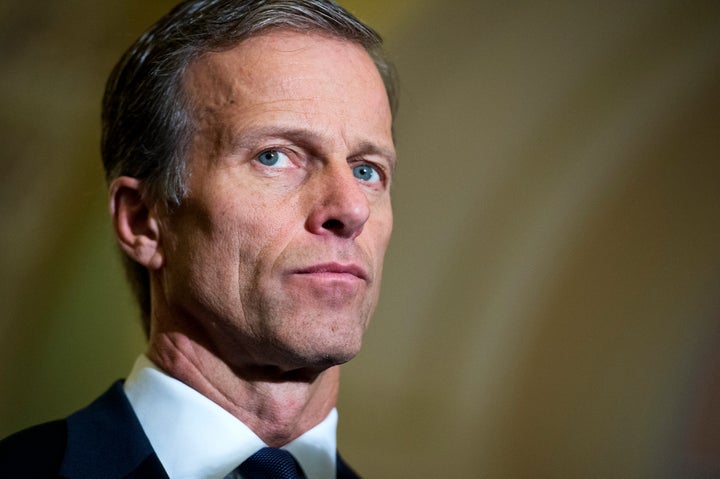 WASHINGTON -- The American people have spoken. A majority of them now say they want the Senate to vote this year on President Barack Obama's Supreme Court nominee, Merrick Garland. That's according to a Tuesday NBC/Wall Street Journal poll.
But a top Republican senator dismissed the idea that "letting the people decide" -- the GOP's mantra for denying Obama a vote on his nominee and leaving the seat vacant until the next president takes office -- applies to the poll's finding that 52 percent of voters want the Senate to move forward now.
"In that poll, it was like 48 percent in March and it's 52 today, so it's very close to being within the margin of error. And almost two-thirds of Americans didn't know who [Garland] was or have an opinion on him," Sen. John Thune (R-S.D.), who chairs the Senate Republican Conference, told The Huffington Post.
"Our view has always been a lame-duck president shouldn't be making a lifetime appointment," Thune continued. "And that we ought to let the people have their voices heard, which they'll get a chance to do this November .... That's the position that our members are committed to."

To be sure, Obama doesn't become a lame-duck president until after his successor is elected. He's early in his eighth year of office. It's also a curious argument from Thune that the Senate shouldn't hold confirmation hearings for Garland since many Americans don't know who he is; isn't that precisely how people would get to know who he is?
Nevertheless, Republican leaders are holding firm in denying Garland a vote, even if it's to the detriment of some of their own members. GOP senators in tight re-election races -- namely, Sens. Pat Toomey (Pa.), Mark Kirk (Ill.), Kelly Ayotte (N.H.), Rob Portman (Ohio) and Ron Johnson (Wis.) -- are getting clobbered at home for refusing to allow Garland to even get a hearing.
At the same time, the NBC/Wall Street Journal poll found that the number of people who support giving Garland a vote has steadily increased over the last two months. That rising support included Republicans, too: 24 percent of Republicans in the survey preferred that the Senate vote this year, up from 16 percent in March.
Thune dismissed the idea that the poll's findings are significant.
"It doesn't seem like that's a big move," he said. "Sixty-six percent of them don't know who [Garland] is or have an opinion. They just aren't paying that much attention to it."
The South Dakota senator conceded that it's "a tough year" for his GOP colleagues in close races, given the chaos in his party at the presidential level.
"Our candidates, incumbents particularly, are raising money, working hard, doing everything they can do, controlling the issues that they can control," Thune said. "What they can't control is what happens on the presidential ballot."
Calling all HuffPost superfans!
Sign up for membership to become a founding member and help shape HuffPost's next chapter
BEFORE YOU GO
PHOTO GALLERY
Funeral Of Supreme Court Justice Antonin Scalia