WASHINGTON -- After a botched effort to pass legislation imposing a 20-week ban on abortions, House Republicans are moving forward Thursday with what's being dubbed a less controversial bill that codifies a ban on federal funding for abortions.
The bill would do a number of things -- including block federal funds for abortion for women who are in the military, who live in Washington, D.C., and who are poor -- but one aspect of the legislation that hasn't received much attention is the fact that it would raise taxes on the vast majority of small businesses.
The No Taxpayer Funding for Abortion Act would deny small businesses a tax credit they currently receive through what's known as the SHOP exchange, a part of the Affordable Care Act, if they include abortion care in their health plans. Roughly 87 percent of private plans include abortion services as part of comprehensive coverage, meaning the bulk of small businesses would be hit with a tax hike if the bill were to become law.
Republicans are on track to pass the bill later Thursday. A spokesman for Rep. Chris Smith (R-N.J.), the author of the bill, did not immediately respond to a request for comment.
Rep. Chellie Pingree (D-Maine) said the legislation is "nonsense" for many reasons, including its tax hike on small businesses.
The bill "penalizes small businesses that offer comprehensive health coverage to female employees," Pingree said. "It's just outrageous."
The measure, which Republicans are pushing now to coincide with the anniversary of the landmark Roe v. Wade decision, isn't likely to make it out of the Senate. It takes 60 votes to advance it there, and there are only 54 Republicans.
Thursday marks the third time the GOP bill has gotten a House vote since it was introduced in 2011. It's changed over the years: Its exemptions for rape and incest were initially limited to cases of people being "forcibly raped" and only to survivors of incest who were minors. Those narrowed restrictions were later stripped out.
UPDATE: 2:58 p.m. -- The House passed the bill, 242-179. The vote came shortly after the White House threatened to veto the legislation.
"The legislation would intrude on women's reproductive freedom and access to health care; increase the financial burden on many Americans; unnecessarily restrict the private insurance choices that consumers have today; and restrict the District of Columbia's use of local funds, which undermines home rule," reads a Statement of Administration Policy from the White House. "If the president were presented with H.R. 7, his senior advisors would recommend that he veto this bill."
CORRECTION: Due to an editing error, a previous version of this article incorrectly said the SHOP exchange offered small businesses a tax credit for including abortion coverage in insurance plans.
Support HuffPost
The Stakes Have Never Been Higher
Before You Go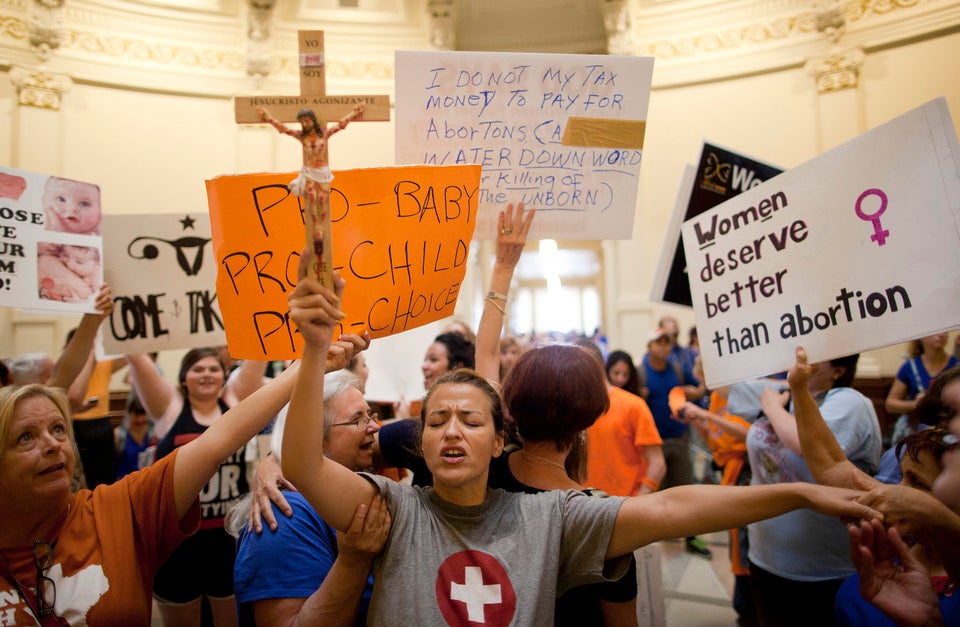 Abortion Protests Around The Nation
Popular in the Community