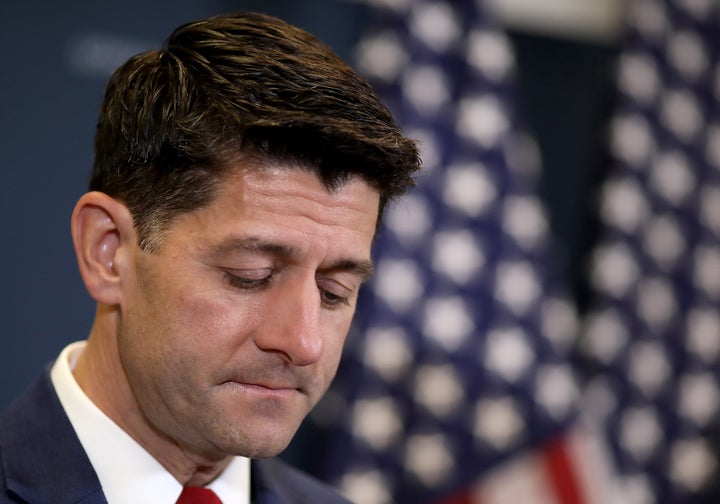 WASHINGTON ― At the outset of the 2018 midterms, the head of the top Republican super PAC tasked with saving the GOP House majority had a stark message.
"There is no positive outcome in November if we do not show that we cut taxes for the middle class and are working to make their lives better," Corry Bliss, the director of the Congressional Leadership Fund, wrote in a January memo.
But Republicans didn't take his advice. Even his own super PAC didn't fully take his advice. The Congressional Leadership Fund was one of the first branches of the GOP campaign arm to largely abandon the tax cuts and instead run on fear, racial anxiety and culture war issues, doing so in a March special election in Pennsylvania's 18th Congressional District.
The failure to take that advice ― to make the tax cuts popular and try to run on that popularity ― may have sealed the GOP's fate. Although Republicans staved off Democrats in many districts that Donald Trump won in 2016, the GOP couldn't stop Democrats from flipping many of the districts Hillary Clinton took two years ago. A booming economy and bigger paychecks were supposed to help Republicans in these districts, often in upper-crust suburbs. Instead, that wasn't enough.
Nearly every Republican interviewed for this story agreed the party could have done a better job selling the tax cut law. But Democrats argue that the problem was the policy: Voters just didn't buy anymore that tax cuts for the wealthy trickle down to the middle class.
"You might be able to sell New Coke," said Jesse Ferguson, a Democratic strategist who has helped marshal the anti-tax cut messaging. "You can't sell New Arsenic. The problem here wasn't the promotion. It was the policy."
When the GOP rolled out the tax law, Democrats were worried. While projecting confidence, they started polling elements of the tax bill in October 2017. The Democratic Congressional Campaign Committee and other groups found that if they didn't counter the GOP messaging, Republicans would win the fight. So Democrats tried to define the tax bill by emphasizing who was prioritized in the bill — mainly large corporations and the rich.
"Voters seemed to think the tax code changes were meant not for them but for businesses."
"It's important to remember: Tax cuts are supposed to be popular," DCCC communications director Meredith Kelly told HuffPost this week.
The most worrying period for Democrats came in January and February, when large corporations and businesses were seemingly announcing new bonuses for workers every day and crediting them to the tax bill. At one point, the legislation's approval rating hit 50 percent in a New York Times poll. And then the momentum stalled, in part because the bonuses dried up and the bill proved largely unhelpful to many people.
The legislation did put a little more money in most voters' hands. The average household in the middle 20 percent of incomes should be getting 1.3 percent more take-home pay because of lower rates this year, according to a March analysis by the independent Tax Policy Center. But the law cut taxes more substantially for wealthier individuals. Taxpayers in the 95th to 99th income percentiles will have 3.4 percent more income after taxes.
The law also slathered money on corporations. Contrast the temporary tax cut of a few percentage points for individuals with the permanent 40 percent tax cut for corporations. Voters seemed to think the tax code changes were meant not for them but for businesses.
Republicans claimed a drastically lower corporate tax rate would boost hiring and wages, and they pointed to a series of corporate bonus announcements as proof. When House Minority Leader Nancy Pelosi (Calif.) described the bonuses as "crumbs" relative to what corporations got, Republicans spent weeks highlighting her comment as wacky and out of touch.
But the bonuses really were crumbs compared with the wave of shareholder-enriching stock buybacks that the law inspired this year. Workers might not have even noticed the tiny tax cut in their paychecks next to other changes, such as different retirement withholdings and health insurance premium increases.
"There was a nexus of Republicans, the Trump White House and big, wealthy corporations trying to sell this plan," Ferguson said. "We weren't delusional about what we were up against. But every time a CEO spoke about how great the plan was, it confirmed to voters that this was a plan for CEOs."
The DCCC also emphasized how important it was for Democrats to focus on how much more the rich were benefiting, rather than getting into an argument about how much money was going to individuals' pockets.
"We wanted to make loud and clear to regular people that they were not put first," Kelly said.
Despite strong economic growth ― gross domestic product rose 3.5 percent in the third quarter relative to the previous year ― wage growth has been weak. Adjusted for inflation, real earnings for most workers have risen by less than 1 percent annually in any given month this year. In the fourth quarter of 2006, which also saw 3.5 percent GDP growth, wages outpaced inflation by more than 2 percent each month, according to Bureau of Labor Statistics data.
The first real political test for the tax bill came during that special election in Pennsylvania early in 2018. Republicans had just passed their tax bill, and they were pushing their candidate there, Rick Saccone, to use the legislation against Democratic candidate Conor Lamb. But Lamb argued ― in a heavily Republican district ― that while he supported tax cuts generally, he didn't support a giveaway to corporations and the rich and he certainly didn't support increasing the deficit and potentially trimming Medicare and Social Security.
Lamb was able to tie the deficit-busting tax cuts to possible reductions for Medicare and Social Security, capitalizing on comments that House Speaker Paul Ryan (Wis.) and Senate Majority Leader Mitch McConnell (Ky.) made about the need for entitlement reform.
The strategy worked. Saccone lost the race. And suddenly Republicans were a little more gun shy about running on tax cuts.
As lawmakers began campaigning in earnest this year, Republicans barely mentioned the Tax Cuts and Jobs Act in their ads. Democrats, meanwhile, hired comedy writers to skewer the law.
The DCCC also said its messaging worked partly because Republicans had soured voters by trying to gut health care protections for people with pre-existing conditions.
"That poisoned the well," DCCC national press secretary Tyler Law told HuffPost.
Kelly and Law said it would have been much harder for Democrats to neutralize the tax cut issue if Republicans had passed that law before trying to repeal Obamacare.
"Just under 12 percent of GOP TV ads mentioned the tax bill, out of 396,607 TV spots analyzed."
Over the summer, the tax law faded from the national political consciousness. North Korea, Trump's press conference with Russian President Vladimir Putin in Helsinki and Trump's threats to fire Attorney General Jeff Sessions dominated the news. Democrats relentlessly focused on health care. The Republican position in crucial House districts deteriorated.
Around Labor Day, the Club for Growth ― a conservative group that pushed for the tax cuts ― ran a poll of swing districts. It found a massive enthusiasm gap in Democrats' favor and tested ways to solve it.
"The strongest of these was defending the tax cuts and making them permanent," pollsters Chris Wilson and Byron Allen of WPA Intelligence wrote in a memo summarizing their findings. "Defending the tax cuts and making them permanent was both the strongest persuasive message in moving swing voters to vote for Republicans and the strongest message in creating additional interest in the election among Republican voters."
The group shared the data with Ryan and Majority Leader Kevin McCarthy (Calif.), but nothing changed.
"They completely ignored the data," said David McIntosh, the Club for Growth's president and an Indiana former congressman. "It was a classic failure of the establishment Republican Party to run on issues that were helpful to them."
He argued that Democrats were backing away from their opposition to the law, with fewer and fewer calling for outright repeal and some musing about making the tax cuts permanent for individuals. He said Republicans could have saved its members like Rep. Dave Brat, who lost a seat in suburban Richmond, Virginia, if they had focused more on the tax cuts.
The National Republican Campaign Committee and the Congressional Leadership Fund contest claims that they didn't run on the tax bill. NRCC communications director Matt Gorman told HuffPost that Republicans did campaign on an economic message, releasing a handful of ads a week before Election Day that mostly mentioned tax cuts and the economy. "I also think it shouldn't preclude us from going into the candidates' background and digging into opposition research," he said.
Republicans may have talked about the tax bill and the strong economy, but it was far from the overwhelming message. According to data compiled by Kantar Media/CMAG for HuffPost in September, just under 12 percent of GOP TV ads mentioned the tax bill, out of 396,607 TV spots analyzed. And despite what Republicans claim, those numbers likely got worse during the final two months of the campaign, as Trump and the GOP focused on a ginned-up crisis centered on Central American asylum seekers walking toward the southwestern U.S. border, the so-called caravan.
That strategy prevented a true blue wave from gathering, staving off Democratic pickups in districts where Trump and his racially charged messages have traction. But in suburban, affluent, educated districts ― where "country club Republicans" are increasingly turning against the president ― the failure of Republicans to capitalize on their tax bill might have been one of the reasons they lost there.
Popular in the Community