WASHINGTON ― Last summer, in an effort to hurt Hillary Clinton's presidential candidacy, Senate Republicans introduced a bill to strip security clearance from "any officer or employee of the federal government who has exercised extreme carelessness with classified information."
The bill was never going anywhere. It was a political jab at Clinton, who was mired in drama over her use of a private email server for official communications when she was secretary of state. Republicans unveiled the bill one day after then-FBI Director James Comey concluded that Clinton had committed no criminal wrongdoing, though he said she and her team were "extremely careless" with sensitive information.
Unsurprisingly, they did not.
"The president's ability to communicate whatever he wants to, without it being a breach of the law, is very clear," said Sen. Tim Scott (R-S.C.). "An employee has a very different function."
Asked if he considers it "extremely careless" that Trump leaked classified intelligence to Russian officials," Scott dryly repeated, "I don't think the president broke the law."
"Call Alex in my office," said Sen. Cory Gardner (R-Colo.), the bill's author.
Sen. Mike Rounds (R-S.D.) said the bill applies to all federal employees except the president. Rounds said he still trusts Trump with classified information, but conceded that Trump's missteps on this front could be diminishing his political capital.
"It never helps," he said. "It never helps."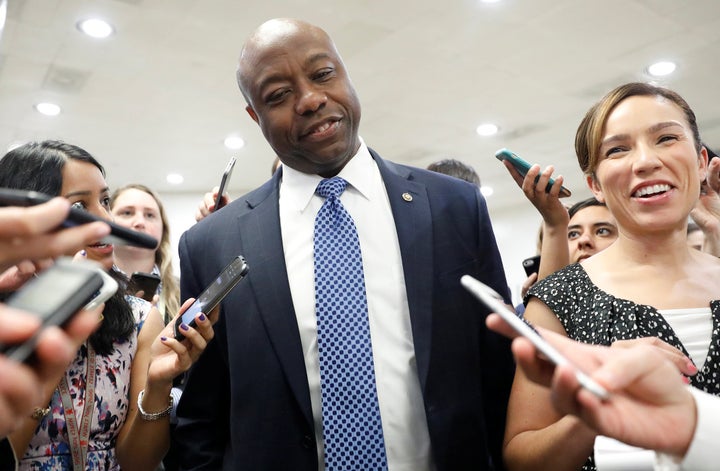 Some senators were less amused by this story than others. Sen. Jim Risch (R-Idaho) said the bill only applies to people who carelessly handle information, not someone "who has the right and intentionally discloses" such information.
Getting a bit testy, Risch said he has no opinion on whether it was careless for Trump to share classified intelligence with Russian officials because he wasn't part of that conversation.
"I've heard speculation. I've heard them say, 'Oh, it could have endangered someone, oh, it could have done―,' I don't know what the conversation was," said Risch. "His job is to coordinate with other countries, just as the intelligence community is, to share information about mutual threats."
Sens. James Inhofe (R-Okla.) and Pat Roberts (R-Kan.) both emphasized that Trump has only been accused of revealing classified information to the Russians, and that people should wait until investigations into the matter are finished before drawing conclusions. There are currently House, Senate and Justice Department probes into whether Trump and his team had ties to Russians who interfered in last year's election to help Trump win.
"Let's wait on the special counsel and the two intelligence committees, and then they'll figure all that out," Roberts said.
Asked if he sees irony in Republicans backing legislation to go after Clinton for carelessness while backing off those charges when it comes to Trump, Roberts replied, "There's irony in every corner and closet in Washington."
REAL LIFE. REAL NEWS. REAL VOICES.
Help us tell more of the stories that matter from voices that too often remain unheard.
BEFORE YOU GO
PHOTO GALLERY
Donald Trump Meets With Russian Officials