WASHINGTON ― Many House Republicans are dealing with the furor over whether President Donald Trump pressured then-FBI Director James Comey to drop an agency investigation by calling for more information. But some of the GOP lawmakers are transitioning to a new phase of a Trump defense: It's just one man's word against another.
"Comey has been shown to obfuscate," Rep. Scott Perry (R-Pa.) told HuffPost on Wednesday. "He got fired ostensibly for not being truthful, or not following the law."
Perry, like every Republican interviewed by HuffPost, said he needed to see the memo that Comey apparently wrote following his February meeting with Trump where the president reportedly pressured him to stop probing former national security adviser Michael Flynn's contacts with Russian officials. But Perry also said that even if the memo was as damning as it might appear, it wouldn't necessarily persuade him that Trump had done anything wrong.
"Okay, so we have the memo," he said in a hypothetical. "It's one man's opinion."
Perry was far from alone in raising questions about Comey's assessment of the conversation with Trump, which occurred about three months before the president fired the FBI director last week. House Speaker Paul Ryan (R-Wis.) seemed to preview a similar argument Wednesday morning when he questioned Comey's version of the events.
"I'm sure we're going to want to hear from Mr. Comey about why, if this happened as he allegedly describes, why didn't he take action at the time," Ryan said.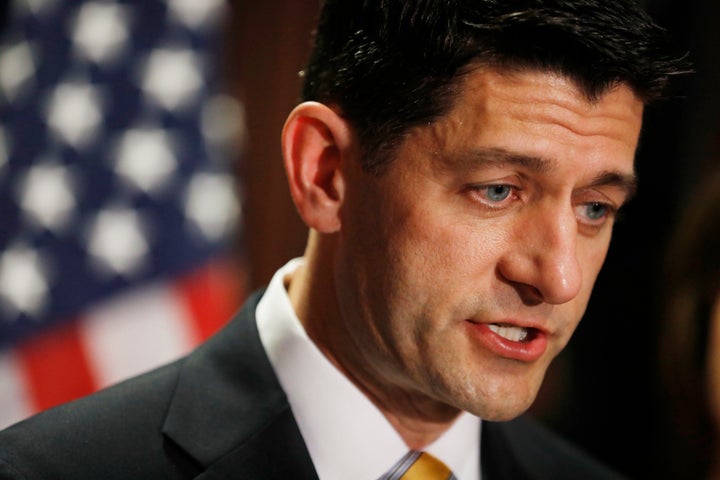 Other Republicans ― while insisting they needed to know all the facts before saying anything substantive about the Comey matter ― offered similar arguments aimed at undermining his credibility. 
Rep. James Comer of Kentucky wondered why acting FBI director Andrew McCabe, who appeared before the Senate intelligence committee last week in the wake of Comey's firing, hadn't raised the issue of Trump pressuring Comey and potentially obstructing justice.
"The biggest question I have is why didn't McCabe mention this in his testimony," Comer said. "If it's as serious as some would lead us to believe, then why didn't he bring that before the Congress under oath? And why did Comey wait three months before he issued or reported this memo?"
The memo's existence was first reported yesterday by The New York Times. The White House has denied Trump prodded Comey to drop the Flynn investigation.
Rep. Peter King (R-N.Y.) also brought up McCabe testifying that the FBI's Russian investigation had not suffered from any interference. And he echoed Ryan's point that if Trump had pressured Comey to end it, Comey had acted improperly.
"If this were any kind of a serious matter at all, Comey had the absolute obligation to report that to the Justice Department; certainly let his deputy know, and yet, there's no evidence of that," King said. "[Comey] never told, as far as I know, the Senate or the House Intelligence committees about any type of threat, never indicated anything about it."
Fellow New York Republican Tom Reed also raised some doubts about simply accepting one memo from Comey on the issue.
"In this day and age, coming down to one person's word against another, I just don't think that will happen," Reed said.
But if it did come down to accepting the word of a former FBI director testifying under oath over a president who has shown a serial problem with the truth, would it take more to sway Reed that impeachment proceedings against Trump might be warranted?
"Yeah," Reed said, "you know, especially when you're dealing with hearsay and things like that. You do want corroboration. You want solid evidence to be the foundation upon which the process works, and hearsay is obviously historically something we question [in] the American system of law."
REAL LIFE. REAL NEWS. REAL VOICES.
Help us tell more of the stories that matter from voices that too often remain unheard.