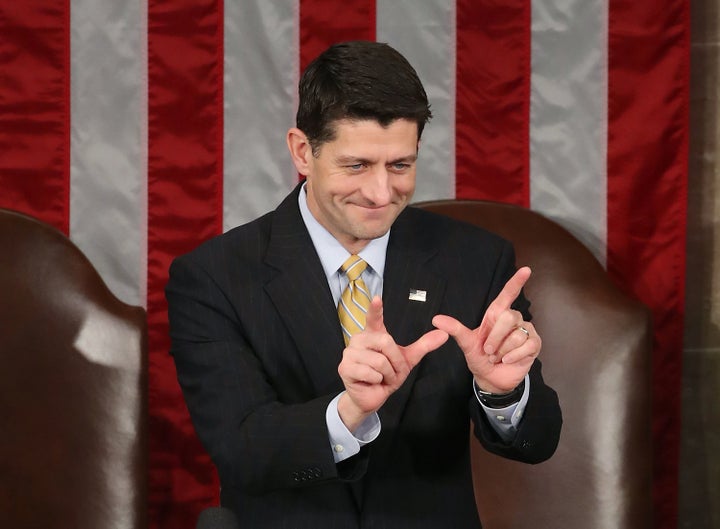 In fact, many are not really sure of a lot of things related to the executive order.
While Republicans are almost all supporting Trump's order, many have conflicted thoughts on one particular provision: namely, language that allows the government to prioritize refugee claims on the basis of religious-based persecution, "provided that the religion of the individual is a minority religion in the individual's country of nationality."
All seven of the countries included in Trump's travel ban ― Iran, Iraq, Libya, Somalia, Sudan, Syria and Yemen ― are majority Muslim. And there's good reason to believe much of this order was inspired by Trump's proposed Muslim ban ― what with Rudy Giuliani saying just that.
But House Republicans don't see it that way.
"I'm comfortable that it's not a Muslim ban," Rep. Andy Barr (R-Ky.) told The Huffington Post. He said the executive order was "neutral with respect to Muslims," and that provisions regarding religious minorities have been part of American refugee policies for years. "In fact, that is the definition of a refugee," Barr said.
Rep. Raul Labrador (R-Idaho), a former immigration lawyer, offered a similar rationale. "Refugee status is always about a religious test," he said. "That's one of the criteria for refugee status."
Labrador is correct that persecuted minorities are part of the consideration in determining refugees, but what's different in Trump's executive order is that religious persecution now seems to go to the top of the list, and only non-Muslims in the seven countries named in the measure seem to get the preferential treatment. Previously, officials used five categories to determine persecution ― ethnicity, nationality, political opinion, religion, and membership in particular social groups, like LGBT individuals ― and targeted sects of the Muslim religion were on an equal footing with other persecuted religions.
As Rep. Glenn Grothman (R-Wis.) said, "A lot of the warfare here is between different Muslim sects."
Grothman believed the order allowed someone in a smaller Muslim sect to get that minority religion status, though that doesn't seem consistent with the wording of the order. The truth is, however, that the Secretary of State and the Homeland Security Secretary have wide discretion to interpret the language. It's just that no one knows how they'll interpret it.
That's little problem for most of the Republicans we talked to. In fact, many Republicans seemed perfectly comfortable with a more explicit religious test.
"I'm not a lawyer," Rep. Buddy Carter (R-Ga.) said, "but in a country where they are persecuting Christians, yes, I want them to have priority and be able to get over here."
Rep. Randy Weber (R-Texas) said there had been "an erosion of religious liberty going on in this country for a while."
"Everybody wants Christians, for example, to be tolerant. Well, very few people are tolerant of the Christian faith," he said. "You can do this, you can do that, but not the Christian faith. And I think Trump has recognized that. There's a group of Christians in the country who are decrying that practice, and he's reaching out to them."
When we tried to get back to the question of whether he was comfortable with Trump seeming to give preferential treatment to non-Muslim refugees, Weber said Trump was just protecting a religious minority. "As I said earlier, religion ― there's been religious persecution in this country. And I think Trump has recognized that. A lot of people have reached out to him and he said, 'I'll do something about it.'"
While some Republicans offered support for more explicit religious protections, others insisted those protections didn't exist.
"That's the other side of the political equation trying to find a way to ding President Trump on this issue," Rep. Jeff Duncan (R-S.C.) said of a religious preference.
"It's not a Muslim ban," he continued. "If it was a Muslim ban, it would have Indonesia, the largest Muslim country in the world."
Rep. Ted Yoho (R-Fla.) also didn't see a religious preference. "Not in the sense that it's banning anybody," Yoho said. "It just says it will give priority to some of the people, like the Yazidi, Christians."
"It's not a religious test," he continued. "This is all about keeping terrorists out of our country."
Rep. Jim Bridenstine (R-Okla.) also didn't see a "religious test."
"There is only a test on how easy or hard it is to vet folks," he said. "I know Christians, especially in Syria, have really immaculate records on their backgrounds and histories. I think it's more about vetting than a religious test."
That explanation hewed closely to one that Rep. Peter King (R-N.Y.) provided, that Christians were just easier to vet.
"If a Jewish person was coming from Nazi Germany, you assume they're not Nazis," King said.
Giuliani claimed on Sunday that King was involved in drafting the executive order, but King denied that on Wednesday. And as supportive as the New York Republican is of Trump and stern security measures, even King worried about the religious minority provisions in the executive order. "I want to see how they interpret it. Because if it isn't [interpreted correctly], it's a very slippery slope," he said.
The wide array of Republican reactions ― ranging from 'we already do this and need more of it' to 'we don't do this' ― seemed to mirror much of the uncertainty overall related to the executive order. Members are still figuring out the finer points, and having new reservations as they learn about its implementation.
Take for instance House Homeland Security Chairman Michael McCaul (R-Texas), who was quick to offer a statement supporting the order within minutes of Trump's announcement on Friday, but then raised serious concerns in a press release on Monday. "In light of the confusion and uncertainty created in the wake of the President's Executive Order, it is clear adjustments are needed," McCaul wrote.
"From a legal basis, you have to be careful," he said, continuing that he didn't think Christians were "the threat to the United States in terms of terrorism."
Perhaps no one embodied the confusion over the order as well as Rep. Scott Perry (R-Pa.).
He said he did think the religious preference provisions were "getting close" to a religious preference, but he also wondered if there was "the inverse of a religious preference" during the Obama administration.
"I don't think there's any disagreement that Christians worldwide are the most persecuted religion," Perry said. "And, in Muslim-majority countries, where the Christians are being persecuted at pretty astounding rates, the vast minority of the people in refugee status that the Obama administration brought in were Christian. So why isn't that the question?"
When we raised the topic that some of these countries are 99 percent Muslim, Perry said that if you were trying to get to the oppressed class, "then you should go to the oppressed class."
Overall, however, he was happy to "wait and see" how the policy is carried out.
Asked on Thursday if he was "totally comfortable" with those provisions giving preferential treatment to religious minorities in those Muslim nations, Ryan said there was nothing wrong with preferring religious minorities.
He said presidents often put preferences in selecting refugees ― "I think President Obama had one for sexual orientation, they didn't call that a sexual orientation test" ― and he noted that religious minorities were being persecuted.
"Yazidis are being persecuted. Sunnis in Shia countries are being persecuted. Christians are being persecuted," Ryan said. "So there's nothing wrong with saying we're going to take into account minority religious persecution."
That's all true, but again, it's unclear if smaller Muslim sects, like Sunnis, would get that preferential treatment, or if the executive order explicitly prohibits it. Still, Ryan offered his full-throated support.
"This is not a Muslim ban," he said. "If it were, I would be against it."
Elise Foley contributed to this report.
This story has been updated with additional comments from House Speaker Paul Ryan.
REAL LIFE. REAL NEWS. REAL VOICES.
Help us tell more of the stories that matter from voices that too often remain unheard.