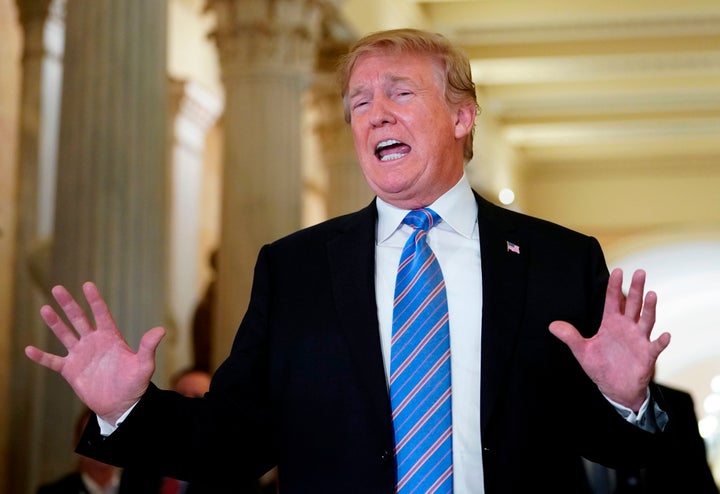 WASHINGTON ― President Donald Trump may not have the clearest sense of immigration policy, but for House Republicans trying to pass a consensus immigration bill, there is no one they're taking cues from more closely.
Trump met with House Republicans for about an hour Tuesday night, telling members that he supported both immigration proposals ― a more hard-line measure as well as a slightly muted one ― "1,000 percent."
Whether Republicans fully believe him remains to be seen. Members coming out of the meeting Tuesday night said Trump seemed "agnostic" about which bill passed, and some conservatives who prefer the more hard-line, anti-immigrant measure may take Trump's lack of a stated preference as a sign that they're free to vote for one proposal and not the other.
For the members who support both bills already, however, it was clear that Trump backed both pieces of legislation, with the caveat that Trump mentioned he'd like to address the separation of children from their parents at the border in these bills.
If that's really the case, there are a number of Republicans who may be swayed by the policy preferences of Trump ― a man who regularly lies about immigration issues, misrepresents the problem and has shown little to no command over the policy particulars of the complicated issue.
When Trump was asked about the "compromise" GOP immigration bill on Friday, so lacking was his understanding of the bill and what was going on in Congress that he misunderstood the question and thought he was being asked about a discharge petition proposal, a gambit to circumvent Republican leadership that had fallen by the wayside earlier in the week.
Trump's botched answer ― saying on Fox News on Friday morning that he didn't support the moderate measure, only to be contradicted later in the day by administration officials ― already brought doubt into the minds of some reluctant Republicans. But Trump's emphatic, if not slightly confused, support Tuesday may give the GOP compromise bill new life.
For many members, Trump's support ― or opposition ― for an immigration bill has become the key question.
"It certainly matters," Rep. Scott DesJarlais (R-Tenn.), one of the first members to support Trump, told HuffPost last week. "My district is a big supporter of the president. And they're probably more lenient with me as long as I'm following the president's lead, so it does matter."
DesJarlais noted that he may be more conservative on immigration than the president. Compared with Trump, he said, he prefers a smaller number of immigrants who came to the United States as children to be eligible for protections under a new bill. But he also said that he and other members would take into account what the president wants and may be more willing to vote for an immigration compromise if the president supported it.
A number of members acknowledged that Trump's support for an immigration bill was important if a bill is to actually pass the House. But members were careful to note that they were ultimately accountable to their constituents and would make up their own minds, particularly on an issue as perilous as immigration.
"It can give some people some security and comfort, I guess, knowing where the president stands on this if they're in line with him," Rep. David Young (R-Iowa) said. "But there may be some who aren't ― and that's OK."
Freshman Rep. David Kustoff (R-Tenn.) said he wanted to know the president's view of the immigration bill, as well as every bill, because that was a "factor" in whether he would support or oppose a measure. He also said, though, that he tried to do what he thought was right and what his constituents wanted him to do. "And usually every time that's married up," he said.
But other GOP members note privately that Trump's support is a huge issue. One member, who asked not to be identified to speak more candidly about Republicans following Trump's lead, said immigration was a "red line" in his district, with anything that "sniffed of amnesty" being a real problem. But this member said it'd be just as difficult to oppose the president as it would be to support a bill that was perceived as soft on immigration, and if Trump supported an immigration bill, that would certainly give him pause in opposing it.
A recent poll suggested that nearly two-thirds of Trump voters say they're more willing to support the president over their own member of Congress in a political dispute, and a poll from May suggested that 75 percent of Republicans are more likely to support a Republican who is more in line with Trump than one who isn't. Only 17 percent of Republicans said they were more willing to support a Republican candidate who was less in line with Trump.
To oppose the president's agenda is a gamble for Republicans politically. And if GOP members had forgotten the lesson, Trump was there Tuesday to remind them.
After Rep. Mark Sanford (R-S.C.) lost his primary last week to a more pro-Trump candidate, the president said Tuesday night that he wanted to "congratulate" Sanford on his race.
It was a cheap shot that many members found offensive, and the line drew boos and hisses, but the message may have been received anyway.