On Wednesday afternoon, a local Kentucky chapter of the Society of Professional Journalists called on the state's governor to stop "name-calling."
The group's request followed Republican Gov. Matt Bevin calling veteran Courier-Journal reporter Tom Loftus "a sick man" in a tweet featuring the hashtag "#PeepingTom," which he used again on Saturday. (Loftus had visited the governor's home while covering an ethics complaint tied to its purchase.)
Insider Louisville reporter Joe Sonka told HuffPost that even before Trump, Bevin would be combative with the press. "But this has seriously escalated over the past few months, especially with his very personal and vicious attacks on Loftus," he said.
Sonka added, "This new tactic of getting extremely personal seems to mimic what Trump has done over the past year and has been able to get away with."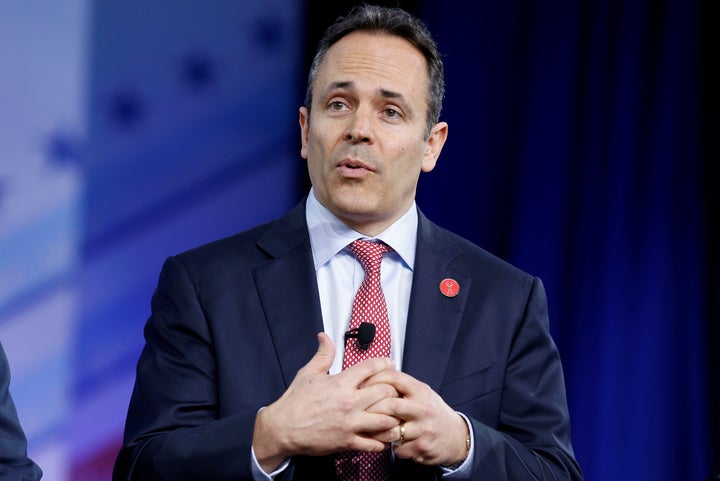 Though Trump can't be blamed for everything a local politician does or says, he has set the tone from the White House by routinely mocking journalists in highly personal ways while disregarding the press as a vital part of a functioning democracy.
In recent weeks, the New Hampshire Republican Party tweeted that a freelance reporter was a "fake journalist" following a dispute over her article for The Associated Press.
And journalists keep becoming the punchlines of violent jokes. Homeland Security Secretary John Kelly told Trump on May 17 how the president could use a ceremonial saber on the press. Republican Texas Gov. Greg Abbott joked on May 26 about shooting journalists.
Such cracks might appear harmless if journalists weren't increasingly facing physical aggression while doing their jobs. In May, a reporter in Alaska told police that a Republican state senator slapped him over an article; a West Virginia reporter was arrested trying to question a Trump Cabinet secretary; and a reporter in Washington, D.C., described being pinned against a wall when trying to approach a member of the Federal Communications Commission.
The most high-profile case involved Montana Republican congressional candidate Greg Gianforte violently attacking a Guardian reporter on May 24 for asking him a question about health care policy.
The spate of recent incidents hasn't gone unnoticed by press freedom watchdogs like Reporters Without Borders. The advocacy organization is known for responding to authoritarian regimes' repression of press freedom; for instance, it provides real-time tracking of incidents in Iran. Now it's publishing a weekly report on attacks against the media in the United States, where press freedom is enshrined in the Constitution.
Reporters Without Borders started publishing the weekly index "because the intense frequency of the events happening in the United States appeared to ramp up over the last month," Margaux Ewen, advocacy and communications director for RWB North America, told HuffPost.
Anti-press rhetoric will likely escalate as Republican strategists plan to make opposition to the news media a key part of their 2018 midterm elections strategy. "That means embracing conflict with local and national journalists, taking them on to show Republicans voters that they, just like the president, are battling a biased press corps out to destroy them," McClatchy reported Friday.
Some Republicans, like Rep. Mark Sanford (S.C.), have expressed concerns about the inflammatory rhetoric coming from the White House. "People feel like if the president of the United States can say anything to anybody at any time, then I guess I can too, and that is a very, very dangerous phenomenon," he told a Washington Post reporter the day after Gianforte attacked the Guardian reporter. The press, Sanford said, "is one of the bogeymen out there."
Sanford's response stood out as other Republicans in Congress either condoned Gianforte's behavior or mockingly dismissed the violent episode. "We didn't have a course on body slammin' when I went to school," said Rep. Louie Gohmert (R-Texas).
Around the country, there's been a disturbing trend of casual disregard for the press' welfare, with journalists understandably alarmed after someone shattered the windows of a Kentucky newspaper (even as the perpetrator's motivation remains unclear).
Ravalli Republic reporter Perry Backus told HuffPost that in more than three decades as a journalist, he hadn't been singled out as the "enemy" until he covered an April gathering of conservatives in Hamilton, Montana.
One attendee described the news media as "our biggest enemy" and asked a visiting Republican congressional candidate how he'd "rein in" journalists, a question he posed while making a mock choking motion.
"We have someone right here," the candidate responded, smiling and pointing toward Backus. "It seems like there is more of us than there is of him."
That recently elected member of Congress was Greg Gianforte.
Related
Popular in the Community