On Jan. 6, thousands of Donald Trump's supporters stormed the U.S. Capitol. The riot resulted in five deaths. More than 100 officers were injured. Hundreds of arrests were made. But you might never know that listening to Republican lawmakers.
During a House oversight committee hearing on Wednesday discussing what went wrong in police preparation for the Jan. 6 riot, and what the Trump administration did or did not do to quell the violence, Republican lawmakers tried to paint themselves as victims.
"Let me clear: There was no insurrection," Rep. Andrew Clyde (R-Ga.) falsely claimed during Wednesday's hearing. "And to call it an insurrection, in my opinion, is a bold-faced lie."
Clyde went on to defend those who stormed the Capitol building, saying video of the day's violence looked to him like "a normal tourist visit."
It wasn't a tourist visit. Egged on by then-President Trump to "fight like hell," hundreds of his supporters stormed the Capitol, many with the intent to commit acts of violence against lawmakers who refused to overturn the results of the 2020 presidential election.
Rep. Jody Hice (R-Ga.) falsely claimed that Trump supporters were the real victims that day, citing the death of Trump supporter Ashley Babbitt, who was killed by a U.S. Capitol Police officer as she tried to enter the House chamber by climbing through a broken glass door.
"It was Trump supporters who lost their lives that day, not Trump supporters who were taking the lives of others," Hice said.
Wednesday's hearing signaled another dangerous shift for GOP lawmakers, who continue to deny the results of the 2020 election and now appear to be denying the reality of the insurrection. And Republican lawmakers unwilling to accept the "Big Lie" that former President Donald Trump continues to harp on will find themselves excommunicated from the party.
"The 2020 presidential election was not stolen," Cheney tweeted last week in response to a Trump statement calling the election "fraudulent."
"Anyone who claims it was is spreading THE BIG LIE, turning their back on the rule of law, and poisoning our democratic system," she added.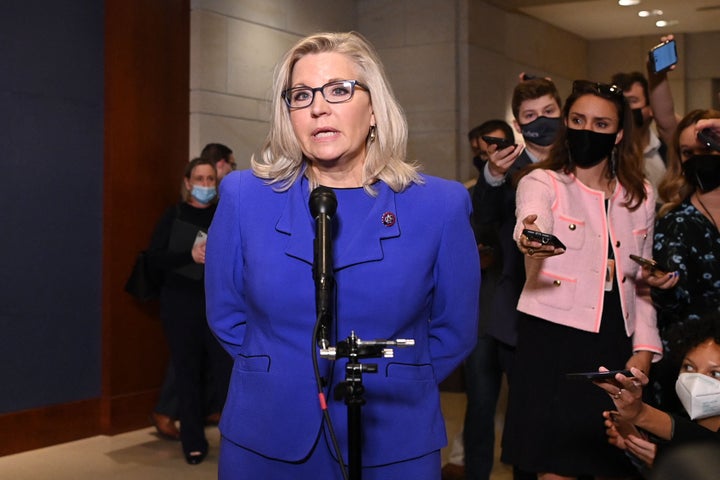 On Wednesday, Cheney was removed by her own party from her position as House Republican Conference chair, the third-highest rank among Republicans in the House of Representatives. Trump was pleased.
"Liz Cheney is a bitter, horrible human being," Trump said in a statement after Cheney's ouster. "I watched her yesterday and realized how bad she is for the Republican Party. She has no personality or anything good having to do with politics or our Country."
As part of the Republican effort to downplay the insurrection on Wednesday, Reps. Gosar and Hice both brought up the death of U.S. Capitol Officer Brian Sicknick, who was first reported to have died after being hit with a fire extinguisher from the Trump mob, but was later revealed to have died after suffering two strokes. While a medical examiner said Sicknick died from natural causes, the GOP lawmakers neglected to mention that two men were also arrested after spraying Sicknick with chemical spray.
What's more, at least 140 officers were injured in the day's attack. Two other officers who responded to the Capitol insurrection later died by suicide.
One of the officers badly injured in the day's attack was Michael Fanone, a 19-year veteran of the D.C. Metropolitan police force. Fanone was dragged down stairs, beaten with pipes and shocked with stun guns multiple times by the Trump mob. On Wednesday, he attempted to contact House Minority Leader Kevin McCarthy (R-Calif.) to share his experience of the attack. Instead, he was hung up on by McCarthy's office, Rep. Eric Swalwell (D-Calif.) tweeted.
While GOP lawmakers may hope to convince the public there wasn't violence on Jan. 6, law enforcement radio dispatch from that day tells a different, more horrifying story.
"We lost the line, we've lost the line," an officer yelled as Trump supporters stormed the Capitol. "We have been flanked and we've lost the line."
Popular in the Community