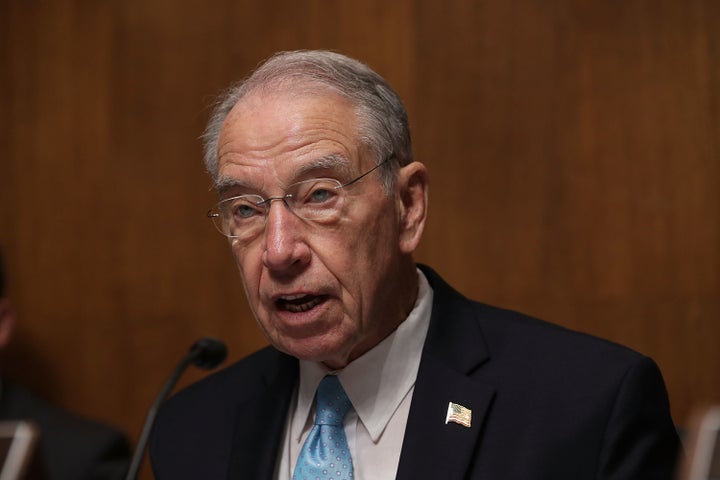 WASHINGTON ― Top Republicans are questioning FBI Director James Comey's decision to notify Congress that the bureau is investigating new emails that may or may not be relevant to Hillary Clinton's handling of sensitive information while she led the State Department.
Ohio Rep. Jim Jordan, head of the House Freedom Caucus ― a far-right faction of House Republicans that have been the most vocal in labeling Clinton persona non grata ― doubted Comey's judgment on Monday.
"I think this was probably not the right thing for Comey to do — the protocol here — to come out this close to an election," Jordan told Fox News in an interview.
He added that Comey mishandled the investigation from the beginning, which left him no choice but to send a letter to Congress.
"I would argue all of this has been wrong from the get-go in the way it's been handled," he said.
In a letter to Comey on Monday, Sen. Chuck Grassley (R-Iowa) defended the decision to alert Congress, but in the same breath criticized the director for not going far enough in his disclosure.
"Unfortunately, your letter failed to give Congress and the American people enough context to evaluate the significance or full meaning of this development," Grassley, who chairs the Senate Judiciary Committee, wrote to Comey. "Without additional context, your disclosure is not fair to Congress, the American people, or Secretary Clinton."
"In the absence of additional, authoritative information from the FBI in the wake of your vague disclosure, Congress and the American people are left to sift through anonymous leaks from Justice Department officials to the press of varying levels of detail, reliability, and consistency. The American people deserve better than that."
Grassley requested in the letter that Comey answer by Nov. 4 whether the new emails have been read by the FBI or contain any information pertinent to the investigation. He previously called on the FBI to release more information about the Clinton probe.
Comey's unprecedented decision to disclose such information also has a number of Republican former prosecutors speaking out, with many of them signing onto an open letter criticizing Comey's handling of the case.
"Comey is nominally a Republican, but this doesn't have to do with politics, it has to do with policy," said Stuart Gerson, a man once described in The New York Times as "ardently Republican." Gerson said Comey's decision violated "longstanding and well-conceived" traditions at the Justice Department.
"This has to do with the fact that the Department of Justice has been compromised," Gerson said. "It's a bad thing, it's a terrible precedent."
Donald Ayer, who served as deputy attorney general under President George H.W. Bush, noted that Justice Department officials have "incredible power" to prosecute people and send them to prison for long periods of time. But what they don't have the right to do, Ayer said, is what Comey did back in July when he announced the FBI would not recommend prosecuting Clinton.
"You don't turn around and share with the world the evidence in the case and talk about all the bad things that the person did even though you're not going to indict them. It's just not done," Ayer said in an interview.
"It's just a uniform reality that prosecutors have to either put up or shut up. You either make a case or you stop talking," Ayer said. "I am confident that he felt that he was trying hard to do the right thing and giving his best fair assessment, what in fact he did was misuse and abuse his power as a government official."
Even former Attorney General Alberto Gonzales, a man who had his own ethical issues during his time at the Justice Department and who worked with Comey, has criticized Comey's actions.
Support HuffPost
The Stakes Have Never Been Higher
Popular in the Community