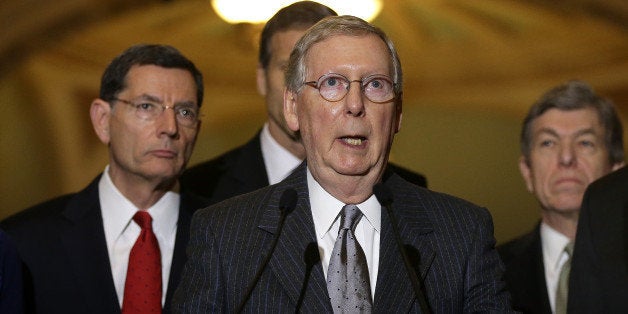 WASHINGTON -- Senate Majority Leader Mitch McConnell (R-Ky.) said Tuesday that the Senate will vote next week on a controversial bill that would require congressional approval of any nuclear deal with Iran -- a bill that critics, including the White House, warn could thwart the delicate nuclear talks and result in a war.
International negotiations on curbing Iran's nuclear capabilities have entered their final phase as they near a March 31 deadline for a final deal. President Barack Obama and many Democrats have urged lawmakers to wait until after March 31 before taking any legislative action that could affect the talks. But some lawmakers have insisted Congress should have a say in what the final agreement looks like.
"We think the timing is important," McConnell told reporters about the decision to move the bill next week. "We think it will help prevent the administration from entering into a bad deal. But if they do, then it will provide an opportunity for Congress to weigh in ... which has almost always been the case on these kinds of agreements."
The bill, introduced by Senate Foreign Relations Committee Chairman Bob Corker (R-Tenn.), would give Congress 60 days to review -- and potentially reject -- any deal that scales back U.S. nuclear sanctions on Iran. The White House has already threatened to veto the bill and insists that the Iran talks are making progress, even while acknowledging that a deal is anything but certain.
McConnell's announcement came hours after Israeli Prime Minister Benjamin Netanyahu addressed Congress and slammed the administration's proposed deal with Iran. Netanyahu said the plan would leave Iran with a vast infrastructure in place to potentially develop nuclear weapons down the road and said the requirement that nuclear activity be halted for 10 years was too weak.
A glaring hole in Netanyahu's speech, though, was that he offered no alternative plan. That gets to the heart of the matter: If international talks falls apart, the only option left for curbing Iran's nuclear activities is military action.
McConnell said Tuesday that's not the case.
"Arguments have been made by some of our friends on the other side and the administration that the choice was between this deal and war. Uh uh. That's not the choice," he said. "The choice is between this deal and tougher sanctions."
In that vein, McConnell said it's possible a separate bill imposing more sanctions on Iran could come up as an amendment during debate on Corker's proposal.
Democrats urged their colleagues to proceed with caution in getting involved in the negotiating process.
"There's no question the Senate and Congress play a big role in a lot of agreements, like treaties," said Senate Minority Whip Dick Durbin (D-Ill.). "But we're not part of every agreement an administration reaches. I'm trying to see if there are any clear bright lines to define that area of agreement."
"I am still deeply skeptical that an agreement will be reached, and that the Iranian clerics are prepared to make the concessions necessary to end their nuclear aspirations," said Rep. Adam Schiff (D-Calif.), the ranking Democrat on the House Intelligence Committee. "But we will know soon enough, and I would encourage my colleagues to reserve judgment until we see whether in fact we have a good deal, a bad deal or no deal at all."
Senate Minority Leader Harry Reid (D-Nev.) told reporters that Democrats spent a lot of time talking about Iran in their Tuesday lunch, and urged caution about acting before the March 31 deadline. He also suggested that Democrats, who have spent the last few weeks working to prevent Republicans from tying an immigration measure to a Department of Homeland Security funding bill, may have something up their sleeve to prevent the Senate from debating Iran legislation next week.
"As we learned, and I hope [McConnell] learned, saying you're going to be debating something doesn't necessarily mean it's going to happen," said Reid.
UPDATE: 7:15 p.m. -- Sen. Tim Kaine (D-Va.), a cosponsor of Corker's bill and a member of the Senate Foreign Relations Committee, later slammed GOP leaders for planning to bring to the measure to the floor before it's gotten a full committee debate and vote.
"I believe the effort by the Republican leadership to force the bill to the floor prior to full committee consideration is contrary to the important interests at stake. Premature action also disrespects the ongoing work to build a broad coalition of colleagues in support of this bill," Kaine said in a statement. "Congress should weigh in on any Iranian nuclear deal that impacts the statutory sanctions we've enacted. But we need to demonstrate that our review will be thoughtful and deliberate rather than rushed and partisan."
Calling all HuffPost superfans!
Sign up for membership to become a founding member and help shape HuffPost's next chapter
BEFORE YOU GO
PHOTO GALLERY
Politicians Take On Wall Street