WASHINGTON -- In public, House Republicans show few to no cracks in their anti-Obamacare platform. They say they want the law repealed and -- if they deliver their talking points right -- replaced with a conservative alternative.
The GOP mantra is repeated ad nauseam. And when someone deviates from the script, as House Speaker John Boehner (R-Ohio) did days after the 2012 elections, and Rep. Cathy McMorris Rodgers (R-Wash.) did last week, they quickly backtrack.
Scratch a bit below the surface, however, and the position that House GOP lawmakers take on the health care law becomes cloudier. On their campaign and congressional websites, in fact, a good number of House Republican lawmakers don't actually advocate for repeal at all. An equally healthy chunk of the GOP caucus say they want to get rid of Obamacare, then add that they support some provisions of the law.
Hoping to gain the perspective of a voter searching for basic information on what his or her congressional representative feels about Obamacare, The Huffington Post examined the health care reform section of the campaign website or congressional website for every House Republican running for reelection this year. We broke down our findings into five categories:
Repeal the law.
Repeal the law and replace it.
Reform the law.
Avoiding mentioning the law altogether.
A bad or outdated website that made it impossible to tell where the lawmaker stands.
Below are the results from our searches.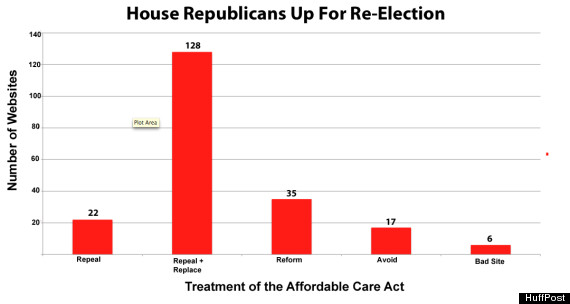 Those half-dozen lawmakers with bad websites (error messages, primarily) include many who have publicly advocated repeal of the Affordable Care Act. But because their opposition for the law was not clear on their main Web pages, they weren't counted as having sites supporting repeal, or repeal and replace.
While the graph shows a vast majority of House GOP members proclaiming their commitment to either repealing Obamacare or repealing and replacing it, the full picture is more complicated. A number of lawmakers in the "repeal and replace" camp also embrace some of Obamacare's most popular provisions.
Rep. Patrick Tiberi (Ohio) for example, says on his website that he believes Obamacare needs to be "repealed and replaced with common-sense measures." Elsewhere, however, he states his belief that "no one should be denied coverage because of pre-existing conditions" and that "reform should include wellness and preventative measures" -- two major elements of Obamacare.
On his website, Rep. Gus Bilirakis (Fla.) proclaims his opposition to the "government takeover of our nation's health care system." Further down, however, he stated his support for "expanding insurance to individuals with pre-existing conditions, preventing insurers from unjustly canceling policies because people get sick and prohibiting insurers from instituting spending caps for people with high health care costs."

Rep. Tom Reed (N.Y.), likewise, tells readers of his website that he has voted to "repeal Obamacare and replace it with a common sense solution." Later on the page, he says he supports, among other things, the following components of Obamacare:
"the notion that all Americans, regardless of pre-existing conditions and past illnesses, get coverage at affordable prices,"
"coverage for young adults up to age 26 under their parents' policies," and
"fixing the "donut hole" so seniors aren't paying exorbitant costs"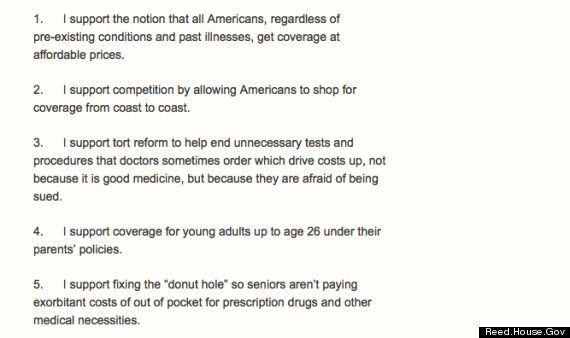 Several lawmakers who fell into the "reform" category either say they'd be fine keeping some elements of Obamacare, or concede that the law would remain in place.
"We must preserve any areas of common ground," Rep. Scott Rigell (Va.) says on his health care page. Rep. Rodney Davis (Ill.), meanwhile, says that Republicans "can begin to build on some of the good provisions" in the health care law. Rep. Dave Reichert (Wash.) says he was focused on changing "the most troublesome parts" of the law, a sentiment echoed by Rep. Steve Womack (Ark.), who says opponents of Obamacare must "accept the reality that it is unfortunately the law of the land."
All told, 31 Republican House members express some support for an element of the Affordable Care Act. In each case, they say they favor covering people with pre-existing conditions. Ten websites also include a line supporting policies requiring insurers to allow parents to keep kids on their health care plans until age 26. In addition, two lawmakers express support for Medicaid coverage. The Huffington Post did not count Republicans who say they wanted to ensure coverage of people with pre-existing conditions through expanded high-risk pools in states -- a commonly cited GOP alternative.
Many lawmakers in favor of reforming Obamacare hail from states where the law is working well, such as California and New York. California in particular has been held up as an Obamacare success story, with enrollment in private plans under the state health care exchange exceeding 400,000. An additional 1.5 million have enrolled in or have been deemed eligible for Medi-Cal, the state's Medicaid expansion.
Some Republican House members go to great length on their websites to present themselves as open-minded on health care reform. Rep. Steve Stivers (Ohio) includes a survey on his website, asking people if they felt Obamacare should be repealed, kept as written, reformed as issues arise, or whether they would prefer a single-payer health care system.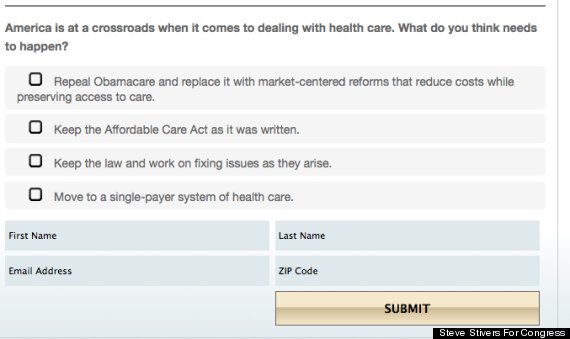 And Rep. Rich Nugent (Fla.), who doesn't discuss Obamacare on his campaign website, asks his constituents if they believed repealing the law would help address the national debt.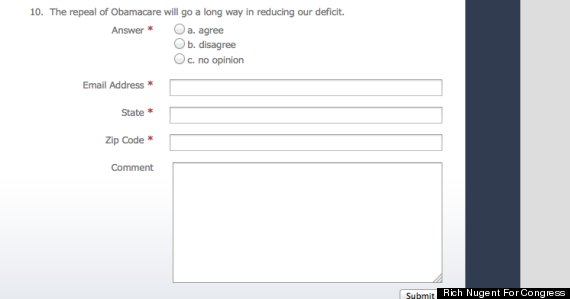 While the pool of lawmakers who support Obamacare, whether overtly or vaguely, was notable, it was dwarfed by the number decrying the law. Many House Republicans, in fact, couldn't state strongly enough their opposition to Obamacare or their role in efforts to repeal it:
Rep. Phil Roe (Tenn.) has been "leading the charge to repeal the law."
Rep. Leonard Lance (N.J.) said he's "on the front-lines in the fight against Obamacare, voting 58 times to either fully repeal, defund, or dismantle portions of this onerous legislation."
Rep. John Duncan (Tenn.) called Obamacare "the socialist approach to health care."
Rep. Joe Wilson (S.C.) said he was working "to assure that this disastrous, government over-reaching law is completely repealed."
Rep. Rodney Frelinghuysen (N.J.) said he supports health care reform, "but not Barack Obama's federal takeover of health care!"
Rep. Steve Chabot (Ohio) called the law a "massive health care power-grab."
Rep. Devin Nunes (Calif.) said the law must be repealed because "there is no fixing Obamacare."
Rep. Blake Farenthold (Texas) kept it short and sweet: "REPEAL AND REPLACE JOB KILLING OBAMACARE."
The Huffington Post conducted a similar exercise last week, examining the campaign and official websites of Democrats running for the House and Senate this year. House Democrats often were willing to tout their support for the law, while Senate candidates widely avoided the subject.
Before You Go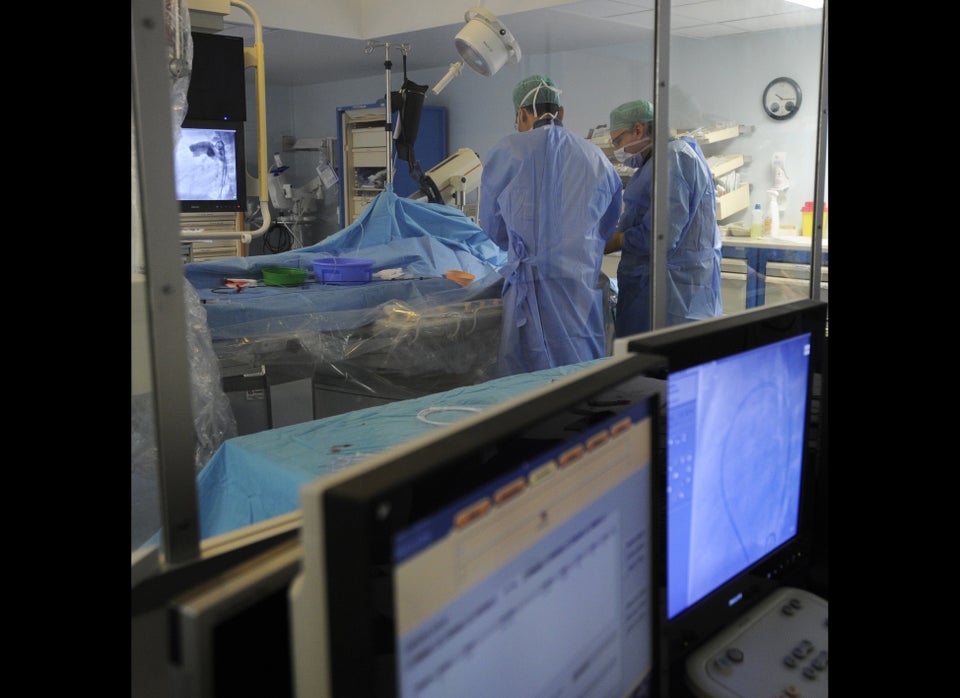 Lies And Distortions Of The Health Care Debate
Popular in the Community