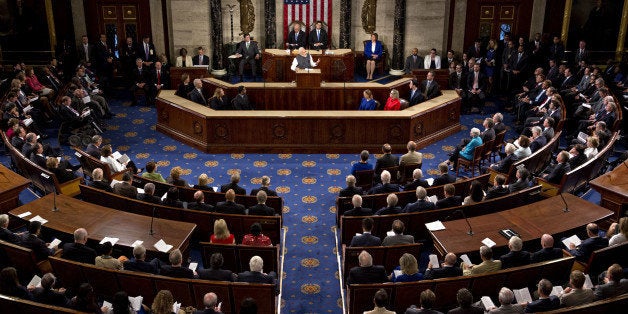 On December 3, 2015, Senator Feinstein's bill to block people on the terror watch list from legally buying guns failed.
Only the day before, the deadliest terror attack on US soil since 9/11 had occurred. It had been carried out with guns. 14 people had been killed and 22 wounded when Syed Rizwan Farook and Tashfeen Malik opened fire on a Christmas party for the San Bernardino County Department of Public Health.
Less than three weeks earlier, the Washington Post had reported that people on the FBI's terror watchlist had successfully, legally purchased firearms 2,043 times over the ten year period from 2004 to 2014.
86% of the public and 82% of NRA members support the proposed law.
The NRA itself, however, opposed it.
So every Republican in the Senate except for Mark Kirk voted to block it, while every Democrat except for Heidi Heitkamp voted for it.
And it wasn't just Senate Republicans, either. It was the entire Republican Party. Sure, there were dissenting voices, like Kirk and Representative Pete King, who introduced the same bill in the House. But they were very few and very far between. Paul Ryan -- that guy we're constantly reminded is the reasonable alternative to Donald Trump --rejected the idea. Conservative blogs mocked the suggestion that terror suspects shouldn't be able to buy guns, some even suggesting that Democrats must just be "out of ideas."
"Doing something versus doing something which will actually makes a difference," explained Senator Mike Rounds, "are two different things."
Seven months later, Omar Mateen purchased an AR-15 and semiautomatic pistol from a shop owned by an ex-member of the NYPD. He then pledged allegiance to ISIS and used those weapons to carry out a new deadliest domestic terror attack since 9/11, a new biggest mass shooting in US history. He had been on the terror watch list.
He had very likely been removed from it, as well. That's a point you'll probably hear brought up a lot in the coming weeks. The absurdity of debating the fictional fine print, of a current procedure that might have been, for a broader policy that doesn't exist, will be lost on most.
Yesterday, Donald Trump offered his solution: more guns in bars. The day of the attack, conservative news site Breitbart published a "think piece" lamenting that the bar had been a gun-free zone. If only people had been armed!
In fact, an armed, trained and incredibly brave off-duty police officer did exchange fire with the shooter near the entrance to the bar. The shooter then went back inside and resumed shooting innocent people. So other nearby officers responded and joined the firefight, as well. Mateen took 30 hostages and may have resumed killing people after that, too. In the end, it took three hours, a massive police force and an armored vehicle to rescue hostages and stop the bloodshed. Remember that when people offer bizarre, borderline-masturbatory hero fantasies about a "good guy with a gun" as their cure for terrorism. Life is not a bad action movie.
Don't let Republicans tell you that they're tough on terror. Don't let them tell you that they'll keep you safe. And never for one moment believe that they aren't paid for and fully owned by America's most dangerous special interest.
Calling all HuffPost superfans!
Sign up for membership to become a founding member and help shape HuffPost's next chapter