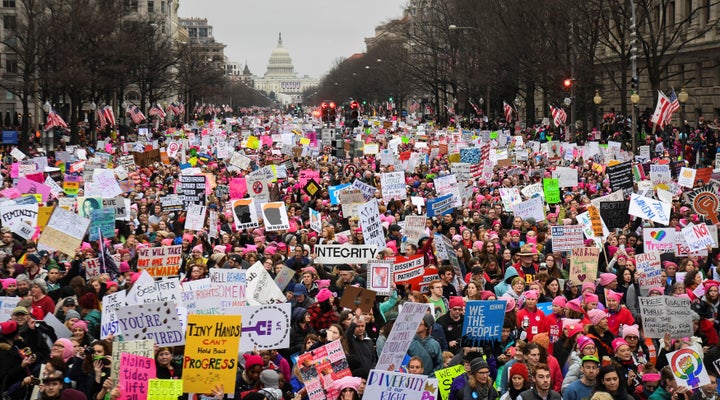 WASHINGTON ― After what may have been the largest demonstration in U.S. history, congressional Republicans don't seem to think they need to do anything differently to address concerns of protesters at the Women's March, literally shrugging off questions about the rallies and vowing instead to move ahead with their agenda.
When The Huffington Post asked Rep. Lynn Jenkins (R-Kan.) whether she thought Republicans were taking the lessons of the march seriously, she said that Republicans had "got the message." But asked what that message was, Jenkins shrugged before eventually answering that there were "a lot of angry, frustrated people."
Asked what Republicans were going to do to address those frustrations, Jenkins said the GOP would "continue with our agenda."
When we asked Rep. Rob Woodall (R-Ga.) what Republicans might do to address issues associated with the march, he suggested the GOP just needed to continue doing what it's doing.
"If you're going to tell me the march is about equality, that's already a foundational principle for Republicans to begin with," Woodall said. "If you're going to tell me it's about standing up for the voiceless, we've been committed to giving a voice to the voiceless from day one. If you're telling me it's about the sheer numbers of folks who are willing to come together with us to work on solutions, listen, the only things left to work on are hard, they're not going to get done without a lot of effort, so I'm pleased for all the man and woman power we can get to move an agenda."
"If you're going to tell me the march is about equality, that's already a foundational principle for Republicans to begin with. If you're going to tell me it's about standing up for the voiceless, we've been committed to giving a voice to the voiceless from day one."
Republicans generally struggled to define what the message of the marches was, but they seemed to think if they just pushed ahead with what they were already doing, voters would reward them.
Rep. Barbara Comstock (R-Va.) said Republicans were focused on the issues they individually hear in their districts and had developed an agenda based on those priorities. (She ignored us when we asked if some of the frustration the protesters were expressing had been born of that agenda.)
Democrats didn't always have a clear answer on what exactly the message was from protesters either, but they at least had some ideas.
"The message was we're not going backward," Rep. Jared Huffman (D-Calif.) told HuffPost. "We've come too far on women's rights, on LBGT equality, and frankly a broader set of progressive values than even that."
Huffman said he had marched in local rallies in his Northern California district, and he thought Democrats could harness some of the energy from the march.
"We're not going down without a fight. These guys will do executive orders, they'll pass through political theater like what's happening in the House today," Huffman said, referring to that abortion bill passed in the House Tuesday. "But the resistance is growing. The country is awake and mobilizing, and we're not going to let this happen."
For Rep. Jared Polis (D-Colo.), who stayed in D.C. to march with protesters over the weekend, the demonstrations seemed to be the beginning of a political movement. He mentioned that people kept asking him how they could get involved to build on the march's momentum, and he suggested this was a movement that was just getting started.
"They're not simply going to go home," Polis said of the protesters. "They are worried, as am I, about the kind of America that Donald Trump's rhetoric is leading to, and we're going to stand up and change things."
"I think there will be a whole new generation of activists that will be coming out of the depressing results of the 2016 election," he added.
Again, it was unclear for most members ― Democrats and Republicans ― exactly what people were protesting. Everyone agreed there was an anti-Trump element to it, but there seemed to be a number of alternative issues important to demonstrators: abortion rights, equal pay, racial inequality and many others. But where Democrats looked at a broad array of issues that might motivate voters as a positive, Republicans seemed to see division and a leaderless movement.
On CNN on Saturday, the chairman of the National Republican Senatorial Committee, Sen. Cory Gardner (R-Colo.), raised questions about who was leading this movement ― "if this is a movement" ― and he suggested that infighting among Democrats could prevent someone emerging in that role.
"Right now it's very much a soul-search that's going to create significant problems for the coalition that the Democrats have," Gardner said.
Not every Republican thought the marches were something their party could just dismiss, though, or spin as an internal power struggle. (Who led the tea party again?)
Rep. Justin Amash (R-Mich.), one of those Republicans who came to Congress in 2010 with the tea party wave of lawmakers, said the marches were something members of his party needed to take seriously but weren't.
"Not yet, I don't think so," Amash said of Republicans heeding the message.
As for Amash, he suggested he was different from most of his colleagues because he reaches out to everyone in his district and has the ability to respectfully disagree with his voters. "Whether we agree on every issue or not is not really a problem for me."
In this respect, Amash was like a lot of other Republicans: He believes he can forge ahead with a conservative agenda with impunity. Time and again, members cited conservative constituencies in their carved-out districts and suggested that the conservative agenda they were advocating for was what their voters wanted.
Still, there are some members who know the price of Congress and the president getting in front of a moderate district. Carol Shea-Porter (D-N.H.), who was a victim of the 2010 wave and now (for a third time) has returned to Congress, suggested Republicans had to determine whether they would press forward with Trump's agenda or try to differentiate themselves from the president.
"They are going to have to make a decision soon," she said. "I don't think you can ignore so many people showing up around the country."
Before You Go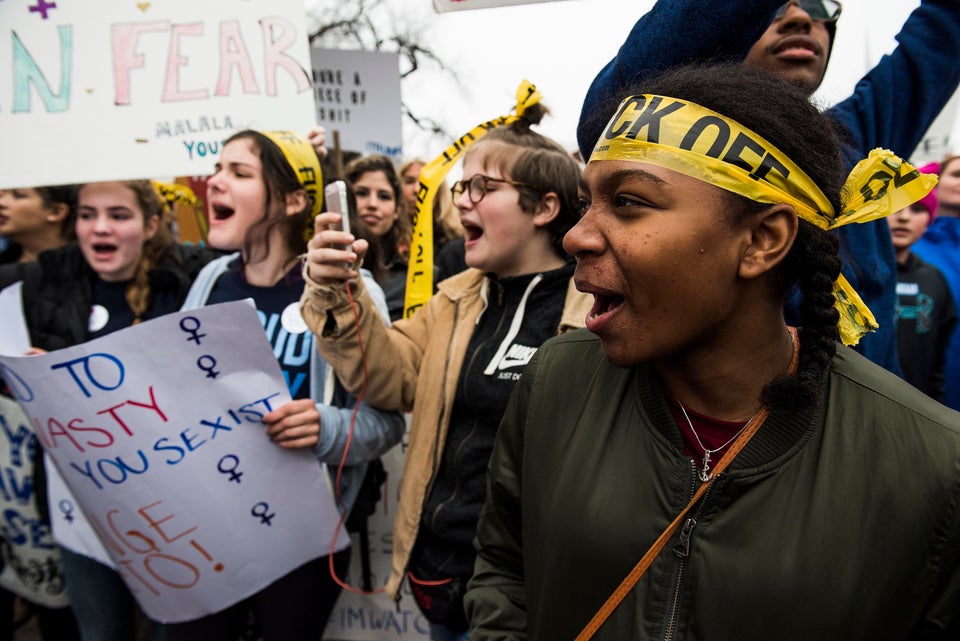 Women's March On Washington
Popular in the Community