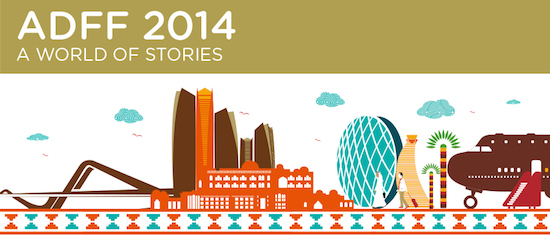 Just a few days before this year's Festival de Cannes, those of us who watch, love and write about Arab cinema received a press release from Abu Dhabi that seemed like just another announcement. Sent out by their media hub twofour54, part of the emirate's Media Zone Authority, the release's title "Abu Dhabi's film industry embarks on a new era" made me put it aside for later reading. I already knew anyway that the capital of the United Arab Emirates has been getting quite a lot of international productions to film there (most famously Furious 7 and the upcoming Star Wars: Episode VII - The Force Awakens) because of the Abu Dhabi Film Commission's 30 percent cash-back rebate, as well as twofour54's recently upgraded state-of-the-art facilities for post-production.
So, off I went to tend to the rest of my day, and the press release I received was bound to end up in some folder, never to be looked at again. But then my Facebook homepage and Twitter feed started buzzing, the equivalent on social media of a hundred ringing phones going off at once, with alarming news: the Abu Dhabi Film Festival was no more. Yes, their development and post-production fund SANAD remained, with some familiar names at its helm like festival director Ali Al Jabri and Arabic programmer Intishal Al Timini, but no more event to premiere and showcase the finished products, the beautiful films SANAD is famous for helping to create.
Had I missed the big news in the press release? Well, yes, but only because it seemed purposely tucked away among all the other big news, of better facilities, more TV, Hollywood and Bollywood productions, more ambitious plans to come for Abu Dhabi. Yet, here was the news of an eight-year-old, week-long event everyone in the film world looked forward to, a wonderful tradition of cultural interaction and cinematic bridge-building, coming to an end. And its demise told in just one short paragraph, no pomp and circumstance, simply gone. I was left to mourn.
Then Cannes rolled around and I had neither the time nor the occasion to think much about ADFF, as the festival was affectionately known to all those who were fortunate enough to have witnessed its magic.
Magic. What a perfect word to describe a place, an event, a festival that created the one ray of hope for our overly divided world. With ADFF's demise, I see dire prospects for Arab cinema, to tell you the truth.
Of course, there remains that undisputedly wondrous cinematic event of the year for the Emirates, the Dubai International Film Festival. Oscar-qualifying for short films, celebrity filled, red carpet ready and chock full of incredible movies, DIFF is the undeniable king of the festivals in this part of the world.
Yet ADFF was a meeting place, of minds and artists, of world-citizens who perhaps held the wrong passports to be friends anywhere else in the world, but in Abu Dhabi felt at home as one. ADFF was equally welcoming to media, filmmakers, film distributors and celebrities, we all interacted and mingled, without divisive velvet ropes.
It was a festival I will always remember for the great films I watched there, but also the calm lunches around those large round tables at Emirates Palace where one could find Indian superstar Irrfan Khan to one's right, Iraqi rapper extraordinaire The Narcicyst to one's left and sitting across from all, Iranian autrice Rakhshan Bani-Etemad; where a blogger like me could share the stage with her favorite Palestinian filmmaker Annemarie Jacir for a public "In Conversation with..." and learn from the endless wisdom of this poetic writer and director; and where the last edition's jury members included Cannes' Critics' Week director Charles Tesson, Palestinian actor Ali Suliman and Vietnamese master filmmaker Dang Nhat Minh. That was Abu Dhabi Film Festival. And as with all great things, we learn this early on in our lives, it had to come to an end. Or did it?
Strictly my own very personal opinion, but while I do understand the commercial implications and financial reasonings for this move, I don't approve, and never will of the final solution. We are living through a time when the obvious dumbing down of our society in general, but more specifically of Arab youths, has finally yielded what some of us could see coming way down the road, long ago: an ultra divided albeit social media interconnected, violently alienated, dangerously intolerant world. And as long as we keep making those blow them up, tie them down, cut them off, intolerant, violent films -- and don't even get me started on video games -- we'll keep yielding the same results. What we see is what we get. Only thoughtful cinema could save us now.
So here's my heartfelt eulogy for a film festival with a conscience, ADFF, gone too soon, and sadly missed by all who ever witnessed it. A blog I dedicate to one of its key programmers, Intishal Al Timini, a man who not only understands the value of the press, as much as that of his filmmakers, but also cares for the world around him as much as he cares about his family and his films. And in SANAD we trust, Intishal. so may this incredible work of healing the world, one film at a time, be continued in the upcoming cycles of SANAD funding.
Top image courtesy of twofour54.
Calling all HuffPost superfans!
Sign up for membership to become a founding member and help shape HuffPost's next chapter