I believe our country is headed in the wrong direction. By increasing numbers, our poorest families are becoming less educated, less employed and more reliant on government services and support. A system of assistance that was designed as a temporary helping hand has become a permanent way of life.
Alarmingly, reliance on public assistance has become a sort of perverse legacy handed down from one generation to the next. In the same way that children, with hard working parents, model the behavior of their role models, so too children who know only public assistance follow the path shown to them.
Convinced that our system of providing public benefits was actually hurting the families who received them, I set out to change the system. With the generous financial support of The Health Foundation of Central Massachusetts, the Worcester Housing Authority designed and tested an intensive case management program that we call "A Better Life" (ABL). Initially, having worked with 30 families, who volunteered to participate, I can report that we have learned several important lessons.
We can change the lives of those who are willing to work with us. In just a few short months, we have doubled the number of residents attending school and more than doubled the number working.
For a wide range of reasons, most residents will not seek out the help we offer - they are willing to stay right where they are. We have marketed our new program to approximately 1,200 families. Unfortunately, we have struggled to find 30 families willing to do the hard work necessary to participate in the program.
The only way that this program will work is if the government requires families to participate. Yes, it is hard and in many cases the odds are stacked against those residents willing to do the difficult work required to become self-sufficient. But, it should not be acceptable for people to say that they won't even try. The current system not only lets them sit on the sidelines, it encourages it.
Based on the results of our voluntary program, we expanded the program to include a "preference" for all applicants who said that they would be willing to participate in the program. This preference put the applicant and his/her family at the very top of our extensive waiting lists. But, it also required them to meet the demands of the program or face a loss of housing benefits.
The program that we built is based on four pillars.
1. Believe in the ability of our residents.
2. Set high standards.
3. Hold residents responsible.
4. Help residents reach those standards.
Our program encourages, motivates and requires residents to either go back to school to further/complete their education, to go into the work force on a full-time basis, or some combination of school and work equal to full-time. The following program requirements apply:
1. Expanded FSS/Case Management Program
All residents who must fulfill the work/school requirement are also required to participate in mandatory case management. This program is an expanded, intensive version of the existing FSS (HUD Family Self Sufficiency) program. This case management starts with a comprehensive five-part personal/family assessment including assessment of their finances/financial literacy; health; education level; occupational history and readiness; and personal/family challenges.
The results of these assessments form the basis for the creation of a Family Development Plan, which is developed in cooperation between the resident and the case manager. As residents move to employment, they will become enrolled in an escrow program which will set aside any increased rent, due to their employment, for their future use or in the income disregard program, where their increased income is not counted and can be used to immediately accelerate debt reduction.
2. Life Skills 101 Training Program
All adult residents are required to participate in a comprehensive training program designed to help them gain the skills they need to improve their lives and to become a constructive member of the larger community. Training includes computer competency, financial literacy, domestic violence, conflict resolution, parenting and other topics.
3. Work/School Requirements
All able-bodied, adult public housing residents, under the age of 55, who agree to participate in this program are required to go to work or attend school full time to continue to receive housing benefits. This includes the head of household and other adult members within the household. Those residents who refuse to participate will be subject to lease enforcement. After making a sincere effort to find employment, any resident who is unable to do so will be offered community service at the Worcester Housing Authority while their job search continues.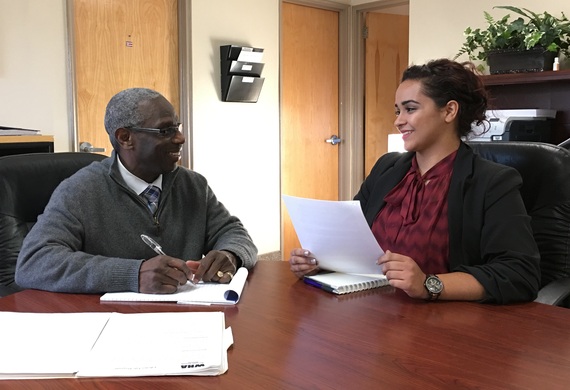 A participant (right) in A Better Life meets with a Worcester Housing Authority staff member to discuss progress on her personal goals.
Our single motivation for putting this program in place is to help families move toward self-sufficiency and out of public housing.
The results of our program so far speak for themselves. We have more than doubled the number of adults employed (35 percent to 75 percent). We have tripled the number of participants attending school/training. We have increased wages and savings dramatically. Our program is working.
Each day I go to work and come into contact with women who are inspiring role models. These single mothers are participants in our apprentice training program which is a part of the larger ABL program. Some have mental health challenges, some have disabled children, some have been victims of domestic violence. And yet they find a way to get into work and move themselves and their families forward. They are hard working, resourceful and, most importantly, determined to break their cycle of dependency on public assistance.
If they can work through the challenges that they face and succeed, then every recipient of public assistance should at least make an effort, and we should help them.
Next post in this series: Fixing America's Dead End Street - Helping Public Housing Residents Find Main Street
Calling all HuffPost superfans!
Sign up for membership to become a founding member and help shape HuffPost's next chapter