A little love can sure go a long way.
Take these 14 rescue dogs that were abused, neglected and even left for dead. They could've easily lost their fights, but thanks to some caring rescuers and loving homes, these pups went from down and out to on top of the world.
Chicago's Trio Animal Foundation (TAF) helps shelters, rescue groups and individuals pay the medical bills of homeless animals. The group is named after Trio, a little pup who, after being used as a bait dog, had her leg bitten off when she was just 4 weeks old. Although she was given a 10 percent chance to live, Trio beat the odds and made a miraculous recovery.
Now, TAF President Sue Naiden is giving more dogs another chance:
Many of the animals in TAF's program have never had a good day [their] whole life. They come in scared, confused, defeated and look as if they are resigned to a life of misery. When they are finally bathed, vetted and given the respect and love that they have always deserved, a light re-kindles in their eyes and their spirit comes alive. A dog that is given a second chance in like none other... after all that they have been through, their will to survive and ability to love and trust, again, should be an inspiration to us all.
She shared just a few of the dogs' amazing stories with The Huffington Post.

Dozer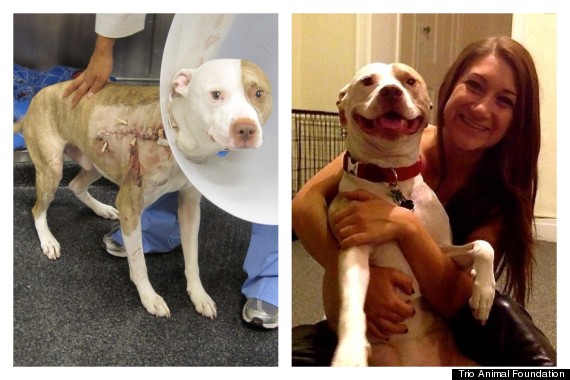 Dozer was shot. He lived under a porch for days before he got medical help. His wound became severely infected, and he had heartworm. After two months of hospitalization and several surgeries, Dozer recovered and was adopted by one of the veterinarian technicians who cared for him. He is now living a wonderful life.
Albert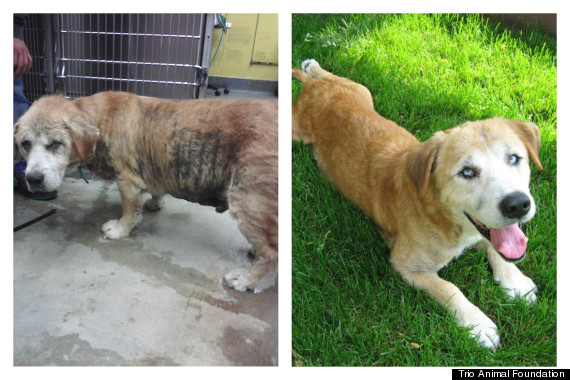 Albert is a sweet senior who was surrendered by his owner. After recovering from a skin infection, allergies and heartworm, he was adopted, thanks to help from the Young at Heart Pet Rescue.
Trinity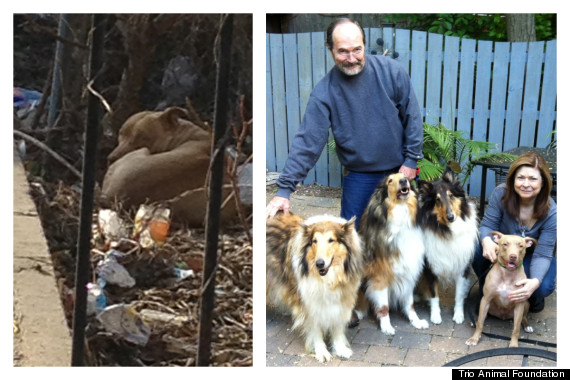 Trinity was found living outside by a heap of trash. A good Samaritan contacted the TAF for help. It took several weeks for her to recover from pneumonia, but she was eventually adopted by a loving family. The pup now has three collie brothers.
Frolik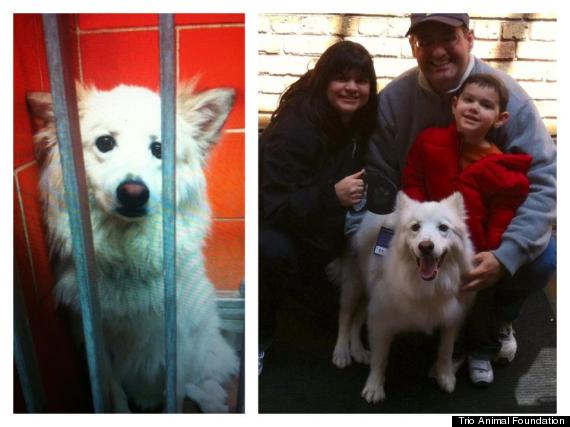 Scared little Frolik knew he was given a second chance when he trotted out of an open access shelter with TAF. After some medical attention and love, he was adopted, and his second chance was realized.
Bickell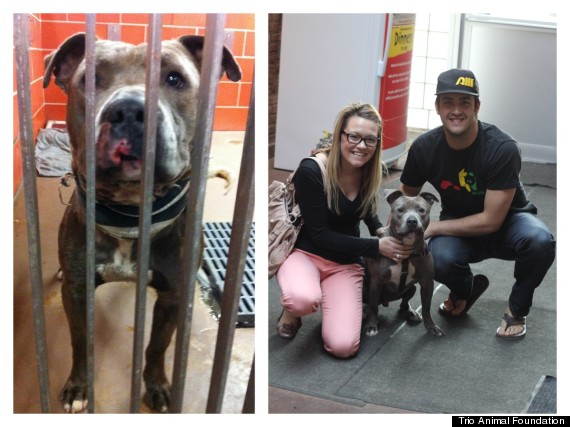 Bickell was found at a shelter with 100 bite wounds and a torn lip. He had eaten the bristles of a broom and required surgery. He made a recovery after some TLC.
Little G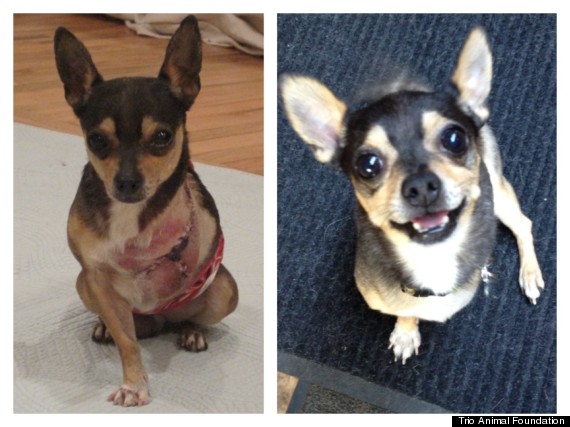 Little G was turned over to a shelter after an accident. He had to have one of his front legs amputated. Naiden fostered the adorable little Chihuahua after his surgery, and he has since been used to help other dogs in the program heal from their wounds.
Buttercup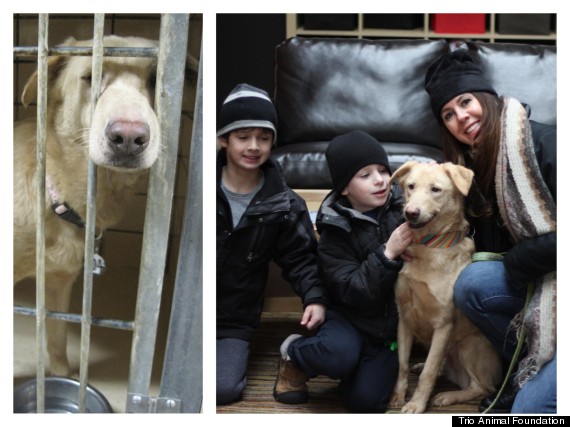 Six years after being rescued from a shelter, Buttercup was left at a kill shelter to die. TAF rescued her, treated her infection and put her up for adoption. She was adopted by a family with two children who have autism. "She loves them and has provided them with comfort and stability in return for a great home," Naiden said.
Rosie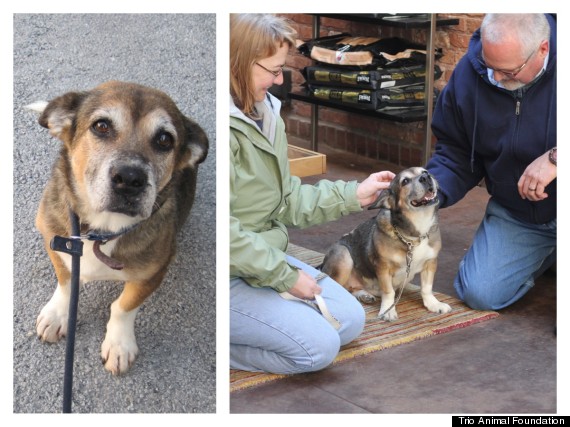 TAF found Rosie, a senior dog, sickly and alone at a shelter. After a rough road through pneumonia and advanced heartworm, she made a full recovery and was adopted by a loving new family.
Whimsy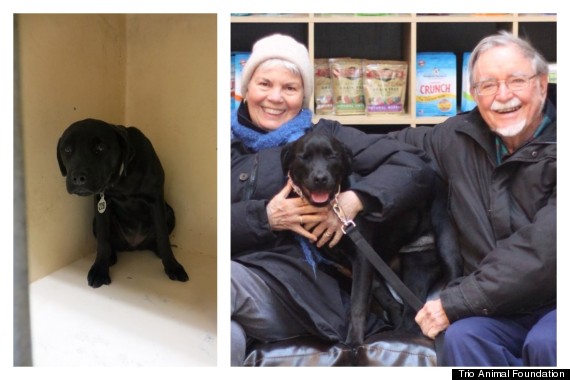 Whimsy was found cowered in the corner of a cage at a local animal shelter. After being treated for a respiratory infection and spayed, the pup was taken in by a couple who had fallen love with her sweet face.
Bravo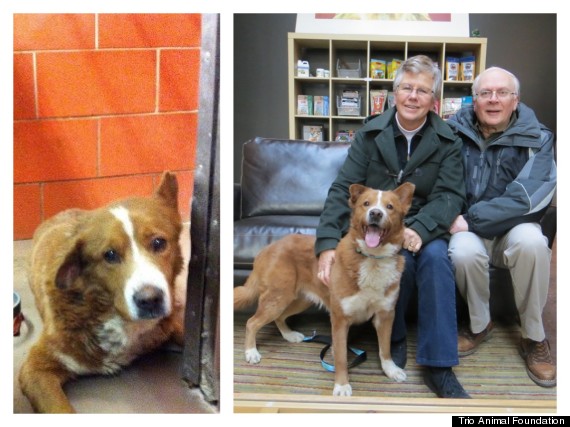 Bravo was found lying in a cage at an open-access shelter. "He was in pain and had given up on life," Naiden described. He was hours from being euthanized. TAF rescued him, only to discover he had infections, along with missing and cracked teeth. "Even though we knew it was a long shot, we wanted to give Bravo every chance possible to make it," Naiden wrote. Luckily, he made a recovery and was adopted.
Abigail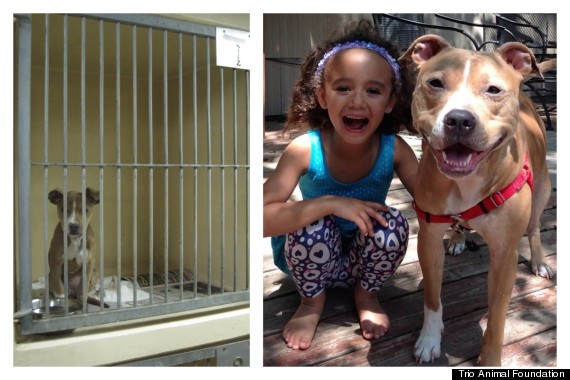 Abigail, a sickly pitbull pup, was rescued from a shelter in memory of Trio, who passed away in November 2011. She recovered from illnesses and was adopted by a forever family who named her Hazel. "[I]t is absolutely wonderful to see her with the beautiful family that loves her unconditionally," Naiden said.
Livy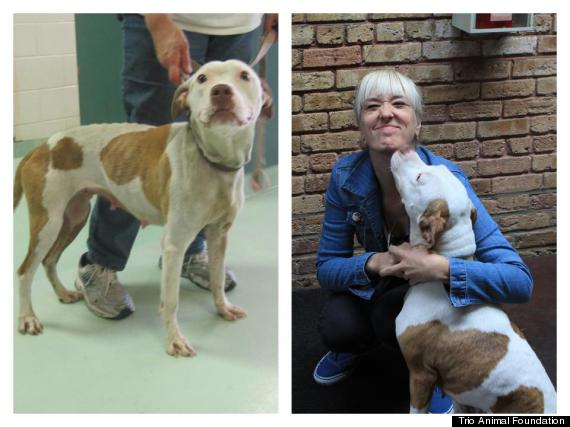 Livy was a breeding dog, kept outside and used only to make her owner money. After being taken to a shelter, she beat death when TAF rescued her the day before she was euthanized. Now, she has a loving new mom whom she can shower with kisses.
Red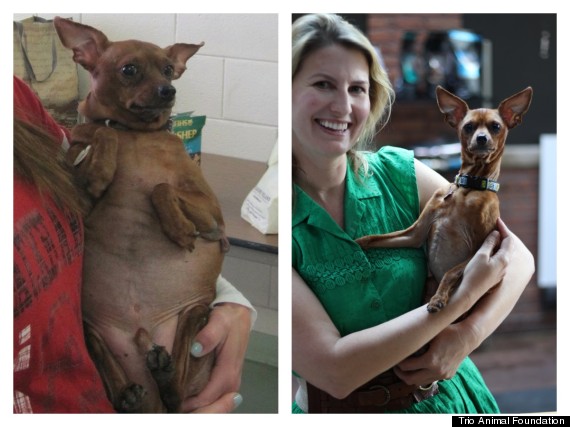 Red was found "cowering" and "shaking uncontrollably" in a shelter cage. He was obese and unable to stand or sit comfortably. After weeks of help from the TAF, Red met the perfect new mom and got his happily ever after.
Hippo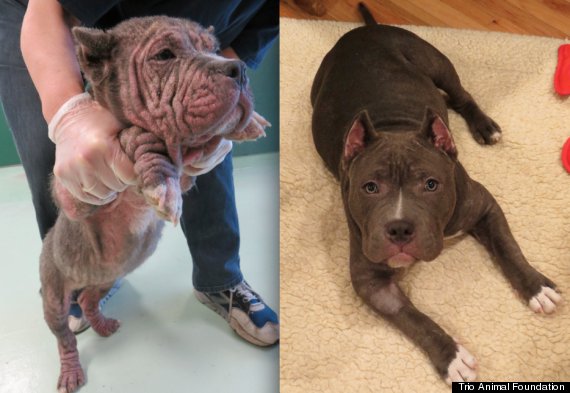 Hippo was found at an open access shelter when she was just 12 weeks old. Her ears had been cut off, and she had a secondary skin infection, an upper respiratory infection and a fungal infection. But after months of antibiotics, medicated dips, fungal and pain medications, Hippo has made a full recovery and will be going to her forever home this week.