Is there anything better than unconditional love? For nearly 15 years that was the scene in our home. My wife and I adopted our first rescue dog together when she was just 9 weeks old — and for the next decade and a half she was an integral part of our family. We were so spoiled by her in so many ways that ever since her death, it has been hard to find another dog that could parallel her unique qualities.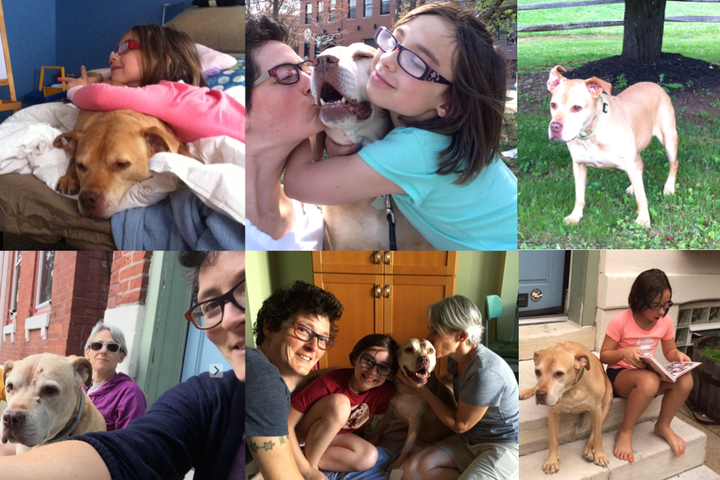 It was terribly sad when Scout died, but she had lived a long, spoiled, and very loved life. After her death our family decided we wanted to foster dogs from our inner city animal shelter. My wife had volunteered there religiously for many years and I had volunteered on and off for a short while; we felt strongly about getting these poor dogs out of the shelter and into a safe and loving temporary home until we could find them their forever homes.
Philadelphia is home to the city's open intake shelter, the Philadelphia Animal Care and Control Team (ACCT) — though I'd argue the care is used quite liberally in this context - and also one of ACCT's "rescue partners", the Pennsylvania SPCA (PSPCA). The PSPCA is a "no kill" shelter and I will tell you right now, I am against "no kill" shelters just for "no kill" sake. I believe that it is so much worse to keep animals alive, suffering in their tiny cages, without proper attention, exercise, and love, than it is to do the merciful thing and euthanize them (if appropriate).
For those who have never stepped foot into an inner city animal shelter, it's an awful place — for the people and for the animals. Between the two shelters there are thousands and thousands of dogs and cats who get surrendered and need homes. For every dog surrendered, only a fraction make it out alive. This creates a sense of urgency for volunteers and rescue organizations that is not sustainable and a shelter environment that is overstimulating on a multitude of levels. Picture this — hundreds of cages filled with animals in crates too small relative to their size and breed, who do not get out nearly enough (some only once a week thanks to dedicated volunteers) and who either are not house-trained and therefore lay in their own urine and feces, or worse, are house-trained and hold it for days upon days until they end up with an array of ailments including urinary tract infections so bad they bleed and get terribly ill . All this makes for a smell that one does not soon forget and a constant barrage of barking, whining, and whimpering that is deafening. It also makes for animals that are either overstimulated, full of energy, and difficult to adopt out, or depressed, scared to death and difficult to adopt out. Neither is good for the people or the animals. Which is why it is vital to foster and adopt — not buy!
In the first 6 months after Scout died we fostered 3 dogs — a young emaciated dog, an older dog, and a tiny puppy dog. All three foster experiences were trying on different levels, but also rewarding. Foster dog number 1 was named of Penelope. When I went to the animal shelter to meet her, it was just one month after we lost Scout. I was not at all ready for another dog, but she was out of time and needed our help, and our home, and so I went. In the intake room while meeting her, I broke down in tears, missing Scout and conflicted about bringing home a random dog. In the end though, she came home and we nursed her back to health. After a couple of months we found her an amazing home where she is spoiled with a lot of love; we still get regular updates!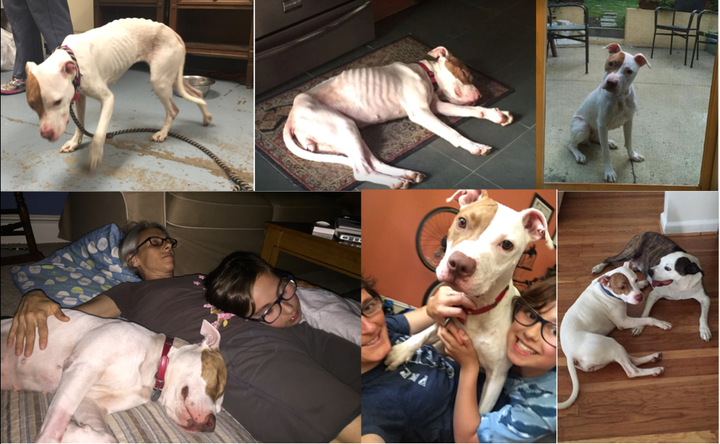 Foster dog number 2 was much more complicated. Dutch was an approximately 5 year old Philly special that my daughter and I met at ACCT with a friend who is a very seasoned volunteer there. She spent a good hour or two with us testing out dogs to see which would be the right fit for our family. After going back and forth between Dutch and another dog, I ultimately made the decision that we needed to give Dutch a home; he was older and the other dog younger, and therefore the other dog had a better chance of getting fostered or adopted by someone else (which she did that very same day).
Dutch was only with us for a few days before he bit my daughter on her hand and would not let go. Over the days Dutch was with us before this unusual incident he was very mellow, personable, and affectionate. We saw no signs of any aggression; what ultimately set him off we still to this day can not determine. My daughter and I were sitting in our TV room, Dutch laying right beside me on the floor while I petted him; my daughter sat on the floor as well playing with a small object when all of a sudden Dutch went after her — I had to pry his jaw's off of her and hold him down. It was one of the scariest moments of my life and one that still replays in my mind over and over again to this day. My daughter was ultimately ok, she didn't need stitches as it was just puncture wounds and there were no broken bones. I thank the universe every day that I was in the room with her when that happened and that it was just her hand and nothing worse. After working with our rescue partner we made the difficult decision to euthanize him, he just wasn't safe to adopt out. We had a veterinarian come to our home so that Dutch would be in the last safe place he called home.
After that incident, I swore we would never foster again. If you have kids you know you will do anything to protect them — and I was not going to bring another random dog into the house. My wife and our resilient daughter had other plans however — enter foster dog number 3— Penny the 5 week old puppy. Though this was the perfect solution to my worry, having a puppy that young nearly killed me! Did you know that puppies don't sleep, teethe on everything, pee and poop everywhere, and constantly want to play? Well they do, but they also smell really good, cuddle you hard, and steal your heart. We had Penny for a few months and I fell madly in love with her! We ultimately found her the perfect forever home with a woman who works in our neighborhood and we still get to see her every now and then!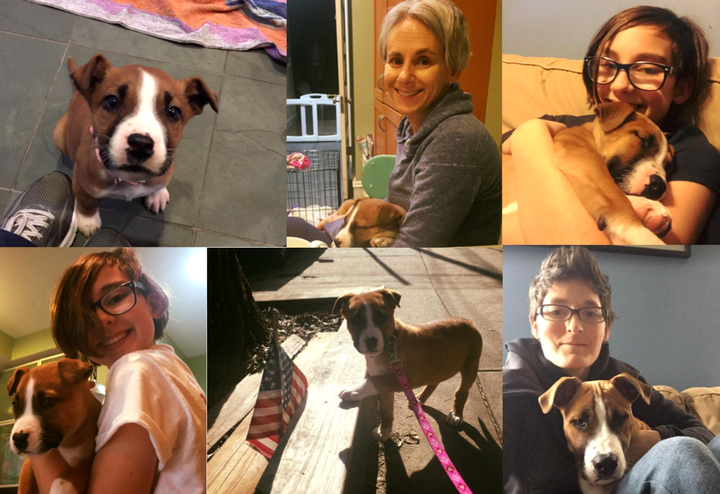 So now here we are again, its been 6 months since our last foster dog, and my daughter is ready for another. I am ready for another too, but I am afraid, I still can't get the memories of Dutch to stop playing in my mind. My wife — and kid — assure me we will make the right decision on the right dog when the time is right. I hope the time is right soon as there is something to be said for the unconditional love and bond that comes from a rescue dog. Though they need us, ultimately we need them too!