The son of two Korean immigrant parents who once struggled to make ends meet, Robert Lee understood as a young child what it's like to feel hungry. He eventually went on to work at a hedge fund to make sure his parents would never have issues putting food on the table again, but it didn't take long for him to realize that being true to his roots required serving others in need.
Lee launched Rescuing Leftover Cuisine, a nonprofit organization that targets both the prevention of quality food waste and putting an end to hunger, in New York City in the summer of 2013. Since its debut, the social entrepreneurship venture has partnered with more than 30 local restaurants and markets to secure food donations, and built a volunteer network of more than 1,400 people to hand-deliver donations to homeless shelters across the city. So far, the organization has saved -- and then shared -- more than 45,000 pounds of food, at the cost of just 10 cents per pound.
Lee, 24, experienced the importance of food waste prevention early in life -- from a practical standpoint as well as a cultural one. Prior to his parents' move to the United States, Lee's father was a civil engineer and his mother was a banker. But after his family moved, the language barrier and different opportunities available in Queens led his father to begin working in supermarket management, while his mother became a homemaker. The couple placed a high value on their two sons' educations, at times struggling to keep enough food on the table for the family of four and refusing to let what they brought home go to waste.
"When I was growing up, there were these two Korean myths," Lee told The Huffington post. "One of them is that if you throw out food scraps or whatever leftovers you have, then your family's future generations will starve that same amount. The other is that if you throw out food, then in your afterlife, you have to eat all the food you ever wasted as a form of punishment."
Growing up hating food waste as well as experiencing hunger firsthand, Lee knew that he wanted to prevent his family from facing that struggle again in the future. Interested in the financial world, Lee first worked at a hedge fund during his junior and senior years of high school. Because he enjoyed the experience, he decided to enroll at New York University's Stern School of Business for his undergraduate degree.
It didn't take long for Lee's interests to merge on the NYU campus. After learning about Two Birds, One Stone, a new club that made daily deliveries of leftover dining hall food to local homeless shelters, he jumped at the chance to volunteer. He served as president of the group for seven of his eight semesters, and it was this service that inspired the framework of Rescue Leftover Cuisine.
"The potential is huge," said Lee. "We started with one dining hall and ended with three, we engaged double the number of people, and we were able to get the word out there. We would get requests from other campuses and schools asking how we made our club and how they could set up their own. It wasn't just within the borders of NYU that we could do this."
Upon graduation, however, Lee decided to accept a job offer from J.P. Morgan, while working part-time on launching RLC. Lee said he knew he wanted to dedicate all of his time and effort to his charity organization, but received mixed advice from Stern professors and successful social entrepreneurs about the best way to jump into the nonprofit world. In the end, he decided that learning from a for-profit's best practices and establishing some financial security would be beneficial, for both his personal future and the future of his nonprofit.
It only took a year for Lee to choose his nonprofit startup over his corporate finance job. He left J.P. Morgan six months ago to run RLC full-time, using seed money he and co-founder Louisa Chen won at a venture competition during their senior year at NYU, as well as corporate donations from his former employer.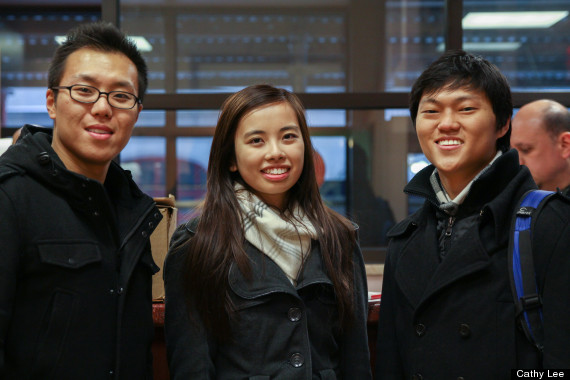 RLC founding team Robert Lee (right), Louisa Chen (center) and Paul Sun (left).
A native New Yorker, Lee set his focus on helping those in local communities first. He based the structure of the 501(c)(3) organization off of his experience with Two Birds One Stone, adding user-friendly technology to the platform to make it even easier for people throughout the city to volunteer. The open access pulled in volunteers interested in pitching in occasionally, as well as those who wanted to make a more substantial time commitment to preventing food waste and helping the hungry. By explaining that the donations were tax-deductible, reduced food waste costs and boosted brand image, Lee was also able to partner with a variety of local restaurants and markets -- even big brands like Starbucks and Panera Bread -- to secure the food for the rescue trips.
"There are tons of restaurants, and almost all restaurants have leftover food that they throw out, or unsold products they couldn't sell that day or don't want to sell the following day," said Lee. "It's a matter of engaging our volunteers, as well as convincing those restaurants to work with us."
According to a 2012 report from the Natural Resources Defense Council, 40 percent of food produced in the United States goes to waste -- the equivalent of $165 billion each year. Rather than feeding millions of hungry Americans, it is left uneaten and sent to landfills, accounting for the single largest component of the country's municipal solid waste, the NRDC said in its report.
After spending the first few months completing all of the food rescue trips to local homeless shelters himself, Lee began organizing his network of volunteers to delegate some of the delivery responsibilities. He now has designated "core rescuers" who manage approximately 10 delivery trips each week, "lead rescuers" who manage around five delivery trips each week and general rescuers who sign up to volunteer whenever they can. RLC now has three core rescuers and 50 lead rescuers among their 1,400-person volunteer network.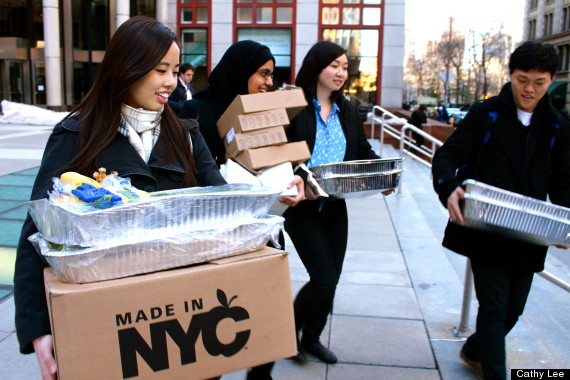 RLC volunteers pick up food donations on one of their rescue trips.
With 100-200 new volunteers joining RLC each month, Lee has high hopes for the growth of the organization in 2015. His goal of going national is already being met -- the first RLC food rescue trip in Washington, D.C., was completed last week, and volunteers in Texas, Pennsylvania and New Jersey are ready to bring the program to their local communities as well.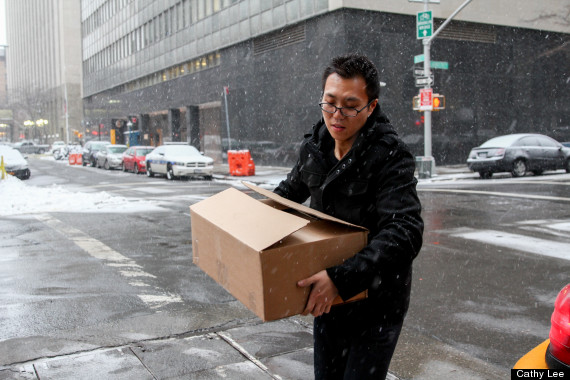 RLC CFO Paul Sun delivers a box of food to a homeless shelter in New York City.
On a more local level, Lee hopes to bring on one new food lending partner in New York City per week this year, as well as develop RLC's staff and diversify its fundraising efforts to make the venture more sustainable in the long run. RLC recently received a $10,000 grant from Kind Snacks to continue expanding its work, and secured $5,000 in individual donations from a campaign the nonprofit organized last fall.
"As I'm doing this, I'm literally learning 10 new things a day and it's been really fun and I don't regret it," said Lee. "So far it's the stories that we hear that make me realize I did the right thing. For example, last Thursday there were only four sandwiches left at the Bowery Mission as we came by with a fresh supply and sandwiches and bread. Moments like that make me realize we're making a huge difference."
This article is part of a series produced by The Huffington Post highlighting the contributions of Go-Givers -- people who are looking beyond a "Go-Getter" approach to success and redefining success to include the importance of giving back. To nominate a Go-Giver of the Week, email gogiver@huffingtonpost.com.
Related
Before You Go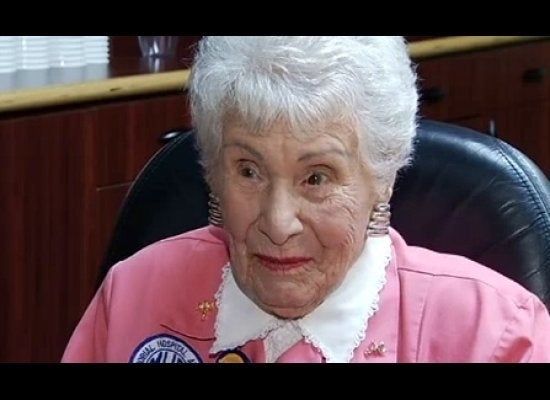 Inspiring Volunteers