I admit to being a longtime Madonna fan. I remember being obsessed with her 1991 documentary, Truth or Dare. Apart from enjoying the spectacle of her 1990 Blond Ambition tour, I was inspired by watching her dancers be themselves in the movie when I was still very much in the gay closet.

On the 25th anniversary of that film, a new documentary follows up with the dancers. Strike a Pose reveals their ups and downs over the years, including the impact of HIV in their lives. Three of the dancers were living with the virus while on tour, but none of them disclosed that fact to one another at the time.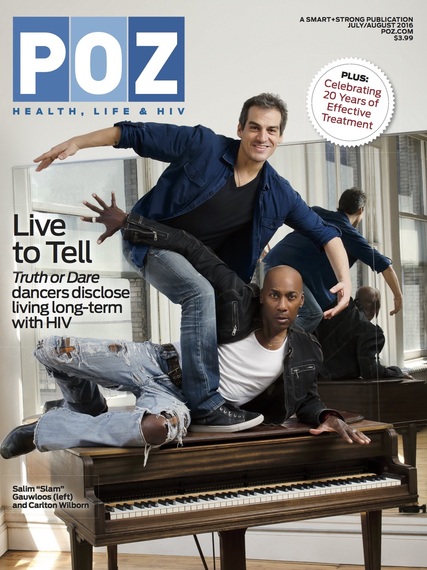 Gabriel Trupin died of AIDS-related illness in 1995. The other two dancers, Carlton Wilborn and Salim "Slam" Gauwloos, are long-term survivors. Although Carlton disclosed his HIV status in a 2007 autobiography, this new film is the first time that Slam publicly discloses. Both Carlton and Salim grace our cover. The stories of all three men are told in the new film, but for a deeper dive into their HIV-related stories, click here.
Gabriel, Carlton and Salim all tested HIV positive before 1996, when effective treatment became a reality. Gabriel died just a year before. Carlton and Salim show how 20 years of effective treatment have changed the epidemic. To mark this anniversary, click here for a closer look at the history of HIV treatment over the past two decades.

A key part of the evolution of HIV treatment is the activism that fueled access to the lifesaving drugs. From improving clinical trials to expanding care and treatment, activists deserve much of the credit. One of the earliest and most influential treatment activists is Gregg Gonsalves. Now a professor at Yale University, he teaches aspiring domestic and global activists what he's learned. Click here to read more.

A related narrative to developing effective treatment has been the search for a vaccine and a cure. A great example is the work of the International AIDS Vaccine Initiative (IAVI), which is also celebrating its 20th anniversary. Mark Feinberg is its new president and CEO. Click here to read our Q&A with Mark on IAVI's promising vaccine and cure work.

As we look backward and forward at the epidemic in this issue, so does Christodora, the new novel by POZ contributing writer Tim Murphy. He tells the stories of a diverse cast of fictional characters who live in the real-world East Village building that the novel is named after and who bore witness to the worst of the New York City AIDS crisis.

The book, available this August, goes from street protests by AIDS activists in the 1980s to today's hipsters to the rich residents of New York City in the 2020s. The time-traveling story of a privileged young artistic couple and their adopted son intersects with an AIDS activist in unexpected ways. Click here to read an exclusive excerpt.

Also please check out these two posters: our 2016 HIV drug chart and a timeline of milestones in effective HIV treatment.
Calling all HuffPost superfans!
Sign up for membership to become a founding member and help shape HuffPost's next chapter