When Herbert, an American Straffordshire terrier mix, was rescued last month from a city pound by PAWS Chicago, a no-kill animal shelter, he was extremely shy, malnourished and sick with canine influenza (aka dog flu).
"His feet were splayed and he was under-socialized, which might suggest that he spent a lot of time in a cage," Sarah McDonald, a spokesperson for PAWS Chicago, told The Huffington Post.
But after spending a couple weeks recovering under the foster care of Amanda Robles -- and being showered with lots of snuggles, long walks and cheese (his favorite treat) -- Herbert quickly got his groove back. 
And the 5-month-old rescue pup has the grin to prove it: 
Herbert's "smile" might've been his way of showing just how excited he is with all this newfound love.
"This was not a behavior he displayed while he was at our medical center," McDonald said. "Amanda was rewarding him with cheese and it happened on a whim."
The cheesy expression appears to be a submissive grin, which is when a dog exposes his front teeth with a closed mouth by lifting his upper lip, Kristina Lotz, a certified dog trainer and writer, explains on iheartdogs.com.
Unlike an aggressive snarl -- which, btw, means back off! -- a submissive grin usually appears when dogs are trying to "appease" another dog or person. 
In Herbert's case, he probably really wanted that cheese: 
Herbert has since completed his antibiotics and is waiting for his next veterinarian appointment to make sure he has no leftover symptoms from the flu.
Once he's completely recovered, Herbert will be available for adoption at PAWS Chicago, McDonald said.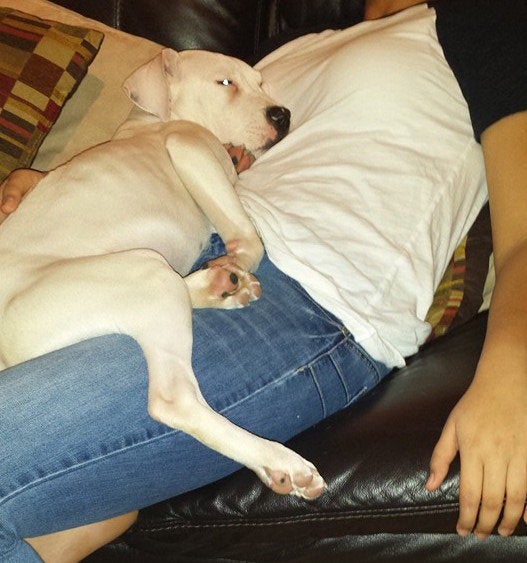 If you want to bring home Herbert or any of the equally lovable animals at PAWS Chicago's shelters, visit the adoption page here.
Calling all HuffPost superfans!
Sign up for membership to become a founding member and help shape HuffPost's next chapter