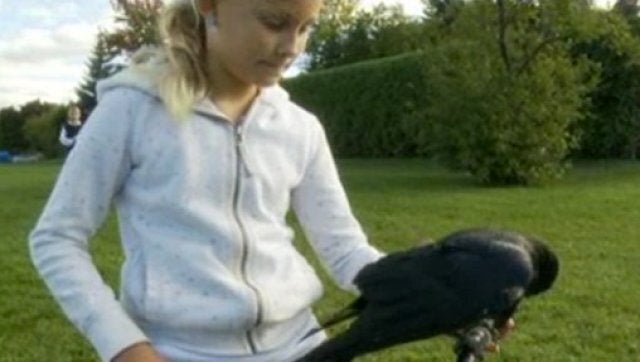 We've all heard poignant tales of rescue dogs and cats, but here's an incredibly heartwarming story about a rescue crow who has become inseparable from the family that saved him.
The Renaud family named their new pet crow, Walter, and under their diligent care, he was soon able to fly again. The problem? After becoming healthy again, he refused to leave their home. Instead, Walter chose to take up the position of beloved family pet.
On the first day of school this year, Elissa Renaud realized that Walter wasn't about to go anywhere anytime soon. According to CBC News, the bird accompanied her in walking the kids to school, a tradition he continues to this day.
"As I walked the kids to school, he trotted along behind us and I realized, yeah, he thinks he's part of us and he's going to walk the kids to school and take care of them and be part of the gang. I realized that he was going to stay," she told CBC News.
"We go on bike rides around, and we talk together, and sometimes if I'm feeling sad I'll tell him because I know he won't tell anyone else. Or secrets my friends have told me, and I really need to get them out, I'll just tell him because I know he won't talk," Livia Renaud told CBC News. "I really love him and if something ever happened to him I would be really, really, really sad."
Watch the video below, courtesy of CBC News:
Calling all HuffPost superfans!
Sign up for membership to become a founding member and help shape HuffPost's next chapter