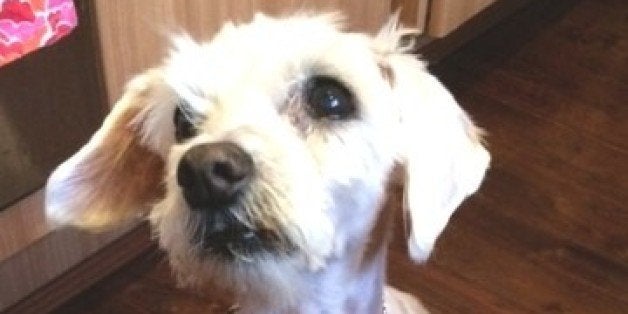 This rescue group went out of its way to send a beautifully reassuring letter to a concerned former owner.
Prinny the dog arrived at Rescued With Love, a rescue organization in Melbourne, Australia, by way of another shelter, with a heavy backstory. While sorting through paperwork, Kae Norman, the charity's founder, came across a form explaining that the pooch's original owner had died, and her son had been left in charge of the pet. However, the son, a soldier, wasn't able to care for Prinny any longer.
"He is to be deployed to Iraq in the near future and couldn't take Prinny with him," Norman told The Huffington Post in an email. "He wrote such beautiful things about her. He clearly loved her."
Though an adoption request came in for the pooch even before she arrived at the organization from a couple who had heard her story, Norman thought that the soldier deserved to know that Prinny was being properly cared for. So, she wrote a beautiful, understanding open letter to the man, who wishes to remain anonymous, and posted it to the Rescued With Love Facebook page.
"Dear Soldier, you don't know me, but I know of you," Norman wrote. "You are probably going through more than what anyone can ever imagine -- and I wanted to ease your mind by letting you know your Mum's dog Prinny is safe and happy with us at Rescued With Love."
Norman went on to inform the soldier that not only was Prinny in a happy forever home, but one of her new owners was also a veteran, who adopted the dog after fostering her for a short time. Norman hoped that her words would somehow reach him.
"I don't know where you are, or how to find you to tell you Prinny is safe. Maybe this will find you," the letter read. "All I know is my throat ached when I read your writing on that form when you handed her over -- and I could not try to let you know she is safe, and very happy. Stay safe soldier."
The note has since gained quite a bit of attention on Facebook, with more than 100,000 likes. In fact, the letter's popularity helped it reach the soldier, who wrote back to the organization, telling them that he was overjoyed at Prinny's new life, Norman told HuffPost.
As for Prinny, the pooch seems to be getting along nicely with her new owner, Brendan, and his wife.
"Prinny settled so well there," Norman said. "She is super happy and very sweet, and doesn't let her foster dad, Brendan, out of her sight."
REAL LIFE. REAL NEWS. REAL VOICES.
Help us tell more of the stories that matter from voices that too often remain unheard.
BEFORE YOU GO
PHOTO GALLERY
Puppies And Kittens Rescued From Dump