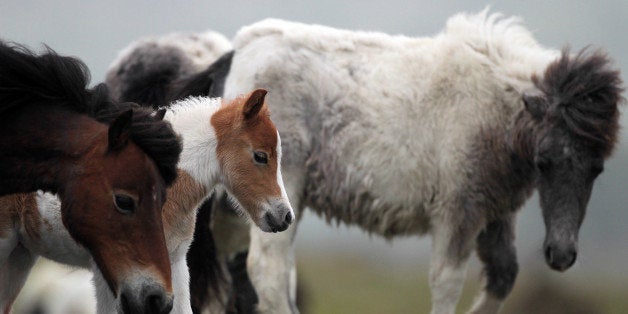 Visitors to Devon in Southwest England are captivated by the beauty of the Dartmoor pony, a breed that has survived on the moors since the Middle Ages. The earliest reference occurs in 1012 when Bishop Aelford of Credttion listed a Dartmoor pony in his will. The ponies have gone from carrying tin from the mines to becoming a major tourist attraction.
However, these beautiful, hardy ponies are now in danger of extinction. There are only around 1,000 ponies today versus 25,000 in the 1930s. They are part of England's heritage and must be preserved for future generations. Conservation management is key to their survival.
Under an arcane law, the ponies are owned by farmers with grazing rights on the moors. These farmers don't have the resources to help mares who get in trouble foaling or to treat an injured pony hit by a car. The answer thus far has often been to shoot these ponies rather than save them, and the whole future of the Dartmoor ponies now hangs in the balance because lack of funds means more and more farmers are deciding they can no longer afford to keep the ponies at all.
As well as the important issue of animal welfare, the ponies are an integral part of the ecological balance of Dartmoor, grazing the wild land to keep gorse at bay and thus ensuring that the moors are healthy, diverse and accessible for tourists. Indeed, the ponies are a vital tourist attraction in their own right, with many people visiting the moors specifically to see these beautiful creatures.
The ponies have recently been moved from "vulnerable" status to "endangered" in the latest data from the Rare Breeds Survival Trust's annual watch list. Some in the area are calling for these wonderful Dartmoor ponies to be bred and killed for meat in the mistaken belief that this would ensure their welfare.
There have also been troubling stories that unwanted Dartmoor ponies have been slaughtered and fed to lions and tigers in zoos. Their hides were crafted into "wild pony" drums. No conservation effort should include slaughtering these magnificent creatures. Imagine if the United States decided to kill bald eagles!
Thankfully, there are those who are trying desperately to protect the ponies. However, the efforts of small rescue organizations such as South West Equine Protection are hampered by a lack of funding.
Recently, in an effort to reduce the population and therefore make their conservation more manageable, conservationist Charlotte Faulkner arranged to have mares darted with the contraception drug Improvac. "They just bounce forward and carry on eating, as if they had just had a bee sting, "she told a local newspaper. The end result of the contraception trial won't be evident until May.
Other groups arrange for the ponies to be adopted as pets. Their even temperament makes them an idea pony for children.Every effort should be made to protect these wonderful animals. They contribute to the UK economy as a tourist attraction and they are as much a part of Britain's national heritage as is Big Ben or Hadrian's Wall.
Calling all HuffPost superfans!
Sign up for membership to become a founding member and help shape HuffPost's next chapter