With the advent of the talkies, silent film took a hit. A big hit. The silent cinema was devalued. In fact, things got so bad that some studios melted down their old films, believing a print's meager silver content more valuable than whatever artistry contained in the movie itself. In this way, hundreds if not thousands of titles were lost to posterity. Others were thrown away, or abandoned. Others simply disintegrated over time, and no one much cared.
There was also a perception problem. Aside from a few exceptions, like Charlie Chaplin or your grandparent's favorites, silent movies were never thought to be all that good. They were herky-jerky, and overly melodramatic. If you are old enough, you might remember those ridiculous compilations they once showed on television where "humourous" dialogue was added over sped-up excerpts from the "flickers," making everything seem rather corny.
These days, however, silent film is seemingly on the ascendancy.
Led by the pioneering Pordenone Silent Film Festival in Italy and the San Francisco Silent Film Festival in the United States, like-minded and rather well-attended festivals seem to be springing up just about everywhere. Among others, there is a silent film festival in Kansas, one in Toronto, Canada, and one in Manila, in the Philippines. And too, one-off screenings of movies by favorites like Buster Keaton and Louise Brooks are taking place at a frequency that is almost startling. One section on NitrateVille.com—an old-school bulletin board site devoted to talking about, collecting and preserving classic film—is devoted entirely to listing silent film screenings. They're everywhere. In Cambridge, Massachusetts, in Chicago, Illinois, and in Fremont, California at the Niles Essanay Silent Film Museum. Yes, there's an entire museum devoted to silent film.
One way to mark this resurgence of interest is through the number of documentary films related to early film. It started back in the late 1960s and early 1970s with Kevin Brownlow, the English documentary film maker and author; in 2010, he became to the first film historian to become an Academy Award honoree. In his acceptance speech, he hit back at an industry that has all-too-often neglected it past.
This year has been an exceptional year for documentaries related to silent film. One promising example, Saving Brinton, premiered earlier this year at the AFI Docs Film Festival in Washington D.C. It unreels the story of an eccentric collector who found a cache of rare films in Iowa, including a once lost Georges Méliés short, while offering a glimpse into the worlds of early film exhibition and modern-day film preservation.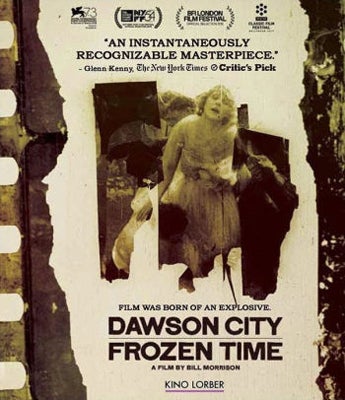 There are others, including three documentaries released on DVD / Blu-ray. The one receiving the biggest buzz—the one even non-film buffs might have heard of—is Dawson City: Frozen Time (Kino Lorber), by Decasia director Bill Morrison. Part film history, part Gold Rush history, part poetic meditation on the fragility of just about everything, Dawson City: Frozen Time obliquely tells the incredible but true story of hundreds of silent film reels, buried for nearly half-a-century, in a swimming pool located deep in the Yukon permafrost.
At the beginning of the 20th century, Dawson City was a Gold Rush boom town (located about 150 miles south of the Arctic Circle) largely gone bust but still in need of entertainment, and that included the movies. Among the cast of characters who passed through Dawson (and some who resided there) were actor Roscoe "Fatty" Arbuckle, showman Sid Grauman, impresario Alexander Pantages, and future director William Desmond Taylor (each a key figure in early Hollywood history), as well as poet Robert Service, businessman Solomon R. Guggenheim, boxing promoter Tex Rickard, and even Donald Trumps' grandfather, Frederick Trump, who made a fortune operating a brothel. Dawson City: Frozen Time is an impressionistic documentary of-a-kind, told mostly without dialogue (silent film style) using the fragments of film found abandoned in this last place on earth which also happened to be the end of the distribution line for the films shown there.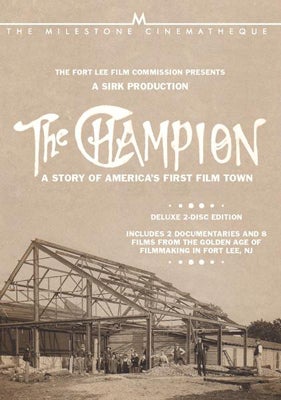 A more traditional documentary, The Champion: The Story of America's First Film Town (Milestone), has also received a good deal of attention, and rightly so. It tells the fascinating story of a small New Jersey town, located just a ferry ride away from Manhattan, that gave birth to the American film industry. In other words, before there was Hollywood, there was Fort Lee. Here, many of the major studios of the time—including the Goldwyn Picture Corporation, Fox, Metro, Paramount ArtCraft, and Selznick—established themselves alongside smaller outfits like Champion Studios. And with them came a score of the biggest names in early film, including Will Rogers and Alice Guy-Blaché, Lillian Gish, Douglas Fairbanks, Theda Bara, Mabel Normand, Mary Pickford, and Barrymore family, to name just a few. And then it ended, when the industry moved to sunnier California. However, for a few years in the 1910's, Fort Lee was the place to be. A two disc set, The Champion includes five rare short films made at the Champion Studios, none of which have previously been released on DVD. Notably, these films mark the beginnings of today's Universal, which purchased Champion and its building in 1912.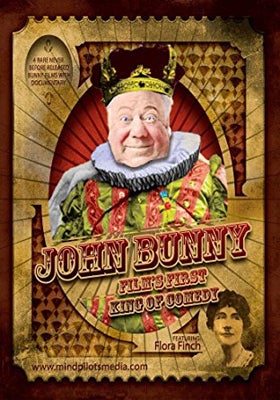 Another documentary, this one focusing on an early key figure, is John Bunny – Film's First King of Comedy (Mind Pilots Media). Though little known today, Bunny was one of the biggest comedic stars of his time. His personality driven, situational comedy set the stage for later greats like W.C. Fields and Jackie Gleason. Born during the Civil War, Bunny worked on the stage and only achieved modest success. He likely would have been forgotten had it not been for the advent of motion pictures. This new medium, which required a different kind of acting, brought Bunny stardom. In fact, during his brief four year career in front of the camera, from 1911 to 1915, Bunny was a sensation, hugely popular in the United States, but even more so in England and Russia. Film historian Steve Massa and legendary film archivist Sam Gill offer insightful commentary. John Bunny – Film's First King of Comedy includes four short films showcasing Bunny's talents.
Though not a documentary, also newly out and of related historical interest is Little Orphant Annie, a film restoration by Eric Grayson. Everybody knows of the character Little Orphan Annie, whether through James Whitcomb Riley's original 1885 poem, the long-running comic strip which debuted in 1924, the radio and film adaptions of the 1930s, the smash-hit Broadway musical from 1977, or its three subsequent film adaptions, the most recent in 2014.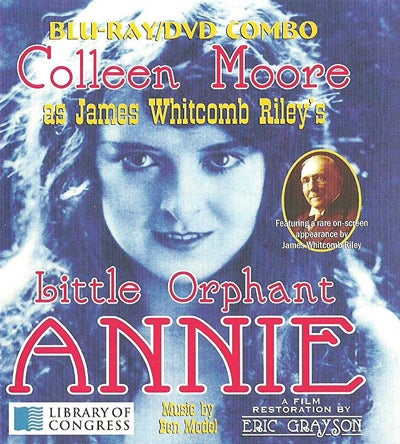 Grayson, a film historian and preservationist, has painstakingly restored Little Orphant Annie from five different prints, making this release the longest version of the 1918 film ever commercially available. It also recreates the tints that were seen in the now-lost 35mm nitrate print. It's a beauty.
Notably, this silent film represents the character's earliest cinematic incarnation. Full of vanished Americana as well as striking dreamlike imagery, this entertaining film features the earliest surviving appearance by actress Colleen Moore (one of the biggest stars of the 1920s) as Annie, as well as a rare screen appearance by the once popular poet who started it all (Riley died two years before the film was released).
This crowd-funded project includes a number of special documentary features, among them a valuable booklet essay and commentary track by Moore biographer Jeff Codori, notes on the restoration and a commentary by Grayson, a behind-the-scenes featurette from the restoration premiere, and more. This worthwhile disc is one that silent film buffs, Little Orphan Annie collectors, and those interested in children's literature will want to get. It's a hoot.
Next year looks to be as promising as this for silent film documentaries. Among the works set for completion in 2018 is Charlotte Siller's Documentary of a Lost Girl, a film that uses newly uncovered archival materials, interviews with surviving friends, and location shoots to reveal the life—away from the camera—of film icon Louise Brooks. There is also a documentary about Alice Guy-Blaché, the first female film director, in the works. It is called Be Natural: The Untold Story of Alice Guy-Blache. I am looking forward to both.
Thomas Gladysz has been writing about early film for more than 20 years. His work has appeared in the San Francisco Chronicle and Classic Images, and in programs for the San Francisco Silent Film Festival, Telluride, Ebertfest, Syracuse Cinefest and others. He is also the author of three books on the films of Louise Brooks, including Beggars of Life: A Companion to the 1928 Film.