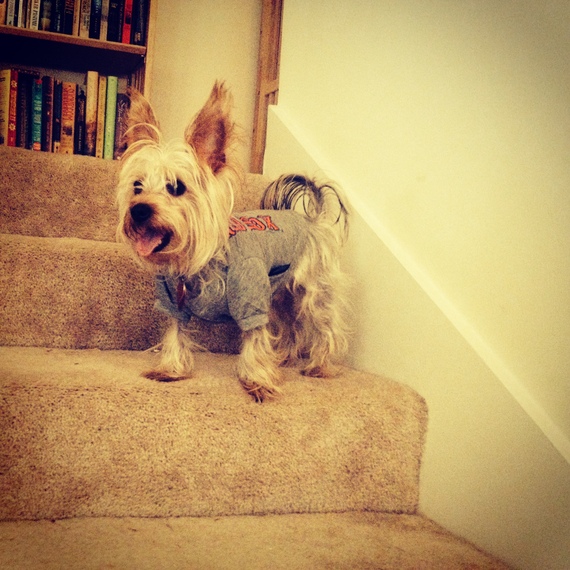 In January 2013, on a chilly, rainy Washington, DC morning, I adopted a 5-lb, one year-old Yorkie "mix." With 1.4 million dog adoptions in the US each year, this event would be without note except for one seemingly insurmountable caveat. I resided in the miniscule percentage of individuals who disliked dogs in this country. Or so it seemed to me.
Forget the 99% vs. 1%. This felt like the 99.9% vs. .01%. "She doesn't like dogs," one blind date later said to our matchmaking friend, "WHO doesn't like dogs?" "Me, that's who", I wanted to scream then and on numerous other occasions.
Yet I somehow disproved the adage "you can't teach an old dog new tricks" as I learned the trick of loving my quirky, eccentric and endlessly energetic terrier. Profound change can happen at any age, even as in my case, after passing the half-century mark.
I'd come by my dislike of dogs honestly to my mind. My sister and I had discovered an enormous decaying dog carcass on Boston's Esplanade at the ages of ten and eight, a searing incident. We'd lived at that time in a building with many small, spoiled yappy breeds and one large Irish setter that jumped on us all the time. Our father didn't care for them either, in part because his terrier had been run over during his boyhood. It seemed in our DNA.
So what happened? That sister from the incident on the Esplanade and her husband (also not a dog fan) had integrated a Maltese into their family to the delight of their children. My other sister, the family rebel in terms of dogs (i.e., she loved them), had one too. My nieces and nephews extolled their virtues and urged me to adopt. A dear friend, a wise and beautiful woman, who knew of the challenges of my recent move from California to DC, started sharing with me the joy her first pet (a cat in her case) had brought her. Other friends nudged me to adoption sites.
But it was Winston, at that time named Julian, who changed everything. I scrolled through a few shelter sites relatively unmoved. I had so many reservations. I had always lived alone, I traveled a lot, and I liked order. Then I saw this little Yorkie face staring at me. He was tinier than every other dog on the page. He appeared terrified, lost. He looked the way that I had felt over the preceding year.
My heart squeezed. This dog-my dog- stared back at me. Twenty-eight hours, one expensive trip to PetSmart and multiple adoption forms later, I posted to Facebook a photograph of me with the newly christened Winston in the foyer of the shelter. He had just emptied his bladder. We both looked terrified. By the time, I arrived at my car, I had multiple likes and a mix of comments ranging from "Congratulations!" to "Wait you hate dogs!"
But Winston had had me at his first "Woof." During a walk on our third day together, he sealed the deal. I strolled past my red brick townhouse, which looks like every other red brick townhouse in its row as well as the neighborhood. Winston stopped short, sprinted to my entryway and threw his little body down by my door. He already knew his home. Was he afraid we were not going back to it? That I would give him up, as had his previous owner? That did it. I joined the 99.9%. I became a dog lover. Or more precisely, I became a Winston lover.
Numerous studies tout dog ownership and its facilitation of such benefits as greater exercise, socialization and security. I'd read reports of these studies over the years and shrugged. I worked out a lot, had meaningful relationships with family and friends and always lived in safe areas.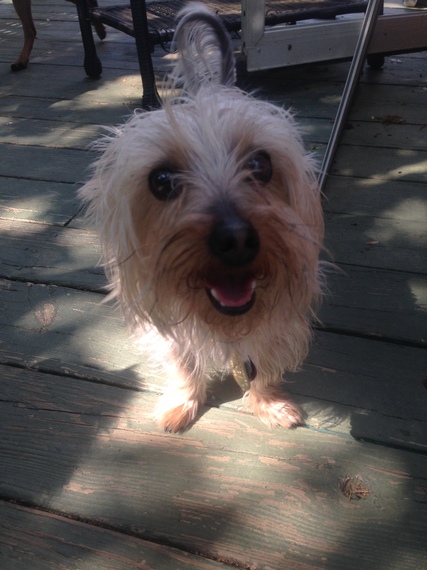 But the studies don't capture the intensity and the depth of the benefits. I exercise on Winston's schedule and not mine. His bladder is small and his need for multiple walks great. Ten o'clock stroll in the evening? I am now game given the alternative.
And you don't just socialize, you exchange gifts of joy in your interactions. In our early days together, we'd visit Charles, my complex's former concierge, who guarded a jar of dog treats. Charles with his Shaq-like stature would say, "What's up Big Winston?" and hold up a treat; Winston would then try unsuccessfully to jump the six and a half feet. This happened every day for months. And we laughed every day for months.
The studies also don't reflect the impact on one's soul of what dogs don't see. Winston doesn't distinguish racial, ethnic or economic differences. His best friends are the car washers at a nearby rental agency, the cashiers at the neighborhood deli, the mentally ill woman who strolls a nearby parking lot. I am ashamed to admit beyond a random hello at best, they weren't visible to me before. Now we all look forward to our daily time together with Winston.
Finally, the studies can't calculate the increased confidence of redefining oneself at a certain age. Today I am considered a besotted dog owner even by other besotted dog owners. The now 7-pound Winston sports a wardrobe that includes a cashmere sweater with his name on it, a New England Patriots coat, a Boston Bruins T-shirt. He was featured on the Boston Globe web site in his Red Sox gear during the World Series 2013 run and he won the Halloween contest for my complex in his pirate costume and eye patch. He just launched his own Instagram account (@WinstonDCYorkie) for all these photos.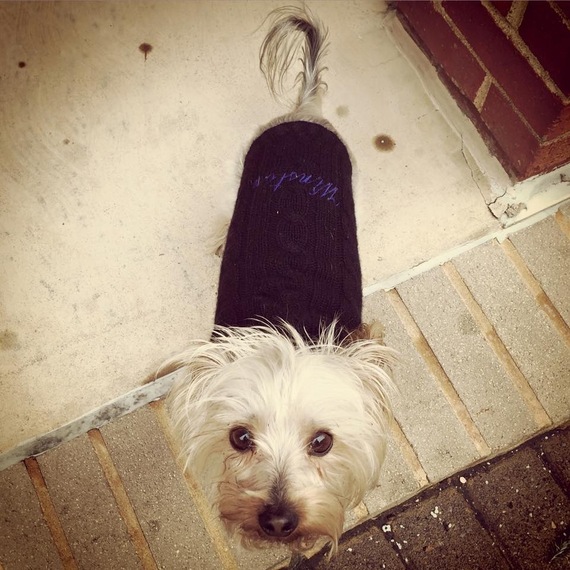 I say to my friends who shake their heads at the transformation that they too can find their Winston, their "thing," that can change them. Take up painting at the age of 35 or learn to code at 75. You will view the world through a different lens. And the world will view you through a different one as well.
Winston answers to "Winston," to "Churchill" (my English boss's nickname for him) and to "Winston Churchill." That's it. He doesn't lift his head for "Julian." He's left that name behind, even if he still carries lingering fears (e.g., small children) from that era. I too have left a lot behind. Oh I still hold my fears of ageing, of not staying relevant professionally, of losing the gift of dreaming. But I know now that my furry companion and I will walk through these challenges together.
Calling all HuffPost superfans!
Sign up for membership to become a founding member and help shape HuffPost's next chapter