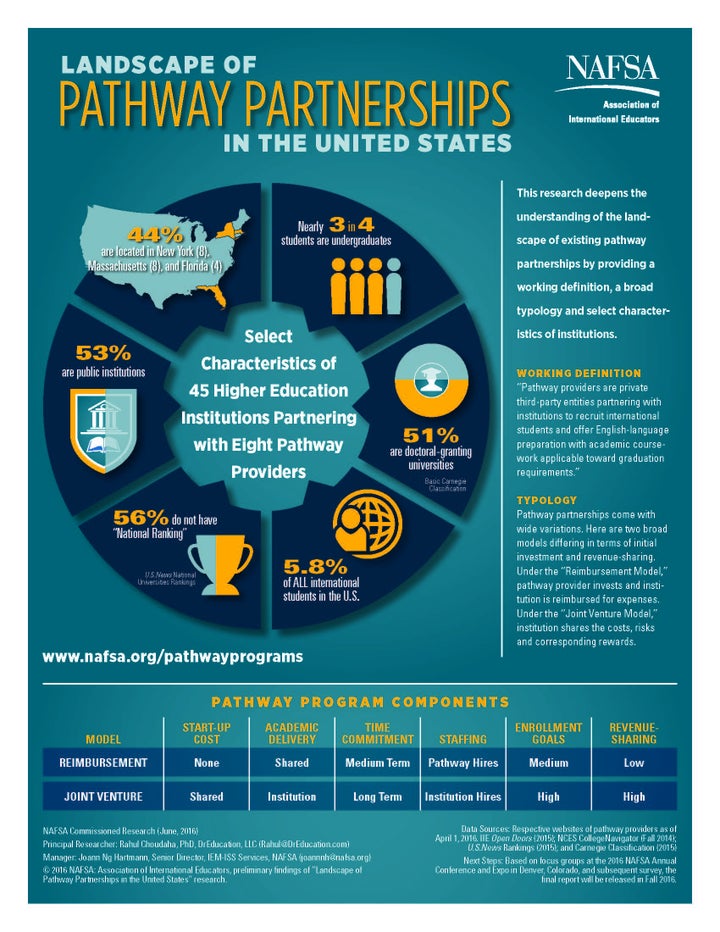 NAFSA: Association of International Educators, launches new research, The Landscape of Pathway Partnerships in the United States, to deepen the understanding of an emerging trend in international student enrollment management. (Disclosure: Dr. Rahul Choudaha, author of this post is the principal researcher of the NAFSA commissioned research project).
Between 2009 and 2014, the number of international students has increased by 41 per cent to reach a total of 974,926 (IIE Open Doors). They contributed over $30 billion to the U.S. economy during the 2014-2015 academic year (NAFSA).
Given the reality of tuition revenue and enrollment pressures for many higher education institutions, there is an increasing interest to increase the recruitment of international students. However, it is quite challenging for many unranked or low-ranked institutions to attract international students as rankings are often considered by students and their families as an important factor in deciding where to study.
One way to expand the international student enrollment is to attract students who are less ranking-conscious and at the same time require additional English preparation to meet admissions requirements. This resulted in enrollment growth of 118% between 2008 and 2014 at Intensive English Programs to cross 126,000 international students.
Definition and Typology of Pathway Programs
Almost 10 years back, around the time of global financial recession, a new model of recruiting international students through pathway providers started emerging. For the purpose of this research "pathway providers are private third-party entities partnering with institutions to recruit international students and offer English-language preparation with academic coursework applicable toward graduation requirements."
International educators encounter changes triggered by pathway partnerships, while evaluating the impact and navigating the outcomes. The process of considering and implementing pathway partnerships has implications for campus stakeholders in different roles, including recruitment and admissions, academic services, and related support services.
While the conversation about pathway programs is on the upswing, there is limited information available for institutional stakeholders to make high-stakes decisions. This research aims to provide clarity on what the landscape of pathway partnerships looks like.
Joann Ng Hartmann, Senior Director, IEM-ISS Services, NAFSA and manager of the research project notes "The overarching purpose of the research is to better understand the landscape of pathway partnerships in the U.S. with an intention to bring clarity for our stakeholders from diverse higher education institutions. In essence, we want to help international educators make informed choices and enhance the impact of their international enrollment strategies. This research does not make comparisons amongst providers."
Characteristics of Institutions Partnering with Pathway Providers
Pathway programs have only been in existence in the United States for about ten years hence they are growing from a small base. This research examined characteristics of 45 institutions which partner with eight private pathway providers. According to IIE Open Doors, in Fall 2014, these institutions collectively enrolled 56,538 international students forming 5.8% of all international students in the US. To put this into perspective, in Fall 2014, 855 American institutions enrolled a total of 914,429 international students with each enrolling more than 100 international students.
In the first phase, the research analyzed publicly available data of 45 higher education institutions which partner with eight pathway providers. The research looked into institutional characteristics with an intention of finding patterns among the characteristics of institutions partnering with private third-party pathway providers.
One of the characteristics was related to rankings. For example, 56% of the institutions partnering with pathway providers are not ranked as National Universities (U.S. News World & Report defines National Universities as those that offer "a full range of undergraduate majors, plus master's and doctoral programs, and emphasize faculty research.").
Of the 44% which were ranked as "National Universities" the ranking ranged from 47-187 with a majority (80%) of them ranked lower than 100. In other words, most of the ranked universities which were partnering with third-party pathway providers were ranked around 100 or lower.
One can speculate there are a range of variables affecting decisions to partner but growing international enrollment by attracting students who do not meet standard admissions requirements seems to be common irrespective of an institution being ranked or unranked.
Institutional Rationales, Considerations, and Experiences
The next phase of the research will examine the complexity and diversity of decision-making processes related to pathway partnerships by taking a deeper dive into rationales, considerations, and experiences of international educators. It aims to not only examine why institutions considered pathway partnerships, but also the key factors that go into making the decisions and the institutional experiences with pathway partnerships. An upcoming webinar I will be discussing preliminary findings of the research with two co-presenters from institutions currently in partnership with pathway providers. The final report of this first phase of research will be released in Fall 2016.
Popular in the Community