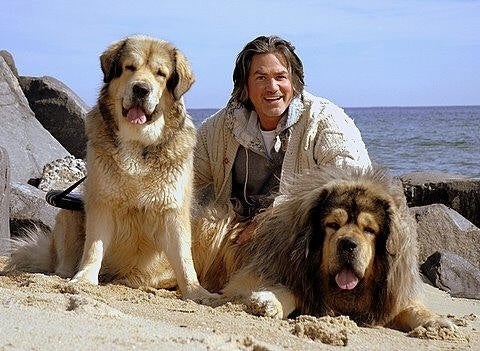 How one man RESET his life and became a thriving survivor and you can too.
The holidays leading into the New Year are extremely difficult for many of us, they remind even the most healed people about memories, loss and leave them melancholy. These feelings can lead to layers of depression and for many suicide survivors, it is truly a hard time of year. Think self-blame, self-worth and the horror of what they experienced first hand or with just the loss and being left behind. This feeling is called survivors guilt and it dances all around the loss and the grief. "If only",… I paid more attention If only I was there at 10:00 AM instead of 10:30 AM etc… The "if only" can take the survivor on a spiral down that has to be worked on as well as their grief which in itself is a huge process. Take it from Wayne Scot Lukas who is a suicide survivor. Seven years ago Wayne Scot Lukas woke up one fateful morning to find his life partner hanging in their garage, he had committed suicide. In one instance Wayne's, life was forever changed and would never be the same again. Suicide in the United States has risen to the highest levels in approximately 30 years according to a federal data analysis. According to American Foundation for Suicide Prevention , 2016 National facts and figures, every year more than 1.6 Million lives are lost annually to suicide. The numbers include a high amount of military service people which is kept very quiet back home in America. An American dies every 12.3 minutes by suicide. Americans attempt suicide an estimated 1.1 Million times annually. Women are 3 times more likely to attempt suicide but for every one woman who dies from suicide, four men complete suicide and die. Suicide is the 10th leading cause of death in the United States. It is the 2nd leading cause of death for ages 44 and under and the 5th leading cause of death for ages 45-54. Veterans comprise 22.2% of suicides.
Suicide creates an aftermath for the family that is truly indescribable. For those people left behind it takes years and years of healing and unfortunately, some people never do. That was almost the case for Wayne Scot Lukas who for the last 30 years is a Celebrity Stylist and is known for Styling and Designing some of the world's most famous stars such as Janet Jackson... remember the Super Bowl Wardrobe Malfunction, that was his costume. His list of clients is among Hollywood's Who's Who. Other clients are Tina Turner, Christy Brinkley, Cindy Crawford. Pretty much every supermodel, movie star, red carpet, fashion magazine or iconic music video in the world you have seen has his work in it. He is a celebrity in his own right, he hosted such shows as the TLC hit cable show, What Not To Wear, and has appeared on Access Hollywood, Inside Edition, Extra and many other Hollywood news shows. He had his own line of clothing LUKASTYLE on Home Shopping Network and on EVINE and was heading with his partner to a lucrative line on QVC before the unfortunate death.
The aftermath of the death of the person he loved, with all his heart, could have taken his life too until he found the courage to get in touch with his survivor's guilt, shame, grief, and despair. A suicide makes you not want to go on. A suicide can empty your future and erase your past. It took 7 years so far, but one day Wayne decided, he wanted to live and it was then that the healing began. It has not been easy. Wayne Scot Lukas lost everything, couldn't function, speak on the phone or find purpose and literally hit his personal rock bottom. The issue was, he couldn't wallow, he had no money from an illustrious career, he had no jobs on the horizon and if he did, he didn't know he could manage them in the brain state that he was currently in. Survivors guilt, huge grief and childhood fear of the world folded back like a tsunami. It was then Wayne contacted his personal therapist who literally walked him back into life. He slept with the lights on for 9 months in fear of what he had seen in that garage on that fateful morning. Then one day he had an awakening, he heard himself laugh again, a real from the stomach laugh full of happiness love and life and it shocked him back into some reality. He hadn't laughed in 7 months, he hadn't felt alive, in that one moment he felt warm for just a moment as if life was about to reenter his body. He decided that the person he loved would not want him to live his life like this, that was his journey and this was Wayne's, and it was in that moment he began his RESET journey.
You see Wayne's deepest regret is like that of everyone's. Wayne knew and wished that this suicide could have been prevented. So he decided he would do everything he could to learn about suicide so he could not only heal but help others heal. He searched everywhere for answers from psychics to healers to a psychiatrist to medical doctors. He did hypnosis and finally after psychiatrist Dr. Hannas in NY and in therapy did some EMDR (Eye Movement Desensitization and Reprocessing) with his therapist Dr. April Martin in NY and finally tapping with Dr. Ronald Ruden in NY a form of tapping on acupuncture points, he was on a journey to wellness.
Next Wayne googled suicide immediately and found American Foundation for Suicide Prevention. It was then his journey began. He saw on those web pages that it wasn't his fault, he also learned that suicide is preventable. Suicides usually stem from mental illness which if diagnosed can be worked on with medication and therapy. Wayne got very involved in afsp.org. He started donating his time to the suicide hotlines and the more he did, the more he gave of himself, the more he started to heal. Listening was a lesson Wayne learned in these calls, slow down, people need to be heard and acknowledged.
He will be the first to tell you that this is the greatest loss of his life and will forever leave a deep pain that resonates within him with an undesirable vibration, yet he will also tell you that you too can heal and move forward and that suicide does not have to claim your life too. You do not need survivors guilt and every step you take in giving and sharing with other survivors and possible suicidal teens or addicts or friends will heal you and remind you that we are here on the planet to heal and help. We are not here to be insular and take. Wayne learned in his horrific sadness that we share "universal pain" and "universal happiness". Wayne learned his pain was not bigger than a mom who lost a child or in an accident, it was just different and had to be looked at from all sides and possibly had to heal in a different way. This realization showed Wayne that we are all connected in our pain and in our joy and his key now is "take out the shame in your life and share, share, share". Share your story, share your heart and share your life! It helps others and the blessings will fall back on you. If you don't understand how to share, just show up and sit with someone in their sadness, don't try to fix it don't try to heal them, listen and gently suggest therapy, meetings or just getting them out into the light. There is something called the suicide trance when someone is in it, they are actually walking toward their final choice. Stay very aware, no one's life is less important than another. If you have experienced a suicide loss or any loss, show up in grief groups, grief can be as debilitating as shame. If you don't have what it takes to get out to groups or to take your person for help, there are numerous phone numbers and places online start at www.afsp.org and take the journey back to your life.
Wayne has walked back from the brink of sadness loss and self-hate, he has found a new way of life and has used his new experience of unfortunate death to share his partner's life and to successfully understand the needs of people outside of himself. Wayne was on the fast track to ego, money, and fame and in the process, he lost his purpose. In surviving his partner's suicide, he found himself and he will tell you, he likes this Wayne a lot better. The Wayne that listens and is compassionate. He hasn't lost his quirky snarky edge you all met on What Not To Wear many years ago, he has honed it with a heart of light and soft compassion that makes him a man that will listen to your story and remind you of your great importance and your innate life value, exactly as you are. Whether your addicted or desperately sad or in a deep medical depression, Wayne wants to remind you of this. We are all more alike then we are different and the very least we can do is love each other exactly as we are where we are. Today, Wayne says, try to open your heart in a meditation and when it feels open and light is shining out of it, open it in your mind a little more. Then share your open heart, you are safe, share your story share your needs and share your love. This is how we will all change the world.
Wayne Scot Lukas is currently thriving and working on his memoirs as we speak, from being a bullied gay and scared to death of everything kid in NJ, he rose to the highest levels of the fashion world in Paris, Milan and NYC. He survived 37 years on a business of celebrity and fame that takes the souls of many people. Wayne healed and RESET in a business he shouldn't have survived in, he got himself in check and after surviving this horrific suicide he found his true self and shares his story with people all over the world. This is not a memoir of ego its a memoir of life, real life from the rock bottom up with celebrity stories and anecdotes sprinkled throughout. Wayne has a true story of healing a broken soul. He made it, he'll remind you why you can too and of your great value. You can find Wayne currently working at his social media company LukaStyle LLC or on a shoot or with a celebrity managing their image and talking demographics. The secret is Wayne Scot Lukas brings his healed heart to work and can slide some love into his projects every chance he gets. So while it is the end of the holiday season and start of the New Year, society may say it should be cheerful, for many unfortunately it isn't. Every holiday song can be a knife in someone's heart.
Please, this New Year give the gift of yourself to yourself and show compassion and kindness to those who may be suffering from loss. Heres how to pay attention outside of yourself and open your eyes to connections to those around you. Every person has a story and the fabric of how we survive here in the world is to weave our stories together to create a stronger fabric of our lives! With that being said here are some warning signs to look for and take seriously, regarding people contemplating a harsh immediate decision suggested by www.afsp.org.
Suicide Warning Signs: Something to look out for when concerned that a person may be suicidal is a change in behavior or the presence of entirely new behaviors. This is of sharpest concern if the new or changed behavior is related to a painful event, loss, or change. Most people who take their lives exhibit one or more warning signs, either through what they say or what they do.
Talk: If a person talks about:
◦ Being a burden to others ◦ Feeling trapped ◦ Experiencing unbearable pain ◦ Having no reason to live ◦ Killing themselves
When you read these above you see many of us have one or more of these conversations, pay attention. Behavior: Specific things to look out for include:
◦ Increased use of alcohol or drugs ◦ Looking for a way to kill themselves, such as searching online for materials or means ◦ Acting recklessly ◦ Withdrawing from activities ◦ Isolating from family and friends ◦ Sleeping too much or too little ◦ Visiting or calling people to say goodbye ◦ Giving away prized possessions ◦ Aggression
Don't run and don't use "tough love" as an excuse. Attention before suicide saves years of sadness after. You also can't "save" anyone but with this list, you can direct someone gently on a path to save themselves Mood: People who are considering suicide often display one or more of the following moods:
◦ Depression ◦ Loss of interest ◦ Rage ◦ Irritability ◦ Humiliation ◦ Anxiety
Boy, how many of us have felt all the things above. Some are healthy to shake it off and some spiral, watch the spiral and gently suggest a therapist or an evaluation do it in the guise of "I love you" and people will usually actually go. Go with them and hold their hand. Yes, you do have the time.
Suicide Risk Factors: Risk factors are characteristics or conditions that increase the chance that a person may try to take their life. Health Factors
◦ Mental health conditions
▪ Depression ▪ Bipolar (manic-depressive) disorder ▪ Schizophrenia ▪ Borderline or antisocial personality disorder ▪ Conduct disorder ▪ Psychotic disorders, or psychotic symptoms in the context of any disorder ▪ Anxiety disorders
◦ Substance abuse disorders
◦ Serious or chronic health condition and/or pain Environmental Factors:
◦ Stressful life events which may include a death, divorce, or job loss◦ Prolonged stress factors which may include harassment, bullying, relationship problems, and unemployment◦ Access to lethal means including firearms and drugs◦ Exposure to another person's suicide, or to graphic or sensationalized accounts of suicide Wayne Scot Lukas is a testament that RESET is possible when you have the courage to try and will to live again! When you try, you will find the passion to survive and even thrive! Please take into consideration this New Year that many of us are suffering, exhausted, sad and just truly wiped out. If you have some extra "you" to give try to show patience, love and kindness and awareness with each other! This behavior will be the best "gift " you can give anyone as we walk into the New Year. Your gift is you for you first and then the sharing of your gifts with others. You are strong enough and you have what it takes to take back your life, tell your story and share your journey! RESET today because you deserve it!
"Hope breathes in the soul and whispers try one more time." Jacqui Phillips