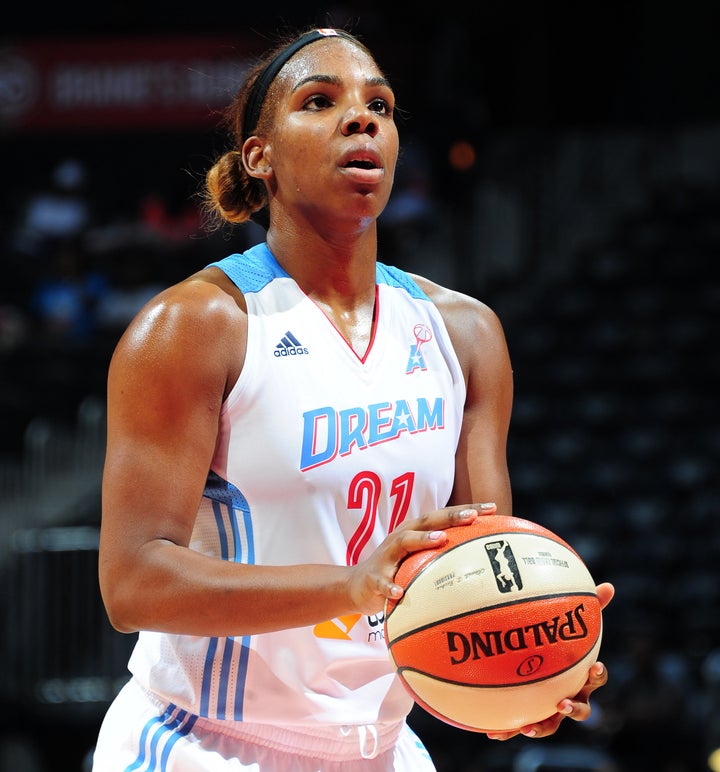 When the WNBA playoffs tip off on Thursday, the Atlanta Dream will be absent in the hunt for a championship. Yet while her team may not have notched a playoff berth, this season caps an unlikely journey from South Central Los Angeles to professional basketball for rookie forward Reshanda Gray.
Raised in the rough LA neighborhood, Gray, 22, shared a one-bedroom apartment with seven other brothers and sisters as well as a difficult upbringing.
"My life as girl growing up, it wasn't always pretty. I didn't get the chance to live a normal, happy childhood. There were always challenges," Gray, choking up, told The Huffington Post in a recent interview.
"Where I'm from, not many people make it out. So it was hard to find that one little push to see something outside of South Central LA," she said.
That "little push" eventually became basketball for Gray. As a young girl, she was encouraged to join a Los Angeles-based chapter of After-School All-Stars, a non-profit organization that provides programs for kids to attend after school and to keep them out of trouble, rather than get swept up in the gang violence and crime that permeates their streets. Or, like some of her classmates at George Washington Preparatory High School, to help students Gray actually stay in school and graduate. According to the California Department of Education, nearly 24 percent of its students in the class of 2014 dropped out, which saw a graduation rate of 70 percent. Both of those figures fall below California's statewide graduation and dropout rates of that same year, which were 81 percent and 11.5 percent, respectively.
"I thought it was cool to hang out with people who were not always doing the right stuff, getting in trouble -- I was basically in with the wrong crowds and stuff," Gray said.
But the program's recruiter, Tyrone Dinneen, convinced Gray to join After-School All-Stars and despite initial disinterest and hesitation, she picked up basketball and began her not-so-smooth path to the WNBA. It wasn't a seamless transition for Gray, who said she still found herself getting into trouble at the program.
"I wasn't on my best behavior," the player said. "So we just finally had the talk where [Tyrone] said, 'This is not you. This is not the type of person you are. I know you're a good kid. I can see it in you and from now on, I just want you to start making better decisions.' ... And I felt like, since that forward, him taking me and inviting me into the program was a life-changing experience."
Just how much the program -- where she first picked up a basketball -- would change Gray's life, she didn't know. That is, until she realized that playing basketball could be her ticket to getting a college scholarship. Gray said her parents paying for tuition just wasn't an option, so it was at that moment she began to take her game seriously, even if she had to be dragged onto the court at first.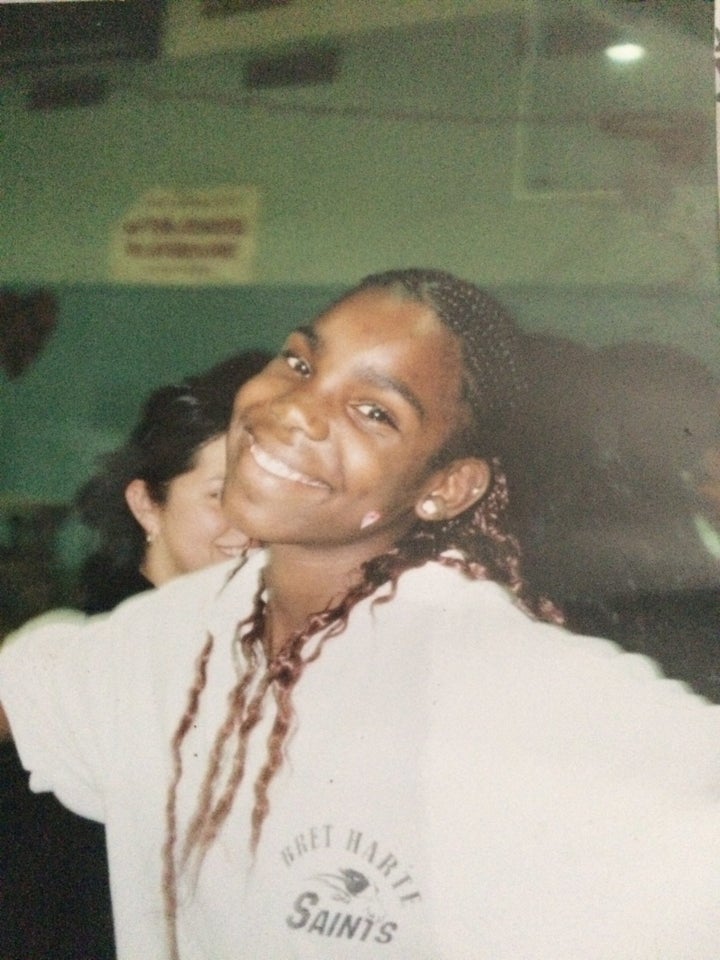 "I was like, 'No, I don't want to play basketball, I don't know how to play basketball,'" Gray said, adding that she eventually conceded. "I was, like, three times bigger than everybody else, 'So you just stand here and we'll just toss you the ball.'"
She laughed, "Now that I am older and I think about it, I was basically cherry-picking the whole time."
Gray continued to play outside the program, but was placed on JV when she began at high school. She faced even more doubt when a recruiter for an AAU team put her at the other end of the court to practice layups, rather than do drills with the other girls.
"I was like 14, 15 -- that sucks! I want to be with everyone else laughing. So from that day forward, I feel like that changed everything," Gray remembered. "From that day forward, I was like, 'OK, I'm gonna be good, people are going to respect me.'"
By the time she graduated, Gray not only made her varsity team, but suited up for Team USA, earned MVP honors and was named a McDonald's All-American. All of that culminated with Gray being awarded a full scholarship to play for women's basketball team at the University of California, Berkeley.
"I was a little teary-eyed, I was still lost for words," Gray said of the moment she signed her commitment papers and became the first in her family to eventually graduate from college. "I'm here. I stayed focused. There were so many obstacles thrown in my way, but god think I have great people in my corner that kept me focused."
One person in particular that Gray credits with taking a chance on her is Dinneen. While Gray found success on the court, outside her life still had its challenges. She and her siblings were placed in foster care twice growing up while her parents battled drug use. At 16, Gray moved in with Dinneen, his wife, Marisa Blackshire and their daughter.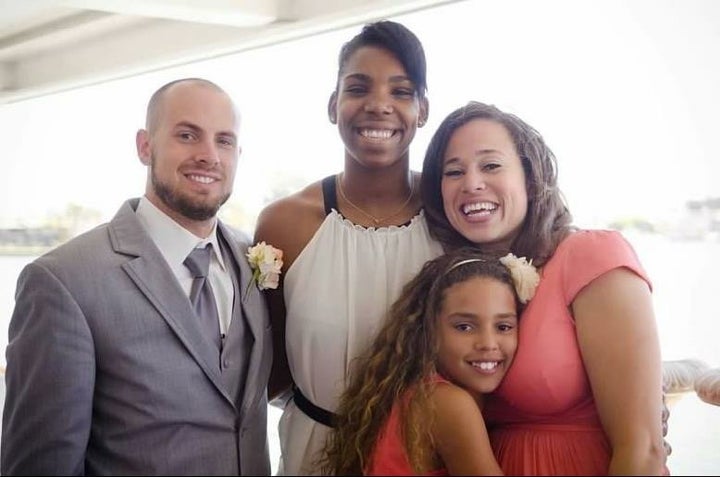 "He was like my mentor, my best friend, my dad, my mom -- he was just there for me," Gray said. "It was definitely tough, but I actually had the chance to actually live a normal, teenage life. All I had to do was play basketball, get good grades and just have fun."
Another person Gray said gave her motivation was Kobe Bryant. As a partner of the city's After-School All-Stars program, the Los Angeles Lakers had Bryant and his teammates met with kids from the program, one of whom included a 13-year-old, star-struck Gray.
"I was like, 'Oh, my gosh, it's Kobe Bryant.' And then I [asked], 'What was one of the adversities you faced growing up?' He said, 'I faced a lot of people telling me I wasn't going to be anything and my goal was to prove them wrong.' And I felt like that was the best advice he could probably give someone at the age of 13,'" Gray said.
Gray would soon get her own contract to play professional ball. Picked in the second round of the 2015 WNBA Draft by the Minnesota Lynx, Gray said she never imagined the league as a end goal. For her, just "walking across the stage" and getting her degree remained her biggest accomplishment.
Now, Gray, traded to the Atlanta Dream and scoring a season high of 18-points last month, said she is just "trying to keep her head above water" during her first year in the league. But Gray has larger goals, primarily to launch her own foundation, "No Gray Areas." The player said she wants to give back to her South Central LA. community and create a similar program that would help other young girls go to college and maybe find sports as an outlet.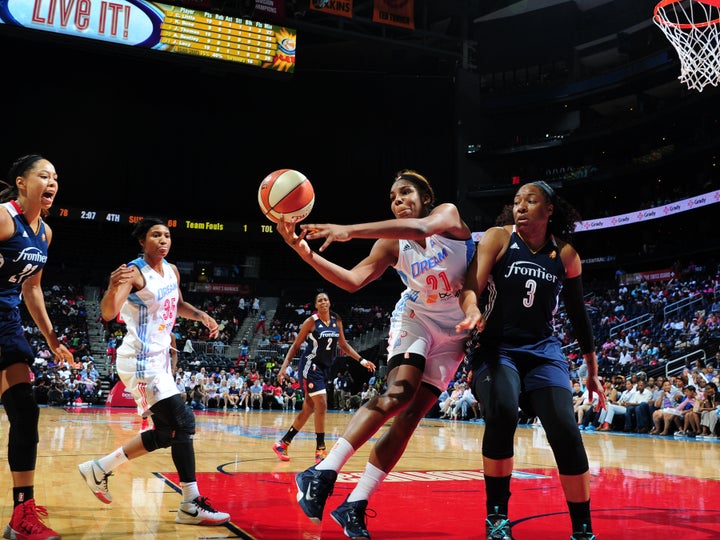 "It's sucks because not many girls have the confidence and a lot of people don't raise their kids to be strong-headed and strong-minded," Gray said. "Just because you're a girl doesn't me you can't play sports. Or you can play sports and still be feminine at the same time. And that was a platform that I used basketball for -- for my voice to be heard."
Beyond basketball, Gray, who majored in social welfare, wants to become a paramedic and help kids who may be enduring similar hardships.
"Being taken away from my mom, ... that's a feeling I don't want any kid to go through, I want to keep the kids in the home and make sure the home is safe for the kids," she said.
Throughout all the Gray has been able to achieve so far, she said it is basketball that gave her the opportunity to make a new life for herself.
"What did basketball do for me? It kept me out of trouble. ... Took me places that I never thought I'd go. It paid for my education ... [It] helped me tell my story. It told the story of not always bad come from South Central LA," she said. "You hear more negative things about LA, but it's very rare that you hear about somebody who's actually doing something for themselves."
Though Los Angeles and her rocky start aren't far from her mind every time Gray laces up for a WNBA game.
"It's impossible to channel it out because if it wasn't for where I come from, I wouldn't be here right now," Gray said. "So I use it to add fuel to my fire and that's what keeps me driving."
Photos From The 2015 WNBA Season
Related
Popular in the Community