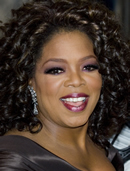 After the inauguration, Oprah visited Walter Reed Army Medical Center. My breathing became shallow as I watched the February episode. I sat motionless while waiting for her to finally visit the Oncology Wards of soldiers stricken with cancer post Iraq. As the hour edged forward, her emotional journey into the lives of those courageous, newly amputated soldiers spilled before her. With honor and grace she highlighted their bravery, their psychological slavery to PTSD. But she never ventured up to the Wards on the 6th and 7th floor, where soldiers lay ravaged by cancer -- their fight unknown to the public and ignored by the media.
In 2007 Larry King paid tribute to the WRAMC Fisher House by visiting soldiers in disrepair. But failed to visit the Fisher House in Forrest Glen, Md. that housed soldiers, and their families, undergoing chemotherapy, radiation and surgery. Their bold attempts to cut and obliterate the cancer that found a home in their bodies while on tour in Iraq.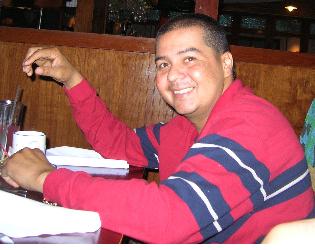 It was during my time there in 2006 for my sister, that I interviewed 34 yr. old Army SSG. Frank Valentin (pictured above) at WRAMC. He deployed to the Port of Kuwait City on the Iraq boarder, and spent his two-year tour at a camp surrounded by the noxious fumes from two oil refineries, a cement factory, a chlorine factory and a sulfuric acid factory. When their eyes began to burn, the skin on their face felt hot, became red, and mucous dripped from their nose -- they knew then, they were in a cesspool of toxic chemicals.
He was misdiagnosed in theatre seven times with hemorrhoids. Upon his eighth visit to the Medic he was finally diagnosed with Colon Cancer by a Reservist Oncologist.
When meeting him, the brave and angry soldier commented as he sat with a colostomy bag pressed against his body, gripped in his hand a letter from his doctors of incurable Colon/Lung cancer. "This war is cancer and the bad thing is people like us don't get benefits. The amputees qualify for the TSGLI Injury Benefits for up to $100,000 to start a new life. But because cancer is a disease and not a war wound, we don't qualify." Adding, "No one even knows we're on the Oncology Ward. The press, celebrities and politicians go to the 3rd floor when they want publicity shots with the amputee soldiers. But what about the 7th floor, ward 71, with soldiers that are coming back with cancer?" he asked. "No one cares because you can't see our injury."
After a valiant fight, SSG. Valentin died at home in January 2009 at the age of 38. Below is the story of another invisible soldier, SGT. Christopher J. Sachs. [pictured below in uniform and cap]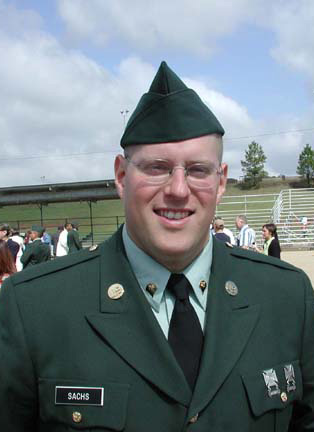 In the Spring of 2001, Christopher Sachs made a decision at the age of 29 to join the military. After eight months in the Delayed Entry Program, he started the New Year off as official Army personnel. The Washington, D.C. native would be assigned his first tour of duty to Wiesbaden, Germany. The new soldier couldn't fathom that within two years of his four year term -- he would go to war in Iraq.
Sgt. Sachs, with a six-foot-four 300 pound frame was the epitome of strong, healthy stock. He had minor knee problems, but otherwise was in great shape. Being an MD Ambulance E1 his tours took him to Turkey and Africa, but his skills as Medic and Ambulance driver were most valued in Iraq. And so on January 9, 2004 he deployed from Germany to Tikrit, Iraq and FOB-Speicher. Sgt. Sachs camped in some of the most toxic environments throughout the country; Balad, Mosul, Samarra, Beiji and Hadithah Dam.
The latter was an area Sgt. Sachs wrote about, "It looked like Death Valley -- just desert, rocks and heat. In the town there were many oil pipelines and valve stations, other areas were completely swamped in oil. Lagoons of oil along side the road. There was garbage, oil, smoke billowing everywhere, depleted Uranium in the water and soil."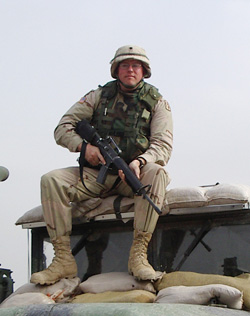 During his tour in Iraq he had written or called his family complaining of ailments, from depression and a suspicious bacterial infection that spread itself through his battalion, to having acute reactions to the heat and sand. But more revealing was the newsletter, "Fear & Loathing In Iraq" that he wrote as a way to vent, and include others at home into his experience. He shared insight into his life as a soldier in Iraq, and his internal journey from what he witnessed as a man, and as a human being, in a land he found drenched in beautiful sunsets, and whose people he discovered were hard working and joyous. A collection of his letters has been posted at the following site: www.ForChrisSake.org.
In an excerpt from June 6, 2004, Sgt. Sachs writes about his guard duty at the Ammo Holding Area (AHA). They were taking turns in 24-hour shifts guarding two shipping containers filled with "boom-booms." "...Our battalion has not provided electricity, beds, heat or A/C, no radio, nothing. And the AHA is located about 100 yards from the perimeter of the small town where most of the rockets and mortars come from. We're all screaming about this trying to make it more comfortable and safe. The soldiers will be in the middle of nowhere, alone, with no communication and no comforts."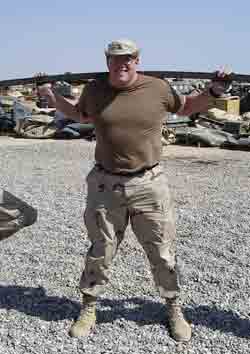 SGT. Sachs holding two other soldiers off the ground. It was taken inside a burn pit that wasn't on fire at the time, the sky clear.
Sgt. Sachs stressed, 'support the troops, not the war.' "When it comes to this country and this war, the newspapers and TV tell you what you want to hear. Don't believe what you see on CNN, the soldiers are not proud, we are pissed. We thank everyone for their support, and we need all of it, but don't think for a minute, that the majority are proud to be here. We are not. This is not Afghanistan; this war was not an eye for an eye noble event."
His impressions on Iraq and its people shows an understanding and awareness lost on Washington and the Bush administration. On July 4, 2004, Sgt. Sachs writes about himself, and his beliefs.

"These too, are good people, the Iraqi people are a strong people and always will be. They have been through so much. Saddam will not be the last bad guy in Iraq, but the people are not bad, they are just poor, and ignorant and trapped in a culture with warring factions of religious zealots. ....They want us out of here and want to rebuild the country themselves. With us here there is no work for them. We are causing their unemployment and frustration and I feel bad for them. Our very act of helping them is making them suffer."
A philosophical letter from his Uncle Jon impacted the young soldier. Explaining that he's in the midst of a historical time for our nation, and for the world. And that he is a part of this generations Vietnam. Sgt. Sachs reflects, "I see the sights, the smells, hear the noise and feel the effects. Bad or good, for the war or against -- it is a character building experience to say the least and it changes who you are."
"I think of two things, the past and the future. Being here is very cathartic, it makes you think of your life and all the bad decisions you made. If hindsight is 20/20, then this place is the Mecca. All you think about is family, friends, experiences good or bad, past loves and why the relationships didn't work, what you will do better next time. How when you meet someone you will be the best boyfriend ever. When you get married be the best husband you can be and treat your wife well. You will be a better person and suck the marrow of life."
"I have searched for meaning in life here. I think the war will have changed me for the better. I will be like a flower that blooms when the sun finally gets through. I am just waiting for my time to emerge from this cocoon. It will happen when I am safe and out of the military."
Sgt. Sachs trained as a scientist, faced a spiritual quandary when it came to science and religion. He ended his 4th of July post by admitting, "I want to live forever. Science is always looking for the answer, but religious people already have it. I want to go on after I die so badly, but I know it will not happen, and that scares me. And nothing makes you think of the debate between religion and science more than being a scientist in war."
When his tour ended Christmas eve 2004, Sgt. Sachs made a home for himself where he grew up in Buffalo, N.Y. With less than a year left in the Army, his restless heart and longing for love drew him to the web and Yahoo Personals. Within weeks online he met Robyn Learn, a local schoolteacher and single mother with a 3 year old son from her first marriage. Romance struck them in cyberspace that February 2005, and their instant online connection parlayed itself into a telephone chemistry. She remembered they spoke for four hours. "That's how much we had in common. I can still feel the butterflies."
One of the things that was mutual was their love for author, Nicholas Sparks. "I had confided in him that I read all of his books except his latest at the time which was, "Three Weeks With My Brother." Less than a week later I received the book in the mail with a special note from him. From that point on, I knew he was a keeper," she said with affection.
Sgt. Sachs remembered all the promises he made to himself in the deserts of Iraq and proposed. They went about planning a formal wedding for October 11, 2008 and booking an incredibly romantic 10-day honeymoon in Paris, Venice and Rome. Then by early September 2008 Sgt. Sachs became extremely fatigued, developed mouth sores, had a shortness of breath, nausea and vomiting. He thought he had an infection from dental work or perhaps food poisoning. But just as she and Sgt. Sachs were finalizing details with the florist and the cake decorator, when no longer able to withstand the physical ailments -- went to the Buffalo V.A. Hospital Emergency Room.
The ER Doctor performed a routine blood test and it showed an elevated white blood cell count and a decreased platelet count. When the ER doctor and nurse came into his room -- they closed the door behind them. Their expression looked very different Robyn Sachs recalled, "We had no idea anything life threatening was occurring during the two weeks he was sick. When the doctor gave Chris his thoughts of what the diagnosis was -- we looked at each other in complete shock. Next thing I know I'm being pulled into another room by the ER nurse who's telling me how serious this is and to start making calls. Although we were both in disbelief, we weren't worried. Both of us come from Science backgrounds and we believed in the power of medicine and current research on cancer treatments."
The ER doctor consulted with a Hematologist from Roswell Park Cancer Institute, and on September 20, 2008 Sgt. Sachs was diagnosed with Acute Myeloid Leukemia (AML). "Once we found out that AML is caused by exposure to benzene's, DU and other ionizing radiation components, there was no doubt in our minds that it must have been his time in Iraq," Robyn Sachs said.
Because of AML's aggressive nature, the treatment would be aggressive. Sgt. Sachs opted to take part in a [highly controversial] Phase I Study [Arsenic trioxide, high-dose cytarabine and idarubicin induction therapy in previously untreated de novo and secondary adult AML patients
The doctors urged the young couple to move up their wedding date since Sgt. Sachs needed to stay hospitalized after the chemo. So two days after his diagnosis they were married at the Chapel at Roswell Park Cancer Institute. Because of the circumstances almost every vendor hired for their October wedding, less than three weeks away, was kind enough to refund them. "By that time I had already received our favors (engraved chocolates), which I gave to the entire ICU staff for their hard work and dedication to Chris." Because Sgt. Sachs was suffering from a bilateral pulmonary embolism, he was forced into a coma to help control his breathing.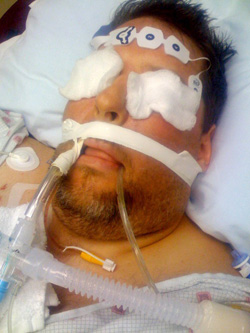 On November 2, 2008, six weeks after his diagnosis, Sgt. Christopher Sachs died in ICU at Roswell Park Cancer Institute at the age of 36. Both his parents and four siblings survive him, as does his 6 year-old step son, and a distraught wife.
"Chris wanted the most aggressive treatments available, although he did confide to me that if he became "brain dead" that was it," Robyn Sachs mourned. "None of us ever believed he would die from this. We didn't have an opportunity to really discuss his condition. Luckily, in 2005 we took a long road trip and discussed our wishes for when we passed. Chris wanted to be cremated and have his ashes planted into a tree." [As the family is in mourning they haven't decided where that tree will be.]
Since Sgt. Sachs diagnosis was three years post Iraq, the U.S. military refused to consider the possibility there was a relation to his tour, and an exposure to carcinogens [burn pits or water] and or radiation [DU]. But it is evident in DoD manuals that the exposure levels of depleted Uranium radiation while in theatre, can have an incubation period ranging from two months to several years. Below the Japanese Press addresses the Italian Governments decision to provide their soldiers with a DU compensation package post their tour.
----ICBUW: On Feb. 7, 2009 the Japanese press, Kyodo Press, reported on the Italian Ministry of Defense's decision to approve a Veterans' Depleted Uranium Compensation Package on Dec. 18, 2008.

The Italian Cabinet convinced the government of a link between ill health and DU exposure. The number of Italian veterans suffering from serious diseases like cancer entitled to this compensation is 1,703, in which 77 have already died. The areas where these veterans were deployed include Iraq, Afghanistan, Kosovo, Bosnia and Herzegovina. The Italian government is trying to make standards for compensation to the veterans and the bereaved by March 2009, when payments will commence.

The commission also stated, "That the burden of proof should be inverted. Concluding proof of service for personnel that were deployed to areas where DU had been used was sufficient evidence to support compensation when they later became ill, or when heavy metal nano-particles were found in their bodies."

This important government decision will be of great aid to the families of Italian soldiers who have died, and to military personnel diagnosed with leukemia and who are suing the state administration.
The young widow, Mrs. Robyn Sachs wept on the March 12th anniversary of what would have been her beloved's 37th birthday, "Our story is a legacy and one that I will cherish forever. I never thought it would end so tragically... I thought we'd share a lifetime together. Although it has been months since he passed away... the reality that my sweetie is never coming home finally hit me, and it's beyond painful. I can't begin to tell you how much I miss him in so many different ways. I can tell you what I miss the most... I miss my best friend."
She wept, "Chris always made life easier for me, and now he's made death easier for me. Because now I know he'll be there waiting for me."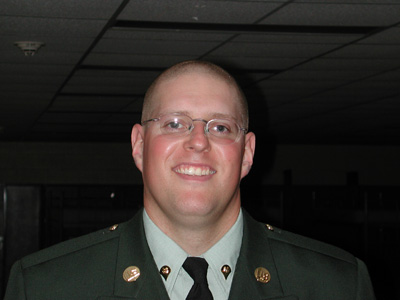 Authors Note: Jan. 2009, the VA released new statistical health data on diseases amongst Operation Iraqi Freedom & Operation Enduring Freedom Veterans [OIF & OEF soldiers]. The categories of diseases, the numbers of military affected and the percentage of cases throughout the 4 branches of military are listed below.
VHA Office of Public Health and Environmental Hazards:
(Cumulative data since 2002. A majority of the cases of diseases have doubled from 9/07 - 9/08.)

Infectious and Parasitic Diseases 49,272 12.3 %
Malignant Neoplasms 3,988 1.0 %
Benign Neoplasms 17,274 4.3 %
Diseases of Endocrine/Nutritional/ Metabolic Systems 93,028 23.2 %
Diseases of Blood and Blood Forming Organs 9,677 2.4 %
Diseases of Nervous System/ Sense Organs 146,611 36.6 %
Diseases of Circulatory System 68,295 17.1 %
Disease of Respiratory System 83,771 20.9 %
Disease of Digestive System 129,656 32.4 %
Diseases of Genitourinary System 44,812 11.2 %
Diseases of Skin 67,384 16.8 %
Diseases of Musculoskeletal System/Connective System 197,078 49.2 %
Symptoms, Signs and Ill Defined Conditions 167,959 42.0 %
Injury/Poisonings 92,023 23.0 %


Army Times--- July 30, 2008
"Warning of Carcinogen in Soldiers Drinking Water"
http://www.armytimes.com/news/2008/07/ap_chemicalwarning_073008/
JASPER, Ind. -- Last year the Indiana National Guard notified nearly 600 soldiers who served in Iraq that they may have drunk water tainted with a carcinogen at an Iraqi treatment plant. During a U.S. Senate hearing in June 2008, senators learned that sodium dichromate -- a cancer-causing chemical that can also cause breathing problems -- was used as a corrosion inhibitor in the soldiers drinking water at the Qarmat Ali water plant near Basra, Iraq.
A fact sheet provided by the Guard states that exposure to sodium dichromate can cause; sores in the nose, sores on the skin that tend not to heal. Other symptoms include skin irritation, tearing and eye irritation, runny or bleeding nose as well as sneezing, coughing, wheezing and pain in the chest when breathing. Fever, nausea, vomiting and upset stomach are other symptoms. Long-term exposure to the chemical can cause lung cancer.

Popular in the Community